All trails are open. Latest possible park entry is 4:00 p.m. Anna Mae, Gowan, Pine Creek, and Waterfall Trails close at 4:00 p.m. The paved path and all viewpoints remain open until 5:00 p.m. Pets are allowed on the paved path and viewpoints and restricted from all other trails.
Fire restrictions have been lifted. Charcoal grilling is allowed.
Goodfellow Lodge is not currently available for overnight stays.
Park Location and Directions
What3Words: ///stashes.quadruple.tinges
Tonto Natural Bridge Park Map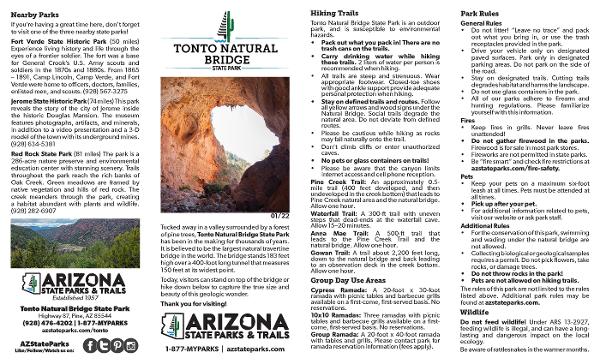 Download Printable Park Map 
Park Map shows you an overview of the park, including the 4 parking lot viewpoints where you can see the Natural Bridge, and more.
Elevation
4530 ft
GPS Coordinates to park entrance
Decimal Degrees (WGS84)
Latitude: 34.334825
Longitude: -111.421065
Degrees, Minutes & Seconds
Latitude: N34 20 05
Longitude: W111 25 15
GPS
Latitude: N 34 20.090
Longitude: W 111 25.264
UTM 12N
X: 461269
Y: 3799362