Latest possible park entry is 4:00 p.m. Anna Mae, Gowan, Pine Creek, and Waterfall Trails close at 4:00 p.m. The paved path and all viewpoints remain open until 5:00 p.m. Pets are allowed on the paved path and viewpoints and restricted from all other trails.
Goodfellow Lodge is not currently available for overnight stays.
Park Location and Directions
What3Words: ///stashes.quadruple.tinges
Tonto Natural Bridge Park Map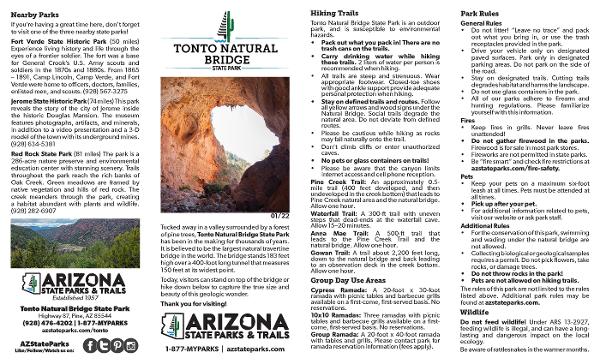 Download Printable Park Map 
Park Map shows you an overview of the park, including the 4 parking lot viewpoints where you can see the Natural Bridge, and more.
Elevation
4530 ft
GPS Coordinates to park entrance
Decimal Degrees (WGS84)
Latitude: 34.334825
Longitude: -111.421065
Degrees, Minutes & Seconds
Latitude: N34 20 05
Longitude: W111 25 15
GPS
Latitude: N 34 20.090
Longitude: W 111 25.264
UTM 12N
X: 461269
Y: 3799362