Places To Visit In Arizona
Jump to: Sedona  |  Places Near Phoenix  |  Colorado River  |  Southern Arizona
Looking for a quick getaway or fun and exciting places to visit in Arizona? Whether you're an Arizona native, a repeat visitor, or exploring for the first time, Arizona offers great road trips to parks throughout the state! State parks are located in almost every region, including several within a few hours of major metropolitan areas. They're great for turnaround trips, and although there's plenty to see and do, you can get your fix with a day trip to satisfy the adventurer within you!
Whether you're an Arizona native, a repeat visitor, or exploring the Grand Canyon State for the first time, there's tons of great places to visit in Arizona…You just have to get out there and hit the road! Check out this list of our favorite places to visit in Arizona. There's beautiful places, historic places, and even some awesome Arizona destinations shrouded in mystery! Take a look below and we'll show you Arizona's favorite places, what to do there, and how to extend your stay!
Sedona
A list like this just wouldn't be complete without Sedona at the top of the list. Arizona's famed Red Rock country has been delighting visitors for years and continues to give off a crazy good vibe to those lucky enough to take the short journey and experience the wonder surrounding this magical place. With not one, but TWO "must visit" state parks in the Sedona area, you'll have plenty of things to do when you're not shopping a bazaar or fueling up in one of many famed Sedona restaurants.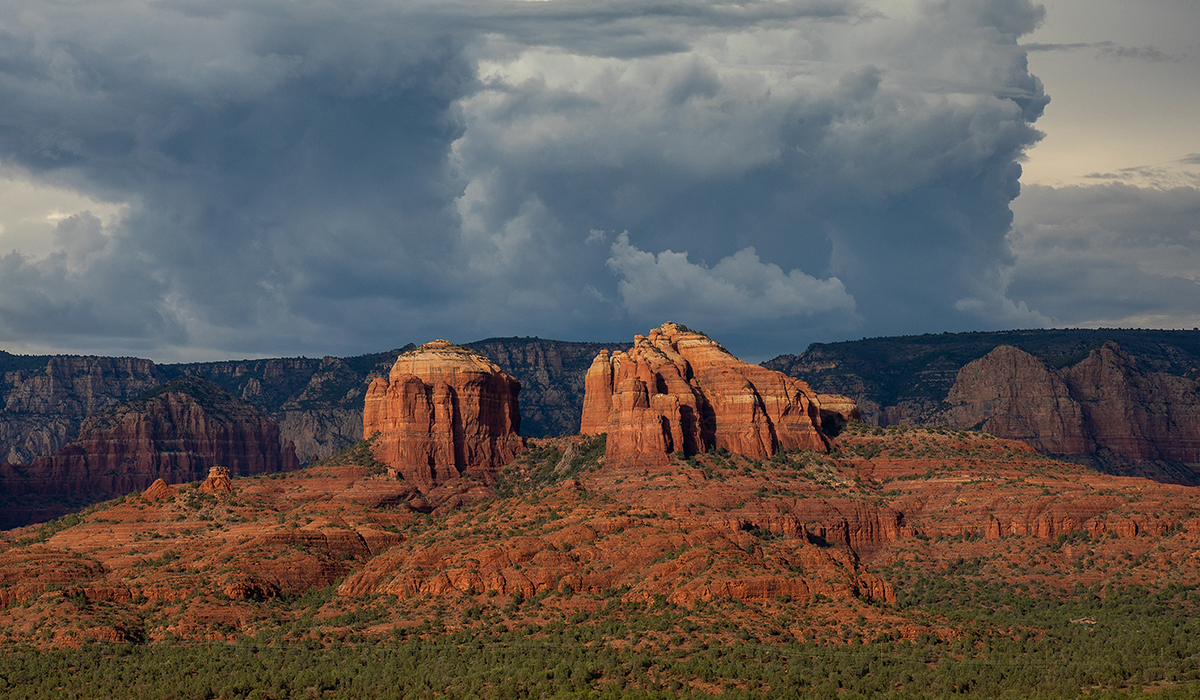 Red Rock State Park
A trip to Sedona just wouldn't be complete without visiting this gorgeous high desert conservation park. Red Rock State Park sits comfortably within the Red Rocks and junipers adjacent to a riparian zone created by Oak Creek. The diversity of ecosystems found here is part of the draw, but the gorgeous views typically get top billing! When you arrive, take a self-guided tour of the visitor center before venturing out in the park and taking in those cinematic views. Learn about area plants, wildlife, birds, geology, and history…Then hit the trail armed with your newfound knowledge!
Slide Rock State Park
North of Sedona, in the tight, ancient canyon cut with time by Oak Creek, Slide Rock State Park is waiting to show visitors beautiful surprises. Sure, you can take Slide Rock at face value and enjoy the cool water of this natural water feature, but there's so much more! Did you know that this quaint park is teeming with unique, native wildlife? It's not uncommon to see diminutive Coues whitetail resting and feeding within the apple orchards here. Nor is it out of place to experience a group of javelina going about their business in the thick underbrush. The red rock escarpments almost speak for themselves, begging to be noticed.  
Places Near Phoenix
Let's face it, theres a ton of places to visit in Arizona, and many of them are near the population center of Phoenix. If you have an adventurous spirit, or want to dig deep into Arizona's history, a little road trip might be in order. And that's okay! Sometimes a little road therapy helps build the excitement of your adventure which results in a much more memorable experience. So get out of your comfort zone and take the short drive to these amazing Arizona destinations. You'll be happy you did...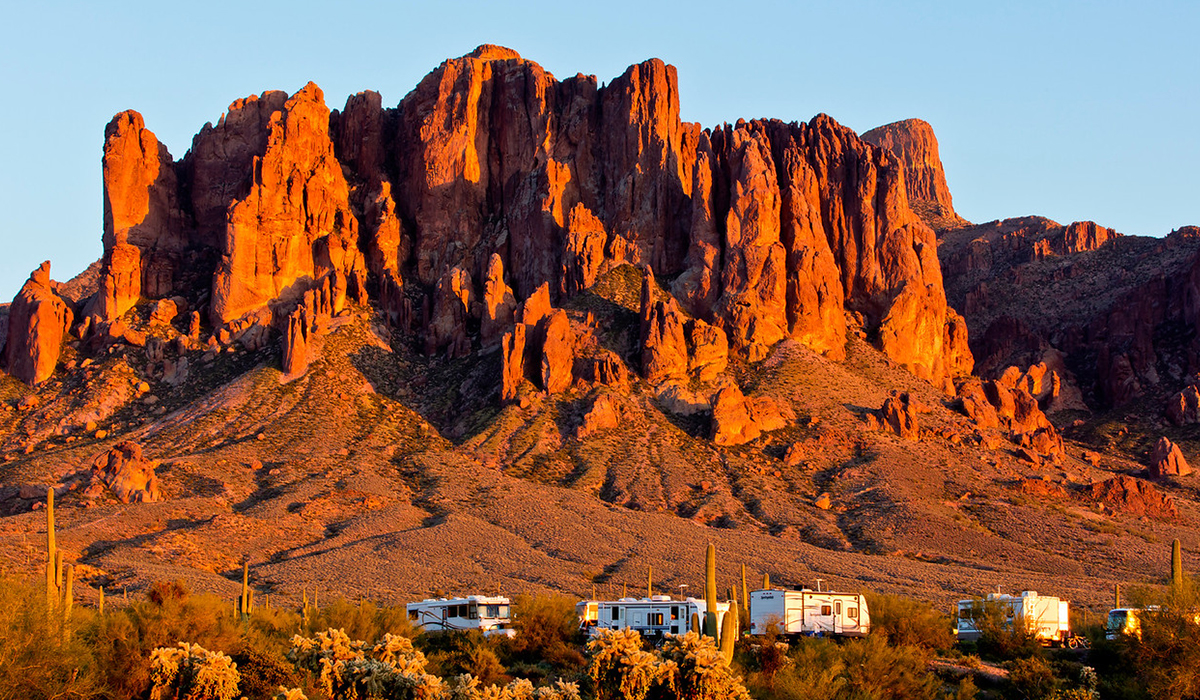 Lost Dutchman State Park
There's tons of places to visit near Phoenix, but few hold beauty and mystery like the Superstition Mountains and Lost Dutchman State Park! Upon arrival, you will be met with a gorgeous Sonoran Desert landscape and mountain views, and after gasping at the beauty, you'll be driven to explore the hidden mysteries of this central Arizona mountain range. Hit the trails with an adventurous spirit. There's plenty of room to explore here, although it seems a day's worth of adventure just isn't enough. Campgrounds and air-conditioned cabins are available if your visit needs to be extended! Stay for a while! You never know…Maybe you'll be lucky enough to find fame and fortune here along with the Dutchman's gold!
Picacho Peak State Park
Full disclosure, we didn't really know where to put Picacho in this list. Situated about halfway between the Phoenix/Mesa area and Tucson, this Sonoran Desert beauty just had to be included! Likely the best wildflower destination in Arizona, each spring Picacho comes alive with vibrant hues of orange, gold, purple, and red flowers. Picacho also includes some of the most rigorous trails in this part of Arizona. Test your resolve as you use cables to ascend to the peak of this Arizona landmark. Each step full of adrenaline and excitement to reach your reward…The expansive views and sense of accomplishment! There's actually trails at Picacho Peak State Park for all levels of hikers, so lace up your boots and start hiking!
Tonto Natural Bridge State Park
This Payson area park makes the list because it is home to what is believed to be the world's largest travertine bridge! Plus it's not really that far from Phoenix. Photos just don't do this Arizona wonder justice…The sheer magnitude of the bridge will be enough to inspire awe, but there's more to this park than an amazing bridge with fantastic viewpoints. Among all places to visit in Arizona, Mogollon Rim country in among the most beautiful and rugged. This truly is a wild place, and area wildlife like coues whitetail deer, javelina, elk, and coati make a trip to Tonto Natural Bridge even more amazing! Take a picnic basket and admire the world around you from the shaded tables, then hit the trail to explore this gorgeous slice of Arizona.
Colorado River
Colorado River country is inviting, scenic, and offers visitors to the area a wide variety of outdoor recreation possibilities. The best thing about "river life" is that you can personalize the experience, so it benefits each individual exactly as it is needed. With four recreation parks along the ancient river, Arizona's state parks are happy to host you during your adventure!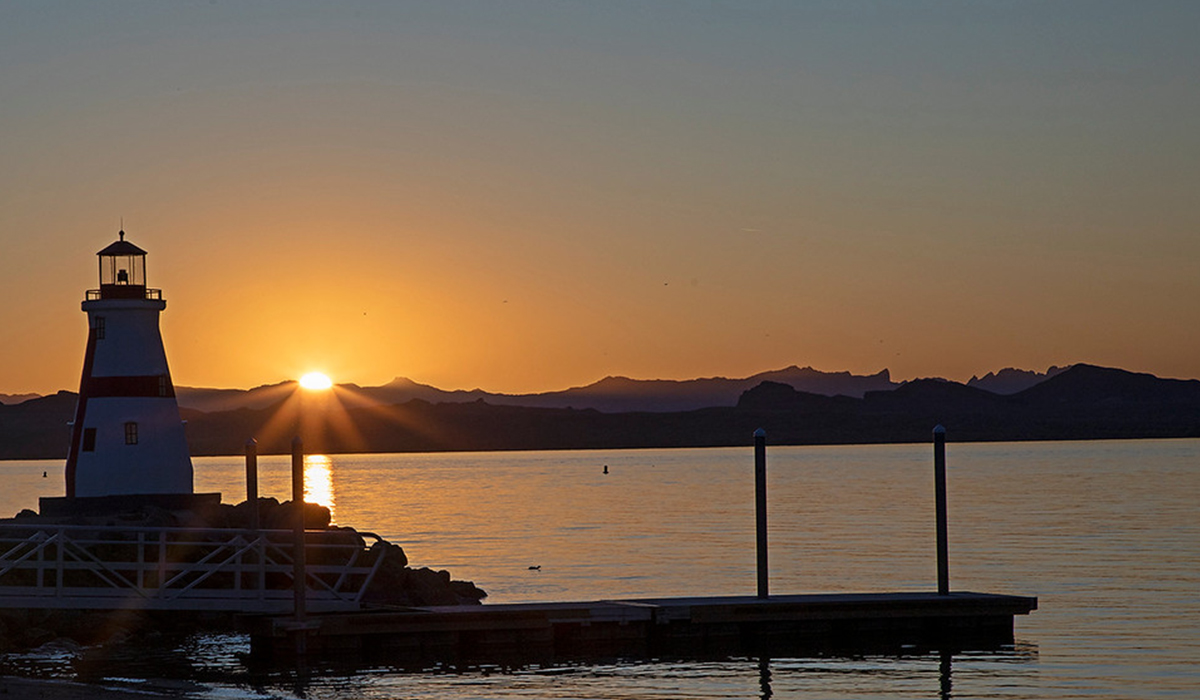 Lake Havasu, Cattail Cove, Buckskin Mountain, and River Island state parks all have scenic, clean campgrounds that accommodate either RV or tent campers. Lake Havasu offers air-conditioned cabins as well for those of you more into "glamping" your way across the state. Relax on a white sand beach, engage in a variety of watersports, fish for bass and catfish, hike trails, or…Just kick back and let the slow rolling current take your cares downstream! The details of your Colorado River experience are up to you, might as well get out there and start making some memories!
Gaining popularity as of late, is an activity becoming known as "park jumping." Park jumping gives participants the chance to experience a number of parks and their amenities during an excursion. The Colorado River Parks are set up perfectly for this exciting activity because of their linear alignment along AZ 95. You can start at the northernmost park in this region, Lake Havasu, and end up at Buckskin Mountain on the southern end of your journey. As a bonus, Alamo Lake State Park is located east of the Colorado River quartet and is a world renowned bass fishing destination and a great place to visit if you're looking for some Sonoran Desert solitude.
Southern Arizona
When thinking about southern Arizona, it's hard not to imagine an 1800's setting and a cowboy riding his horse off into a dusty, saguaro framed sunset. With so much rich Arizona history, and awesome places to visit near Tucson, you can have your cake, and eat it too when visiting the Tucson area. You see, in addition to the vivid cowboy history, outdoor recreation is booming down here and there's quite a few amazing experiences waiting for visitors to the southern part of this vast and diverse state! Come along, let's take a look at some of the best places to visit near Tucson in southern Arizona!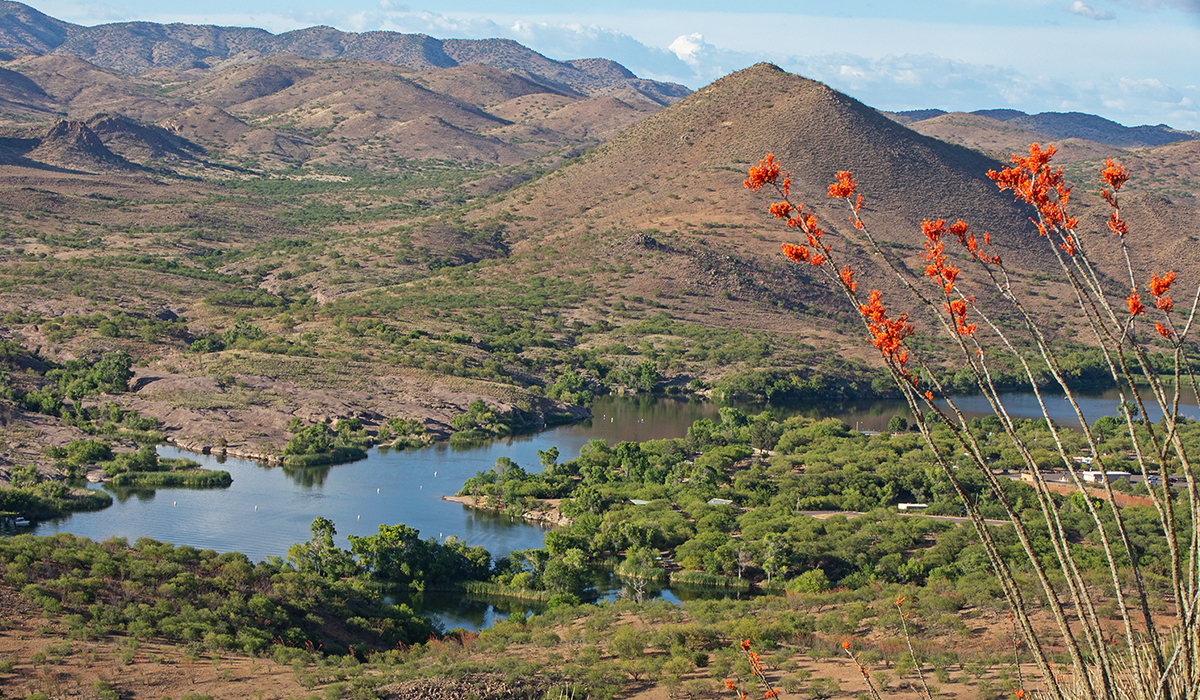 Catalina State Park
Tucson residents hold this park near and dear to their hearts because of its close proximity to the greater Tucson area. Almost like visiting an old friend, Visitors come from far and wide as well to take advantage of the expansive trail network that leads into the depths of the Santa Catalina Mountains. Catalina State Park is as welcoming as an old friend that has so many things to show you since the last time you met. Recently, this park has received the distinction of becoming an Important Birding Area (IBA) because of the diverse species that live here year-round, and those that flock here every winter.
The campgrounds at Catalina are top notch and have close access to trails, clean restrooms/showers, plus they're situated with a great view of the surrounding area. Park rangers lead a number of hikes throughout the park showing off the features that have made Catalina a favorite destination for visitors that want a piece of Arizona's natural beauty to take home in their memories.
Oracle State Park
The Kannally family built their lives in this pretty area about an hour northeast of Tucson, and their unique style and artwork is on display in the park visitor center. It's really cool to get a glimpse into turn of the century ranching life, especially when the Kannally's had so much style and grace in their rugged existence here wrangling cattle. The allure of this nearly 5,000-acre park doesn't end here, in fact this expansive high-desert location is a wildlife sanctuary absolutely loaded with native birds and animals for visitors to enjoy!
Hikers and Mountain bikers have tons of options here and the trail network leads users into some of the best and most beautiful wildlife habitat in the park. During your hike or ride, done be surprised to see Coues whitetail deer casually watching you from a distance, or a group of javelina rooting in the warm morning sun. Maybe you'll get caught off-guard by something spectacular and different…Coatimundis or coati have established populations within Oracle State Park and watching a troop (group of coatis) is an experience not soon forgotten. After an exciting day of exploring, slow down and enjoy a self-guided tour of the Kannally Ranch House. It's cool to imagine that this family, although long gone, experienced the same sights and sounds you did during your trail adventure!
Tombstone
The Earps, Doc Holliday, and a rough temperamental time in Arizona's history is on display at Tombstone Courthouse State Historic Park. Tombstone is likely one of the top historic places to visit in Arizona, and for good reason! The resurgence of the area history is partly thanks to the silver screen, and we're okay with that! See awesome artifacts in this well-curated Southern Arizona museum that were used by high profile figures like Wyatt Earp back in the day. You can really feel the history here as you walk through the park and down the streets associated with this awesome historic Arizona town.   
Patagonia Lake State Park
This park offers a multitude of activities amid the oak studded high-desert transition zone of southern Arizona, and as far as places to visit in Arizona go, this one really does have something for everyone! Here's how a typical day goes for many of the park visitors…Wake up from your campsite or cabin, hike, bike, or fish for a while, then relax on the sandy lakefront beach.  
Want rolling oak studded hillsides covered with exotic, native plants and animals? How about a great fishing destination within easy striking distance from the Tucson area? If you answered yes to either of these questions, Patagonia Lake State Park will amaze you at each and every turn! To be honest, the scenery is enough to beg a return trip, but after experiencing the trail complex, or relaxing by the gorgeous lake just absorbing Arizona's beauty, your senses will demand a return trip and this destination will land on your places to visit list for years to come!
Final Thoughts...
Arizona's diverse landscape options, and rich history are showcased FOR YOU throughout the state in Arizona's state parks. This is your chance to experience pieces of the state that are being conserved for future generations to admire and enjoy. It's so easy to see the state, but to see Arizona through the eyes of adventure is truly something special to behold. Plan a trip, tell a friend, and absorb the rustic beauty of the Grand Canyon State. Arizona has incredible, beautiful, and diverse places to visit throughout the state, all within a day trip of metro areas. Choose a park first, then select overnight options, next discover fun activities like hiking, birding, and fishing…Then jump in your car and GO!! It's that easy.