The dump station and showers are closed to anyone not camping at the park. Fire restrictions are in place at the park - no wood, charcoal or propane fires. No smoking except in an enclosed vehicle.
Programs & Events
June 13 and 27, 2021 8 a.m.
Join Ranger Star to learn all you can during this casual presentation! READ MORE
June 19, 2021 7:30 p.m.
Enjoy the desert under the glow of black light in search scorpions! Listen to a brief informative talk about scorpions before journeying into the desert night on your hunt. READ MORE
VIEW ALL PROGRAMS & EVENTS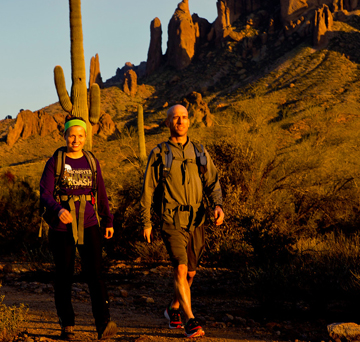 Park and Facility Hours
Park is open year-round
Trails
6 a.m. - 8:00 p.m.
Day Use Gates are closed and locked from 8 p.m.- 6 a.m. daily.
Visitor Center/Park Store
Monday-Friday: 7 a.m. - 3:30 p.m.
Saturday-Sunday: 6 a.m. - 3:30 p.m.
(Summer hours may vary)
Thanksgiving - 6 a.m. - 2 p.m.
Christmas Eve - 6 a.m. - 2 p.m.
Christmas Day - closed
Park Entrance Fee
Per Vehicle (1-4 Adults): $7.00
Per Vehicle Friday-Sunday and Holidays: $10.00 (Oct. - May)
Individual/Bicycle: $3.00
Photo Permits are required to take photos at the park.
Download the Commercial Filming/Photography Application
Personal photo permits can be filled out at the park the same day.