Use caution when hiking as trails as there have been washouts, mud slides, and rock slides due to rain.
The dump station and showers are closed to anyone not camping at the park.
Full Moon Hike at Lost Dutchman
Lost Dutchman State Park
Jan. 3 | Jan. 6 (Spanish) Varies by Date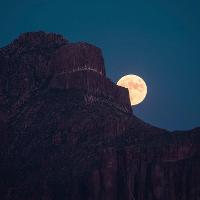 This beautiful program is designed to start with a famous Arizona sunset draping gracefully over the Superstition Mountains, and end under the light of the full moon. The easy 1.5 mile trail features some rocky, rough terrain but with little elevation gain. It is a ranger-guided hike focusing on the aesthetic, while offering opportunities to stop and interpret what you see on the trail. To reduce impact, ensure safety, and provide a more intimate, personalized experience, there will be a guest limit. $10 per person (10 and up). Bring good shoes, water, and a small flashlight.
November events at 6 p.m. Event is weather permitting. Meet in the Cholla Day Use area.
Upcoming dates (reservations will open two months prior to the date of the hike):
December 7, 5:30 p.m.
January 3 and 6, 5:30 p.m. (January 6 will be a Spanish-language program)
February 3 and 4, 6 p.m.
March 4, 5 and 6, 6:30 p.m.
April 4 and 5, 7 p.m.