It's easy to find great Arizona summer vacation spots that will cool you off and help you forget all about the triple digits as you create your personal summertime story! Gather up the family to beat the heat with trips to these awesome destinations all summer long! You never know...You might just have your best summer yet in 2022!  
---
Northern Arizona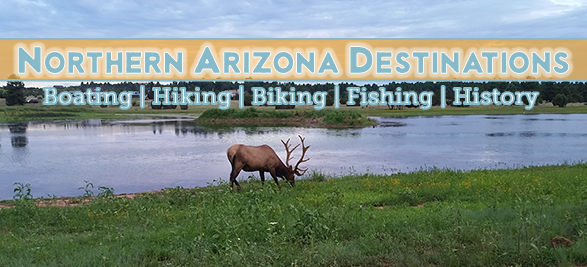 Northern Arizona is home to a number of Arizona's state parks and is a great place to cool off! Both the high desert country surrounding Dead Horse Ranch State Park, and the riparian zone along the Verde River are loaded with trails, tons of unique and beautiful wildlife and birds, and the fishing is typically very good for a variety of species in the lagoons and along the river.  
As the high desert extends north-eastward toward Red Rock State Park, the rusty colored rocks of the Sedona area tell a striking story of history and discovery. Hit the trails at Red Rock, enjoy the natural, laid-back vibe, and witness the tale of conservation in action. Head north up State Route 89A, where the trees get taller, the temperature drops, and the cool waters of Oak Creek are within reach for an afternoon of relaxation and enjoyment at Slide Rock State Park. Take a slide, enjoy a picnic, and take with you beautiful memories of an iconic Arizona location.
The White Mountains will show you rich Arizona history, cool summertime temps, and two of Arizona's gorgeous state parks. The ponderosa pine country surrounding Fool Hollow Lake Recreation Area hosts an active and typically very visible herd of elk. Often, as the sun breaks the horizon either early or late in the day, elk can be seen emerging from the dark shadows provided by their ponderosa-filled homes. Imagine how their presence will enhance your vacation story while you are paddling around the lake or casting for one of the many fish species below its surface.
In the northern foothills of the historic White Mountain range, Lyman Lake State Park is nestled in a high desert valley flanked by open country to the south and a long juniper-studded ridge to the north. This lake will give you the experience you need to complete your summertime adventure. Do you feed off of adrenaline? Great! Bring your boat, your wakeboard (or water-skis) and enjoy the open water! Like a slower pace? You can do that too! Wake up in your camping cabin, then cast for walleye, bass, or catfish and watch the varied area wildlife while you wait for the lake to give up more memories. Plus, there are plenty of trails to explore, some offering glimpses of the past with rock paintings!
---
Southern Arizona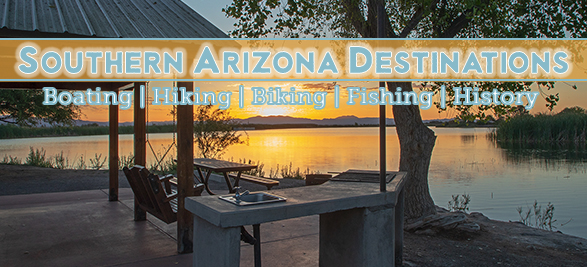 Southern Arizona provides a variety of scenic park options and a great deal of diversity in plant, animal, and bird species to entertain your senses. This part of the state is also loaded with stories of cowboys riding the range in the proverbial battle of good vs. evil with the famed outlaws of their time. The Earps knew Southern Arizona well and their lives are curated very nicely and thoroughly at Tombstone Courthouse State Historic Park. Use their story of passion, guts, and glory for inspiration before setting out to explore the natural world of Southern Arizona's gorgeous state parks!
The rolling hills of Patagonia Lake State Park contain great opportunities for summertime adventure and the lake itself shines like an inviting gem beckoning your attention. A variety of trail experiences lead visitors into the depths of southern Arizona's diverse backcountry. Here, an encounter with Coues whitetail deer is likely, and the special moment shared in appreciation of these delicate yet tough animals will be engraved in your thoughts forever. Maybe lake life is more your speed? Pull up a chair and catch largemouth bass, crappie, or catfish before taking a quick swim to cool off from a day's worth of Arizona adventuring. Or, just rent a boat and watch the world unfold all around you from the center of this desert oasis.
Northeast of Patagonia, a high desert destination with great adventure potential awaits your arrival. Roper Lake State Park gives visitors amazing views amid the laid-back eastern Arizona atmosphere. The lake holds thousands of memories and is always willing to share…Imagine a relaxing summer morning as you sip coffee near your camping cabin, and on the shore of this beautiful lake. While waiting for the fish to bite, conversation turns to the mountain looming in the not-so-far distance as the sun begins to illuminate its craggy peaks and desert foothills. After the lake gives up a few fish, you decide to explore Mt. Graham for the day, and retire back at the park completely exhausted from another amazing Roper Lake experience.
---
Western Arizona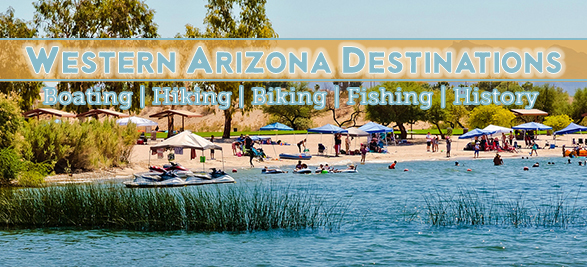 Along Arizona's western border, a variety of state parks offer amazing summertime experiences for all types of visitors. Depending on the type of adventure you're looking for, there's a park with amenities, the fun, and the culture to fit your summertime needs. Our northernmost park along the ancient Colorado River is Lake Havasu State Park. Have you heard of it? If you've got a party-centric agenda, love adrenaline inducing activities, or enjoy world-class bass fishing…This park is for you! Live the river life here with other like-minded park goers that play hard during the day and settle into the local nightlife after the sun goes down. Cattail Cove State Park is just a bit south, but still within the greater Lake Havasu area. Expect a similar vibe as Havasu proper, just turned down a bit. Gorgeous views, awesome trails, and clean campgrounds make this western Arizona destination one to be on your list for sure. Plus, you can rent paddleboards and kayaks to take your summer adventures out on the water.
Next up, Buckskin Mountain and River Island state parks provide visitors with calmer, more relaxed experiences. Both parks have gorgeous riverfront property and expansive views of the rugged surrounding mountains. From Buckskin, tons of trails allow you to either delve deep into the western Arizona backcountry or explore along the river. River access by way of boat ramps allows campers and day users a chance to explore the lazy Colorado River. A good boat ride and the cool mist of river water as you explore the Arizona-California border will not easily be forgotten, especially after returning to the park and relaxing right on the edge of this famed river, favorite beverage in hand, sharing stories with people you care about. This simple formula for a summer vacation has elicited return trips and forever memories.
---
Final Thoughts 
Arizona summer vacations offer a wide-variety of experiences in a number of stunning locations throughout the state. From vast deserts to the west and south, to the cooler high country up north, there's an experience for everyone to enjoy. It's so easy to pick a spot and go...Just let adventure be your guide this summer as you explore these beautiful and diverse state parks. It's true that every summer has a story, and you're the only one that can write yours! We just hope to have a chapter in the story, and a place in your memories of the best Arizona summer vacation you've ever experienced.