Beat the Heat Summer Camping Options
Arizona summer camping options are abundant in many of Arizona's state parks and offer unique outdoor experiences across the state. Whether a quick getaway close to town or a weekend trip to escape the heat is on your agenda, campgrounds are available all summer long in Arizona's most beautiful places!
We're asked about summer camping possibilities all the time because, let's face it, portions of Arizona can get downright hot during the long days of summer. Luckily we have compiled tons of great information to keep campers comfortable and safe when planning a summer camping trip. Learn where you can go camping this summer, how to camp in hot weather, and other summer camping hacks to stay cool during Arizona's annual heatwave! For beginner campers or those who just want a little extra comfort, you can also rent a camping cabin at several of our parks and enjoy coming back to an air-conditioned campsite!
Where Can You Camp in Summer?
High Desert Camping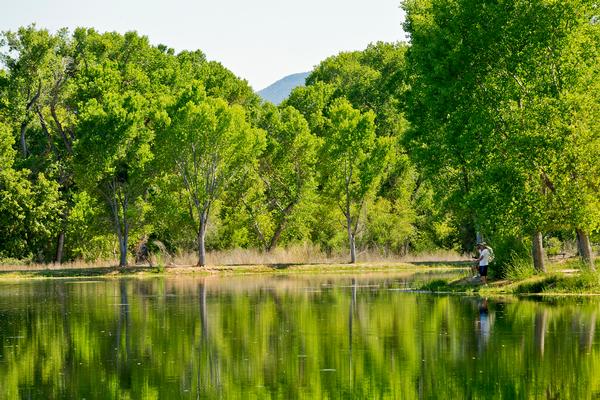 Kartchner Caverns State Park sits comfortably at about 4500 feet in the foothills of the Whetstone Mountains. A variety of scenic trails give visitors quick access to the higher elevations of this iconic southern Arizona mountain range where it is much cooler than the surrounding area. Theres plenty of shade in the campground, with running water and quick access to a cool shower, this high desert park is a summertime favorite of our visitors. A little lower in elevation, and often closer to population centers, high desert parks are still great summer camping options. Dead Horse Ranch State Park is just outside of Cottonwood in central Arizona and offers campers a variety of summertime adventures. Hundreds of cottonwood trees line the lagoons and provide sanctuary for park visitors from the direct sun. The campgrounds here are situated strategically to take advantage of cool winds coming from higher country as well. Rarely (if ever) breaking the 100-degree mark, this park is still a viable option for summertime campers looking to get out of town and into nature. Beautiful nighttime temperatures hover around the mid-sixties and create the perfect environment for long talks and a delicious beverage under the stars.
If the rolling hills of southern Arizona's high-desert are more your speed, you can still enjoy a respite from summer temperatures at Patagonia Lake State Park. During the peak of summer, highs in the mid 90's are complimented well by the mid 60's low temperatures. The major population centers of Phoenix and Tucson average 10-20 degrees higher than those of this southern Arizona oasis! The lake is perfect for a summertime swim, or to catch a few fish for an evening meal under the deep orange glow of a desert sunset. It's so easy to escape to this summer camping destination, and even easier to forget the daily grind and recharge mentally in the beauty of this desert jewel.
Northern Arizona Camping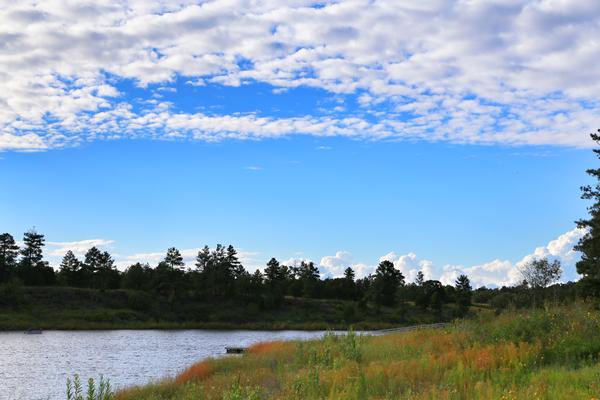 Every campground in the Arizona State Parks system is able to provide a great summer camping experience! Each camper needs to ask themselves what they would like to get out of the trip before booking a spot. Some may like to escape the heat completely and head north to a high-country campground like Fool Hollow Lake Recreation Area. This location is within ponderosa pine country and rarely breaks the 90-degree mark. More typically during the heat of the summer, park temperature highs are in the mid-eighties while lows dip below 60 degrees at night! Listen to the breeze sing as it careens through the ancient trees. The hypnotic sound will inspire future dreams of returning to this absolutely gorgeous park. Book a spot to see for yourself!
Lyman Lake State Park is within the northern foothills of Arizona's White Mountains, and like Fool Hollow, rarely exceeds 90 degrees, even during the oppressive heatwaves experienced elsewhere in the state. This is big sky country amid juniper studded hills. It's so relaxing to sit lakeside with a breeze across your face, watching giant fluffy white clouds roll by. Your worries seem to be swept up and carried away with the clouds as they continue their journey. Reserve a campsite here to enjoy solitude and peace while exploring this hidden treasure of Northern Arizona.
Camping in the Sonoran Desert
There are plenty of places in Arizona's desert parks for campers to camp out this summer if they're up to the challenges presented by extreme heat. There are a number of summer camping hacks to help campers enjoy the outdoors in spite of the temperatures listed below, and Catalina, Lost Dutchman, and Picacho Peak state parks offer great venues for a summer camping trip! Check out the following advice to help you stay cool when camping in the desert.
Drink Plenty of Water
Choose a Cool Tent
Use a Portable Tent Fan
Eat Cold Food
Wear Loose Fitting, Light Colored Clothing
Soak Your Hat or Bandana
Wear Sunscreen
Desert camping during the summer months takes a little logistical ingenuity, but by paying attention to detail, campers can enjoy a great experience under the desert sky. Show up to the park in the late afternoon or evening as the temperature begins to drop for the day. By doing so, campers will have the luxury of setting up camp after the sweltering temperatures have started to drop and as day fades to night. Imagine setting up camp beneath the orange and pink sherbet hues of a desert sunset! This tactic will allow visitors to take advantage of the gorgeous desert nights while experiencing the Sonoran Desert come alive after the sun dips behind the horizon.
Wake up early to take advantage of the outdoor recreation options before it gets too hot to bear, then pack up, go home, and enjoy the A/C! It really is possible to enjoy a summer camping experience within the Sonoran Desert -- you just have to be willing to change it up a little.
Summer Camping Gear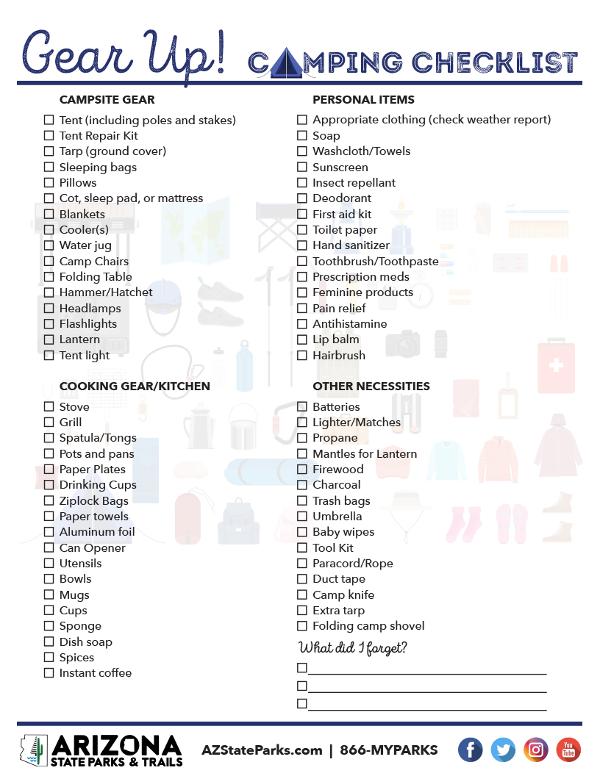 Gear for a summer camping trip will vary slightly depending on location, and weather, however, most of your "regular" camping gear will suffice with a little attention to detail. Check the weather before your trip, then refer to this awesome camping gear checklist, or download the great camping checklist right here on the page. See below for specific camping gear hacks that will help you stay cool and comfortable during a summer camping trip!
First and foremost, your sleeping accommodations must be comfortable for you to enjoy summer camping. Tents with thin fabric and plenty of ventilation options are crucial. If there is any wind, try to determine which direction it is coming from and set up your tent to take advantage of cross-ventilation. If possible, pitch your tent in the shade, or if no shade is available, bring your own! An inflatable mattress or cot will get you off of the ground and allow you to enjoy a little cooler summer night while camping. A very thin sleeping bag, or even just a sheet (if necessary) will allow your skin to feel any draft provided by a slight breeze. Battery-operated camp fans help greatly to move air through your tent and should be added to your list of necessary things for a summer camping trip.
No summer camping gear checklist is complete without the inclusion of a cooler. Cooler preparation and usage is actually more important than cooler brand, although the various roto-molded cooler options out there are revered at the "best", plastic cooler options can get you through almost any summer camping trip if used correctly. Your goal is to keep the ice from melting for as long as possible…This sounds easy enough until you're on the second day of a four-day trip and met with submerged and wet food! Learn more below about proper cooler prep and usage. After all, your success begins before you go camping this summer!
Bring your cooler inside at least 24 hours before loading it up for the trip. Your goal is to bring the internal temperature down as far as possible before loading it up with ice. Use blocks of ice primarily and supplement with cubes. Blocks melt much slower but they take up a lot of room. Use about one-third of cooler space for a block and fill in the voids with cubes, only opening the bags of cubes if absolutely necessary!
Cool off your drinks at home in the refrigerator BEFORE loading them into the cooler as well. This will help greatly as you reduce the surface area the ice will have to cool. Keep any meats that will not be consumed on the first day frozen to help keep the internal cooler temperature down as well, you can always thaw them at your campsite. Last, but certainly not least, try not to open your cooler during a summer camping trip more often than needed! Asking your camp mates if they would like a drink on your way to the cooler will reduce the amount of times the cooler is opened, which will help to retain that precious ice!
Summer Camping Activities
Beating the heat takes a little creativity but luckily there's plenty of fun things to do after the sun goes down and the desert cools off for the night. If you think about it, many of the same fun outdoor activities you like to engage in during the day can be done at night too! Hiking and fishing specifically come to mind, but don't neglect other summer nighttime activities like star gazing, and good old fashioned conversation! Check out these suggestions below to help you maximize your time outdoors this summer.
Night Hiking
Hiking at night takes a little more attention to detail but it can pay off big time with a unique summer experience and great camping memories! Summer nights in Arizona's deserts can still be a little on the warm side so please take plenty of water on your journey. A flashlight or headlamp is needed to see the trail and aid greatly in your safety while exploring the parks at night as well. Please remember to watch your step and hike slower at night than you normally would during the day. Night hikes through the desert can be a great way to get exercise and see the desert in a different, exciting way, but please be careful out there and use common sense with a dash of logic on your trip.
Lost Dutchman State Park east of Mesa, AZ offers plenty of organized summer night hiking events. You can take a guided moonlight walk with one of the park rangers or volunteers and learn all about the Sonoran Desert while experiencing a unique nighttime adventure. Or...Attend a guided scorpion hunt armed with a black light and a little courage. No, you're not going to kill the scorpions, but you wil find several and learn about their awesome adaptions to the desert lifestyle. After your moonlight hike or scorpion hunt, retire back to your campsite and discuss the experience under the star-filled sky.
Night Fishing
Kicking back fishing from the lake shore on a summer night is a time honored tradition for good reason. First of all, it's super relaxing to sit in your camp chair engaged in great conversation with someone close while enjoying the beverage of your choice. Secondly, in many of Arizona's state park lakes, the catfish are biting all night long! Channel catfish populations are supplemented regularly during the summer months with stockings from the Arizona Game and Fish Department. With each truck, delicious, hatchery raised channel catfish are placed into these Arizona lakes for your enjoyment. Catfish are relatively easy to catch too...Patience and the right bait usually help. Be sure to fish for them on the lake bottom with baits like chicken liver, earthworms, hot dogs, or commercially prepared dough bait. It's a good idea to bring more than one option until you find out what they want to eat that particular night.
BUGS...
It's no secret that there's a ton of different creepy crawlies that want nothing more to annoy you. During the summer months especially, Arizona's diverse insect species are out in force and will find a way into your life...If you let them! There are a variety of eco friendly insect repellents that do a great job of keeping the annoying critters a bay so you don't have to roll into work on Monday morning itching a constellation of bites. Store your repellant in a backpack so you can have it with you wherever you are, especially for adventures away from camp that may require the re-application of repellant.
Final Thoughts
Wherever you're camping this summer, there's an endless supply of adventure and recreation awaiting your arrival. Enjoy the high country's cool weather and astounding landscapes, a nearby getaway, or experience the summer heat during the best time of day -- night! Arizona's vast and diverse camping spots are sure to create memories you'll want to recreate time and again during a summer camping adventure.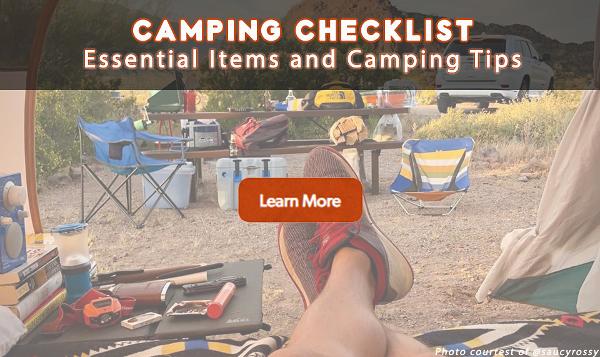 Downloadable camping checklist, and much more!