There is currently an excessive heat warning in place. Exercise caution, do not hike in the heat of the day (10-4 p.m.), and properly prepare for a summer hike. Please be aware of roadwork along SR 89 that may add time to your drive to the park.
 
Until further notice, both Granite Mountain Hotshots and Yarnell Hill Fire Memorial parks will be closed on Mondays and Tuesdays.
Parking is limited. Please do not park alongside State Route 89.
Yarnell Hill Fire Memorial
In 2023, Arizona State Parks and Trails took over management of the Yarnell Hill Fire Memorial in the town of Yarnell. This park was created to offer another way to honor the Granite Mountain Hotshots as well as tell the story of the impact of the fire on the town.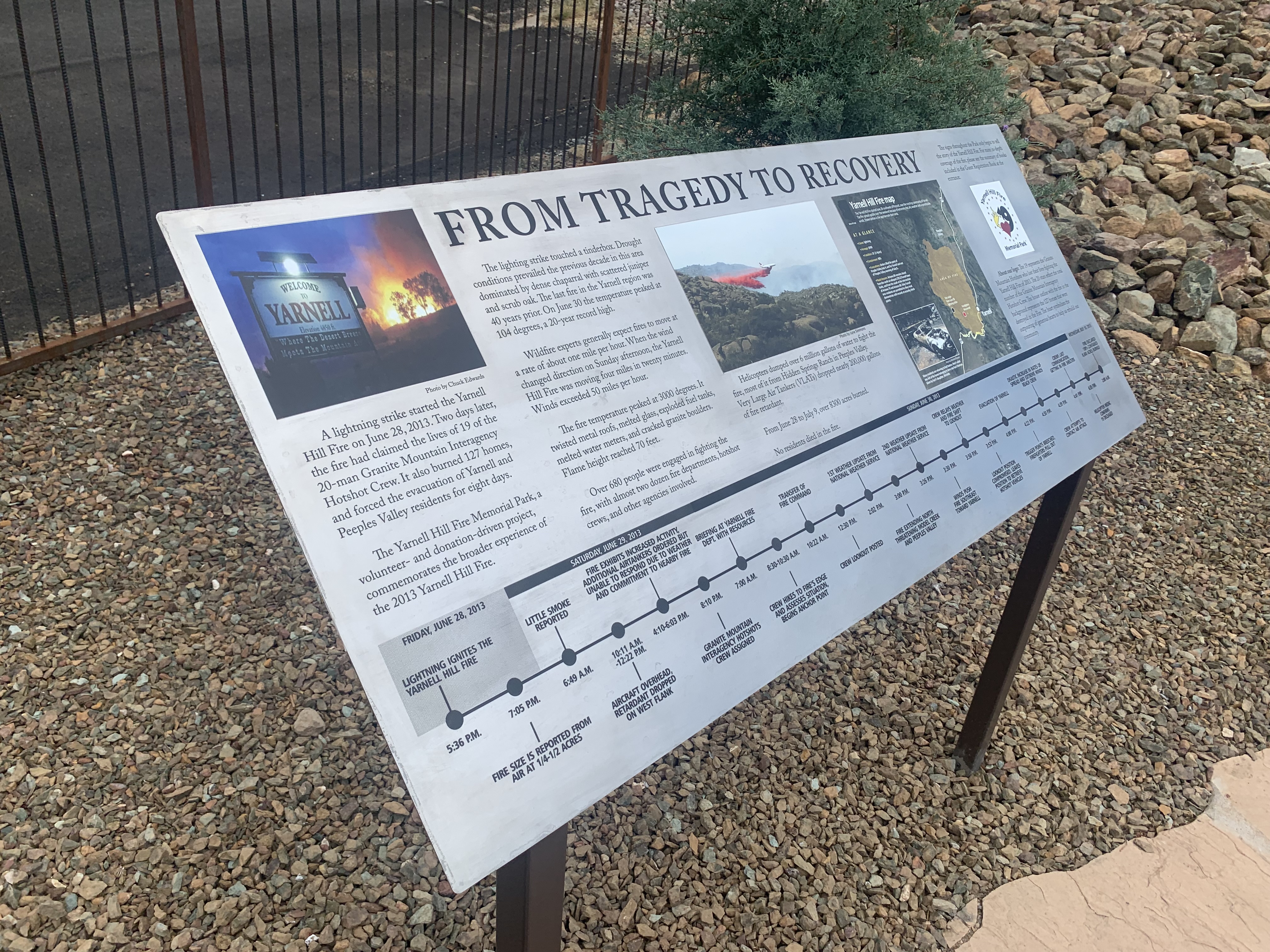 The park is an attractive, comfortable public facility that includes clean restrooms, interpretive signage, a public gathering place and event venue.
Residents and travelers can visit to reflect, pay tribute to firefighters, and learn about fire safety, prevention and related issues.
The Yarnell Fire Memorial is located at the corner of Highway 89 and Shrine Road in Yarnell. The design for the two-story facility was provided by faculty and staff of the Frank Lloyd Wright School of Architecture, and revised with community input in 2015. 
The Yarnell Hill Fire Memorial offers a more accessible way for visitors and family members to pay tribute to the 19 Granite Mountain Interagency Hotshots who lost their lives during the fire. Visitors can learn about the 2013 fire, the evacuation and recovery process, as well as Firewise education. 
The historic image of the team in a human pyramid was taken at the World Record alligator juniper tree in Prescott, saved from the Doce FIre a week prior to the Yarnell Hill Fire. The photo was recovered from the personal camera of Granite Mountain Hotshot Christopher MacKenzie.   The photo of the hotshots has been modified, with family permission, to include two members of the crew who were not actually present for the photo and Chris, who was taking the photo.