There is currently an excessive heat warning in place. Exercise caution, do not hike in the heat of the day (10-4 p.m.), and properly prepare for a summer hike. Please be aware of roadwork along SR 89 that may add time to your drive to the park.
 
Until further notice, both Granite Mountain Hotshots and Yarnell Hill Fire Memorial parks will be closed on Mondays and Tuesdays.
Parking is limited. Please do not park alongside State Route 89.
Commemorative Hotshots Merchandise
New Granite Mountain Hotshots commemorative shirts, patches and stickers are now available for purchase.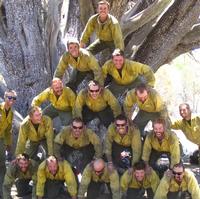 Remember the Granite Mountain Interagency Hotshots Crew and your visit to this memorial park with a lasting keepsake.
---
What is "Be Better?"
The term "Be Better" was coined by Granite Mountain Interagency Hotshot Andrew Ashcraft. Based on the idea of "Esse quam videri" a Latin phrase meaning "To be, rather than to seem," which was the motto of the Hotshots, this phrase had a special meaning for Andrew, his family, and his fellow Hotshots.  
Andrew had found a few plain white wristbands and wrote the words "Be Better" on each one with a black marker. He kept one for himself and gave one to his wife and each of his children to wear. He wanted it to be a constant reminder for all of them to try to be a better person, father, brother, sister, friend, husband, wife, teammate, in every aspect of their lives. The family agreed to all try to be better. As time went on, Andrew's family eventually took their wristbands off, but Andrew always kept his on, never forgetting its simple but important message.
After the Yarnell Hill Fire took the lives of 19 Granite Mountain Hotshots, their bodies were recovered from the fatality site and any personal effects found were given to their families.
Under Andrew's body, they found two items: his platinum and gold wedding ring, the gold portion melted from the intense heat of the fire, and his "Be Better" wristband, burnt, but still recognizable. The ring was given to his wife and the wristband to his mother, Deborah Pfingston.
Deborah graciously shared this story with us and agreed to let us use Andrew's "Be Better" words to honor his memory and that of his Hotshot brothers on special t-shirts and replica wristbands. Arizona State Parks & Trails was proud to host the annual conference for America's State Parks leaders from all 50 states in September of 2018 in Sedona, Ariz. The theme of the conference was "Be Better" and was opened with a recorded video message from Deborah Pfingston, telling Andrew's story to the attendees. 
We encourage you to visit the memorial park, hike the trail, and read the words left for each Hotshot on 19 memorial plaques. We hope that the experience leaves you a better person and thank you for your support in keeping the memory of the Granite Mountain Interagency Hotshots alive.
Proceeds from each sale help with operational costs for this memorial park.
---
We accept cash at the park, but credit cards can be used to purchase a shirt by phone at (877) 697-2757. Choose option 4 to speak with a staff member Monday - Friday, 9 a.m. - 4 p.m.
Hotshots t-shirt - $25 donation / Patch - $5 donation  / Sticker $3 donation
Shirts available in beige or parks green. Sizes: Small, medium, large, XL, 2XL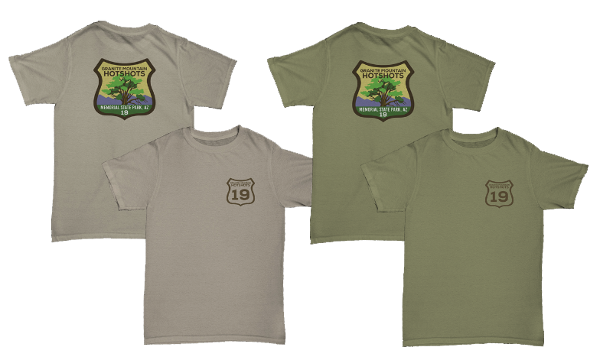 No charge for shipping.
Thank you for your support!