Homolovi State Park will no longer accept self-pay registrations for camping. Same-day reservations can be made by coming to the visitor center in person or by calling the park office at 928-289-4106 by 4:45 p.m. Entries for non-registered campers will not be accepted after that time.
Note: Arizona does not observe Daylight Saving Time.
Star Party at Homolovi State Park
Homolovi State Park
Monthly, April-November 6 p.m. (Arizona time)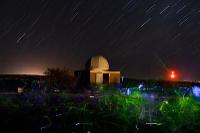 Come out to Homolovi's Visitor Center Museum and Observatory for a night under the stars! These astronomy events are free with cost of park entry. Each event will feature a guest speaker with telescope viewing through the Winslow Homolovi Observatory to follow the presentation. This program is brought to you in partnership with the Little Colorado River Valley Astronomy Club.
The Winslow Homolovi Observatory offers telescope viewing through the huge 14" telescope and our new television monitors. Deep sky objects, like nebulas, distant stars, and even galaxies will be visible!
CLICK HERE to view the lineup of guest speakers. Bring your sense of wonder!
April - November 2023 Schedule:
May 20: Kyler Kuehn, PhD, Lowell Observatory
June 17: Screening of Nicole A. Mann, Astronaut
July 15: City of Winslow Public Library, Life of Galileo
August 19: Kevin Schindler, Lowell Observatory
September 16: James Windsor, NAU Exoplanets: The New Frontier!
October 14 at 8 a.m.: Solar Eclipse (this event will be held at the Winslow Public Library - 420 W. Gilmore St., Winslow AZ 86047)
October 21: Ellie Lincoln, Lowell Observatory
November 11: Park Ranger, Kenn Evans