2023 AppreciateAZ Day: Boom in Off-Highway Vehicle Use Highlights Need for Rider Education
Celebrate AppreciateAZ Day on Oct. 4 by learning the 5 Tread Lightly! Principles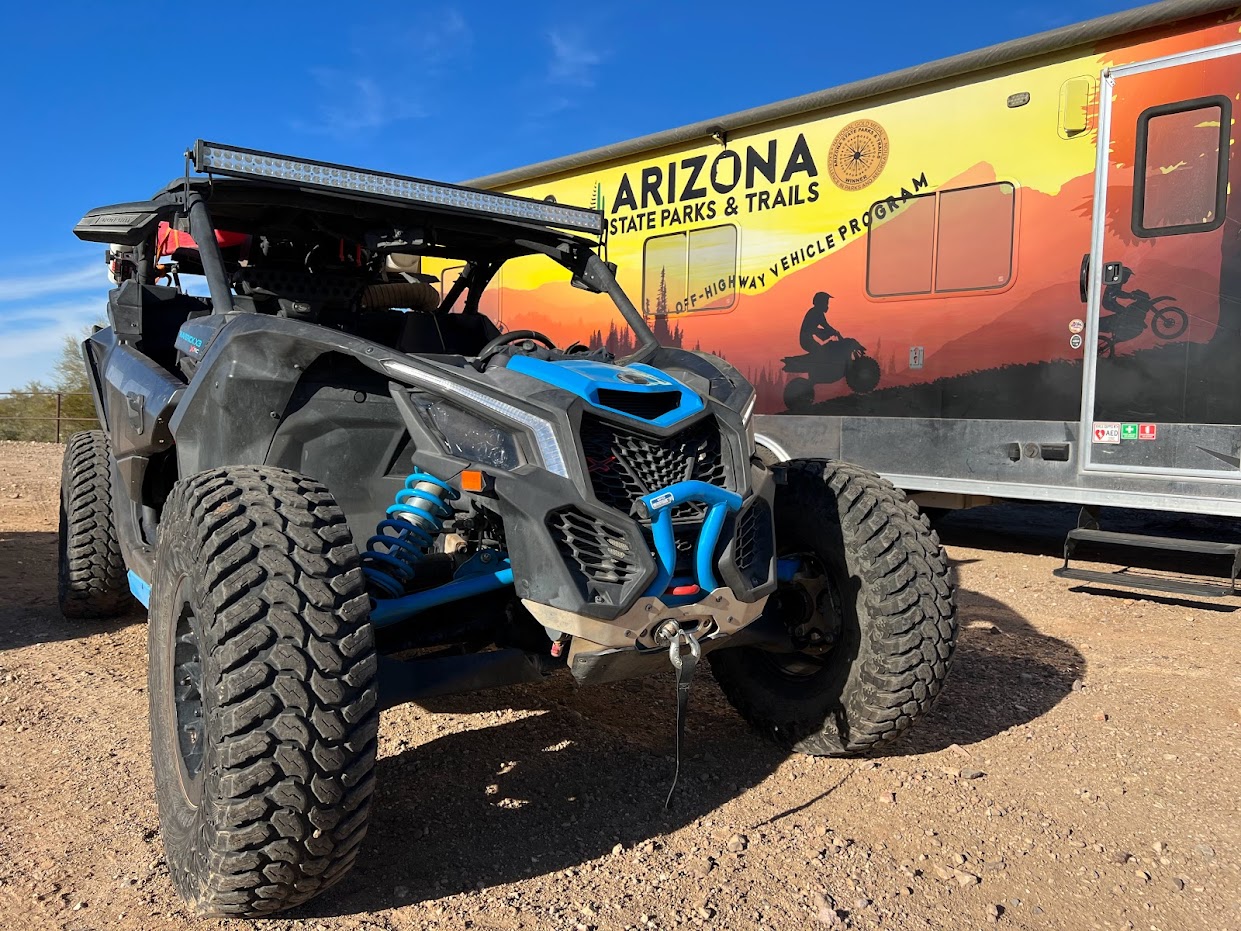 PHOENIX – (Oct. 3, 2023) The spike in enthusiasm for outdoor recreation during the pandemic wasn't limited to activities such as hiking and mountain biking. Recent data shows motorized recreation and the use of off-highway vehicles (OHVs) have also seen a dramatic increase since 2019.   
Sales of OHV permit decals to both Arizonans and visitors increased by 38% (from 131,200 in FY'19 to 181,700 in FY'22), representing the potential for approximately 50,000 new OHVs and OHV riders on statewide trails, according to data from Arizona State Parks & Trails.
In honor of AppreciateAZ Day on Oct. 4, the Arizona Office of Tourism, Arizona State Parks & Trails and Tread Lightly! are working to increase awareness of easy guidelines for safe, fun and sustainable experiences while enjoying the state's nearly 40,000 miles of off-highway trails and other outdoor spaces. 
"With our seasons starting to change, Arizonans and visitors are heading out to enjoy all the outside activities and natural beauty our state offers," said Lisa Urias, Cabinet Executive Officer/Executive Deputy Director (CEO/EDD) of the Arizona Office of Tourism. "AppreciateAZ Day is a great reminder of the many ways to enjoy our state's public lands responsibly."    
State Parks offers a wide variety of helpful resources for OHV enthusiasts, including information on where to ride in Arizona with details on where to purchase the required decals, safety information and maps with statewide motorized vehicle trailheads.   
"With nearly three million people visiting our state parks each year and many more using off-highway vehicles on our statewide trails, it's important to share the principles of AppreciateAZ," said Arizona State Parks and Trails Executive Director Bob Broscheid. "Our mission is to preserve and protect Arizona's amazing outdoor spaces for our visitors, now and for future generations."
AppreciateAZ provides education that helps people see how many small actions result in big, positive impacts for the state. AOT is working with Tread Lightly!, a nonprofit organization promoting responsible use of motorized vehicles, to share its 5 T.R.E.A.D. principles for responsible off-highway vehicle use.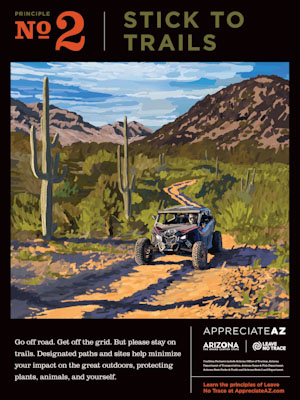 "Tread Lightly's T.R.E.A.D. principles help remind off-road and off-highway vehicle (OHV) users to balance their need for adventure with the need to conserve the places where they ride and explore here in Arizona," said Matt Caldwell, executive director of Tread Lightly! "We're honored to be part of the AppreciateAZ campaign and to help educate Arizonans about being responsible when out on the trails." 
Motorized trails provide benefits to many Arizonans, including to those who don't use them. Motorized trail use in Arizona generated $5.2 billion in economic value to communities across the state between 2019-2020, according to a University of Arizona study. 
AppreciateAZ is AOT's statewide program to encourage responsible and sustainable tourism practices for both Arizonans and visitors. AppreciateAZ reinforces how simple, individual actions result in positive impacts for the whole state.
###
AOT Media Contact: Josh Coddington, (480) 438-4700, jcoddington@tourism.az.gov
Arizona State Parks Media Contact: Michelle Thompson, (480) 589-8877, mthompson@azstateparks.gov
About the Arizona Office of Tourism: The Arizona Office of Tourism works to strengthen and grow Arizona's economy through travel and tourism promotion, positioning Arizona as the leading destination for domestic and international travelers. In 2022, tourism employed more than 179,000 Arizonans and contributed over $3.9 billion in tax revenue to our federal, state and local economies.
About Arizona State Parks and Trails: Arizona State Parks and Trails manages and conserves Arizona's natural, cultural and recreational resources for the benefit of the people, both in parks and through partners. For more information about the more than 30 parks, the State Historic Preservation Office, or the grants and OHV programs, please visit AZStateParks.com.
About Tread Lightly!: Tread Lightly! is a non-profit organization that leads a national initiative to promote the responsible use of motorized vehicles when recreating outdoors. The goal is to balance the off-road and off-highway vehicle (OHV) users' need for adventure with the need to conserve the places where they ride and explore.