Grants Navigation
Click the Explore Grants Pages and Programs button below to visit our Main Grants Page or to learn more about other grant opportunities available through Arizona State Parks and Trails. 
Land and Water Conservation Fund (LWCF)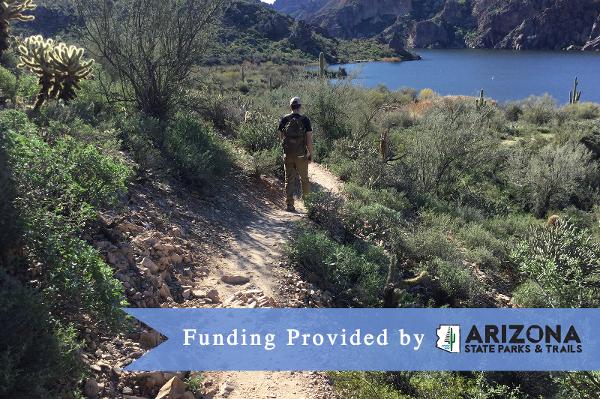 The Land and Water Conservation Fund was established by Congress in 1964 to fulfill a bipartisan commitment to safeguard our natural areas, water resources and cultural heritage, and to provide recreation opportunities to all Americans. Using zero taxpayer dollars, the fund invests earnings from offshore oil and gas leasing to help strengthen communities, preserve our history and protect our national endowment of lands and waters. The LWCF program can be divided into the "State Side" which provides grants to State and local governments, and the "Federal Side" which is used to acquire lands, waters, and interests therein necessary to achieve the natural, cultural, wildlife, and recreation management objectives of federal land management agencies.
Available Funds: Variable (based on project needs and timeline)
Eligible Applicants: Eligible applicants include governmental entities (cities, towns, counties, tribal governments, state and federal agencies). Non-profits and clubs are not eligible for the LWCF.
Eligible Projects: Funding can be used for outdoor recreation facilities; ADA/accessibility upgrades; acquisition of park lands; baseball & soccer fields, bike parks, pools, playground equipment.
Apply for LWCF Grants
Blank Applications
Please click the links provided to view blank applications for the Land and Water Conservation Fund.
Arizona State Map
This state map is used to highlight where within the state an applicant's project will take place.
Arizona State Parks and Trails Administrative Guidelines
These Administrative Guidelines were established to assist project sponsors in the successful and timely completion of their awarded grant projects. The Arizona State Parks and Trails (ASPT) Grant Staff will work closely with project sponsors to answer questions and provide recommendations on grant projects. Should you have questions or concerns regarding a grant project, please contact the Grants and Trails Team.
Arizona State Parks and Trails Grant Manual 
Arizona State Parks and Trails (ASPT) invites non-profits, clubs, local, regional, state, federal and tribal governments to submit grant applications for all kinds of motorized and non-motorized recreational trail uses. This manual provides guidelines for project sponsors on funding opportunities and how to apply.
NPS LWCF Manual
These policies set forth the administrative procedures and guidelines for Land and Water Conservation Fund (LWCF) federal assistance (Catalog of Federal Domestic Assistance #15.916) to the States by the U.S. Department of the Interior, National Park Service (NPS).
EPA Section 404 Information
This link will assist in determining if your project will require a 404 Permit form the U.S. Army Corps of Engineers.
Legislative and Congressional District Information
Applicants can use this map to determine the project area's Legislative and Congressional Districts.
Census Data
This link provides census information that can be incorporated into required applications fields.
Statewide Comprehensive Outdoor Recreation Plan (SCORP)
This document provides recreation management priorities for Arizona State Parks and Trails and other recreation management agencies in the state of Arizona.
Arizona Game and Fish Department Environmental Review Tool
This tool allows users to identify Arizona wildlife species and habitat that may be impacted by the proposed project area. It also generates in depth reports that can be used in the application process.
National Park Service Forms: