Off-Highway Vehicle Program
ATTENTION NON-RESIDENT RIDERS:
We are grateful that you've chosen Arizona as your riding destination. Before planning your next adventure to ride with us we wanted to make you aware of a new guideline for non-resident riders.
Beginning fall 2019 all non-resident off-highway vehicles will be required by law to have a new Non-Resident Arizona OHV decal. Decals will be $25 and valid for one year from the date of purchase. They will only be available for purchase online and will be issued by the Arizona Game and Fish Department. Please visit the Game and Fish link for the most up to date information on this new law and how to purchase your decal when they become available. Until then, we can't wait to ride with you and hope you enjoy all of the great riding opportunities our beautiful state has to offer.
---
In recent years, off-highway vehicle use has grown significantly throughout Arizona. With 365 riding days per year, Arizona draws OHV enthusiasts from across the country to partake in our, scenic trails, and awesome weather. With Arizona's growing OHV community and trails in mind, Arizona State Parks & Trails is dedicated to protecting resources while providing safe and responsible riding opportunities.
---
In 2018, the Arizona State Parks and Trails Off-Highway Vehicle Program partnered with Arizona State University to look at the economic impact of off-highway vehicle use in Arizona. This graphic report highlights the findings of the study and captures information on spending habits, where people enjoy riding, and the overall impact the sport has our economy. For a more in-depth look, you can view the full report on our publications page.
---
Arizona OHV Calendar
Check out the upcoming Off-Highway Vehicle events that our staff will be attending to answer questions, provide maps, and improve communication with the states OHV community. Click on the logos below to learn more about each of the events listed.
---
Show Me Rides
Big Lake - June 1-2, 2019
Fabulous weather and great local club members hosted a full weekend of rides in the cool pines of Eastern Arizona. The weather was 70° during the day, 30's at night, at 10,000 ft. and there was still snow visible on Mount Baldy. More than 100 riders came out to stretch their legs (and vehicles) out on one of five unique routes through the area, including Grizzly, Hannigan Meadow, Bear Claw and a trip through the town of Alpine.
Riders enjoyed a roaring fire on Friday evening to warm up for the weekend rides ahead.
At the staging area, members from the local club provided donuts and coffee, Four Peaks provided free canned water, and the OHV Ambassadors shared maps and ride information with attendees.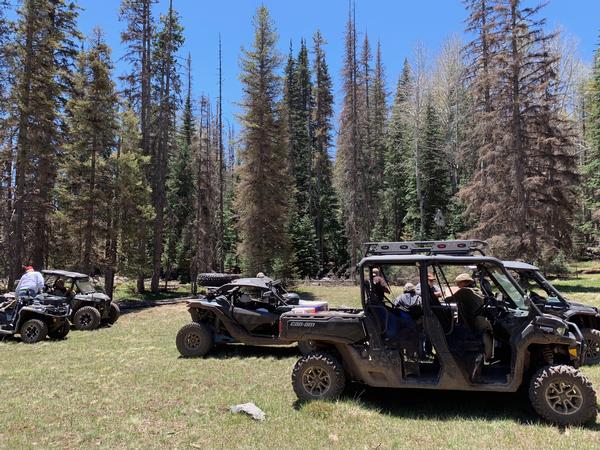 Riders queued up for one of five unique trails through the Apache Sitgreaves National Forest. Sighting of elk, deer and feral horses were common throughout the day.
Most routes offered great views of the lake and surrounding mountains and the weather couldn't be beaten.
Although the roads were pretty dry and dusty, we did manage to find some water to "get some mud on the tires..." (Check out the slow motion splash at 46-seconds.)
Download photos and video clips from the 6/1 Bearclaw Trail and the 6/2 Ambassador Alpine Trail
HERE
.
---
Sedona - April 20, 2019
Our weekend ride was a huge success! More than 100 vehicles and 200 riders enjoyed one of four different rides through the beautiful red rock country in Sedona. The weather was perfect, the dust on the trails was nominal and all riders made it safely through more than 250 combined miles of trails.
Attendees picked a trail, grabbed a map and broke up into groups of 20-30 vehicles, led by OHV Ambassadors.
Trails visited included, Powerline Route, Diamondback Gulch, Soldier's Pass, Cliff Hanger, and a trip through West Sedona to Schnebly Hill. Groups also visited the Honaki Ruins and Robber's Roost.
Red Rock Secret Wilderness
Honaki Ruins
Powerline Route Trail
Powerline Route Trail

A big THANK YOU goes out to all the attendee's, our OHV Ambassadors, volunteers and, the U.S. Forest Service for their help to make this a safe and successful ride! Check out the 2018-2019 schedule link below for future rides or download maps of popular routes.

Watch a

full map route video

of

the path taken by group 2 and group 4.

Download images and video of this ride: PHOTO LINK.
---
New to OHV or just want to learn the best places to ride? Join us for exciting FREE rides on trails throughout the state! Check out our 2018-2019 schedule and plan a memorable trip with other enthusiasts. The Arizona State Parks and Trails Off-Highway Vehicle volunteers, known as "Ambassadors" love sharing their favorite places to ride with new and novice riders. The Show Me Ride program provides riders a statewide opportunity to experience new and exciting areas to ride while in a friendly group setting. Be sure to check back often for information on where we've been and how you can go out and enjoy the ride with your friends and family. NOTE* A valid State Trust Land Permit is required to stage your tow vehicle on State Trust Land or if you stop to enjoy other recreation opportunities on their properties.
Boulders Route
With a large staging area, training (tot) lot, tons of trail miles, and restrooms, the Boulders OHV area offers a great deal of riding opportunities from beginners to expert riders.
Jackass Flats Route
The Jackass Flats loop off of Castle Hot Springs Road offers OHV enthusiasts a wide range of challenging obstacles, scenic desert views and passes several old mines that make for a great lunch break location.
Kofa Route
Kofa National Wildlife Refuge is part of the National Wildlife Refuge System. A national network of land and waters managed for the benefit of wildlife and recreational users. Riders experiencing the area have access to wildlife watching, photography, hiking and camping. NOTE* If you are traveling in a group larger than three (3) off-highway vehicles a permit is required.
Quartzite Route
Currently a winter riding HOTSPOT, Quartzsite offers a wide range of day trip rides like this one to get out and see the desert of the southwest.
Salome Route
This technical route is for experienced riders only. Much of the ride will be thru scenic portions of the Sonoran Desert with outstanding views and trails that wind through Saguaro and Cholla forests.
Bumble Bee Route
This loop takes you the back way to the historic ghost town of Cleator, AZ and includes some tight technical driving mixed with some county roads. Street legal vehicles with licensed drivers are required for this route.
Vulture Peak Route
This loop passes through the beautiful Lower Sonoran Desert landscapes and offers excellent views of the 3660' Vulture Peak. The route includes some tight technical driving with some stretches through sandy washes.
Sedona Route 1
Offering options for riders of all skill levels, the area surrounding Sedona is an off-road enthusiast's paradise. Enjoy stunning views of Sedona's famed red rocks as you explore this popular off-highway vehicle destination.
Sedona Route 2
Sedona Route 4
Stoneman Lake Route
---
"Laws & Places To Ride" OHV Brochure!Arizona State Parks Off-Highway Vehicles

This OHV Brochure features places to ride in Arizona. Download the OHV Laws and Places to Ride Brochure.
Please see page six for important informaton about the helmet laws affecting side-by-sides.
---
CONGRATULATIONS AMBASSADORS!
Recipient of the 2018 "Volunteer of the Year Award" from the Arizona Parks & Recreation Association (APRA).
This award recognizes lay persons or groups who have demonstrated consistent or outstanding volunteer service in their community and whose commitment has been in furthering the field of parks, recreation, and/or cultural and community services through excellence, service, and execution of their talents and skills.