Guided Bird Walks and Boat Tours will resume in October. Please check back for updates.
Park Location and Directions
Sonoita Creek Park Map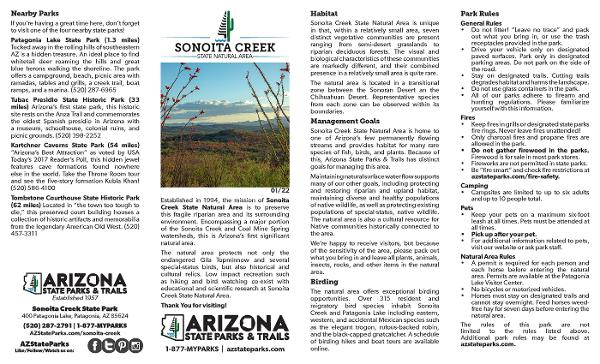 Download Printable Park Map 
Park Map shows you an overview of the Natural Area, with topographic features.
Share the Trail
Understanding shared-use trail etiquette can make hiking, biking, and riding trails more enjoyable for everyone. Learn some basic principles and tips for using shared-use trails. Learn more.
Elevation
3750 ft
GPS Coordinates to park entrance
Decimal Degrees (WGS84)
Latitude: 31.488224
Longitude: -110.853724
Degrees, Minutes & Seconds
Latitude: N31 29 17
Longitude: W110 51 13
GPS
Latitude: N 31 29.293
Longitude: W 110 51.223
UTM 12N
X: 513893 
Y: 3483721