Guided Bird Walks and Boat Tours will resume in October. Please check back for updates.
No wheeled vehicles in the natural area.
Visitor Center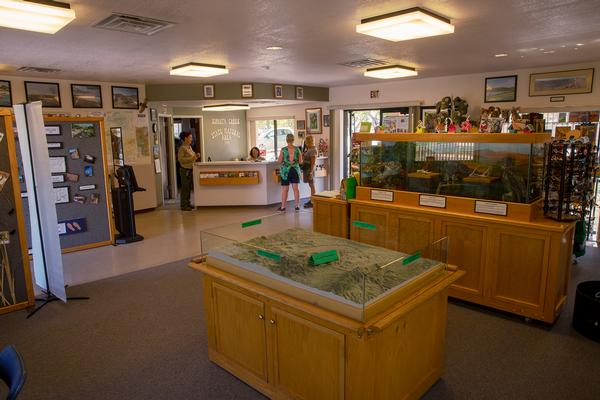 The Visitor Center is located within Patagonia Lake State Park. Fees for Patagonia Lake State Park include the use of Sonoita Creek State Natural Area. The Visitor Center is open daily from 8 a.m. - 3:30 p.m. No wi-fi available at the park.
Note: Sonoita Creek State Natural Area is always open. Permits for hiking, hunting, and horseback riding in the Natural Area can be obtained from the gatehouse, or by calling (520) 287-6965.
Park Store
The Sonoita Creek park store is located in the Visitor Center. Guests can purchase shirts, coffee mugs, coffee, bird books, maps, and other merchandise produced by Arizona State Parks and Trails.
Restrooms
The Visitor Center has two modern, handicap accessible restrooms.
Exhibits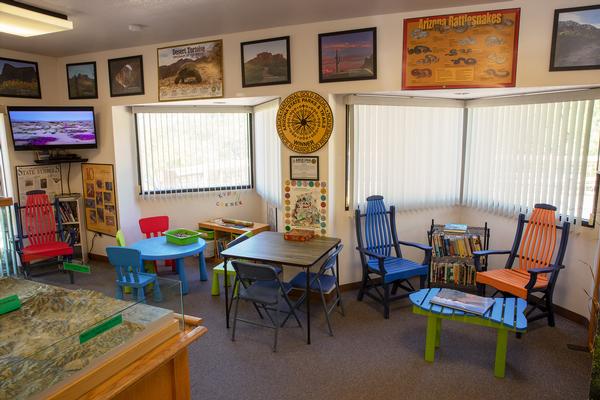 Permanent exhibits include a large three-dimensional model of the Natural Area with topographical contours, trails, and campsites; an herbarium; a list of recently seen birds; several reptiles (including a Gila monster); and a children's' table with books, crayons, and activities. 
Also available for free are natural history brochures, articles, publications, posters, bird lists,  Jr. Ranger activity booklets for children, and local tourist information.
A library with hundreds of references is available for guests to use on-site. Binoculars are loaned to guests participating in a guided activity. A self-guided plant walks around the Visitor Center provides an introduction to local plants.
Group: Day Use Areas
The Visitor Center patio with picnic tables overlooks Patagonia Lake. It's a great lunch and meeting spot for up to 60 people. Call for reservations.
Hike-in Camping Sites
Three private back-country hike-in camping sites are available. The closest site is about 4 miles from the trailhead. Six people maximum per site. There is a two-night maximum stay in Sonoita Creek State Natural Area. No horses overnight. $12 per night. There are three tent pads and a steel fire ring at each site. Campfires allowed in designated fire rings. Dead and down wood may be gathered for fires, but there may be fire restrictions in effect. Campers, please secure your food as there are nimble-fingered ringtails about.
Obtain Day Use permit and Camp Site Reservation at the Visitor Center or Patagonia Lake State Park gatehouse, depending on the season.
Picnic Areas/Shelters
There is a picnic table at the parking lot at the Overlook and Sonoita Creek trailheads,  and several benches at scenic views along the trails. Check with staff for locations.
Equestrian Trails
Bring your own horse; no horses are for rent at the park. The Horse Corral Trail leads from a large parking area near Patagonia Lake and joins the Sonoita Creek trail which meets the New Mexico and Arizona Railroad Trail after the first creek crossing. Horses must stay on these designated sections. Other trails are not built to horse specifications and can be easily damaged by horse use. The Railroad Trail is a favorite of riders because it follows Sonoita Creek for almost five miles and is in shade in the summer months. Depending on the water level, there are three creek crossings. The Railroad Trail can also be accessed from Coatimundi Drive in Rio Rico. Check with staff for high water warnings and closures.
Download Printable map of trails at Sonoita Creek State Natural Area  (1.9 MB PDF)
Wildlife Viewing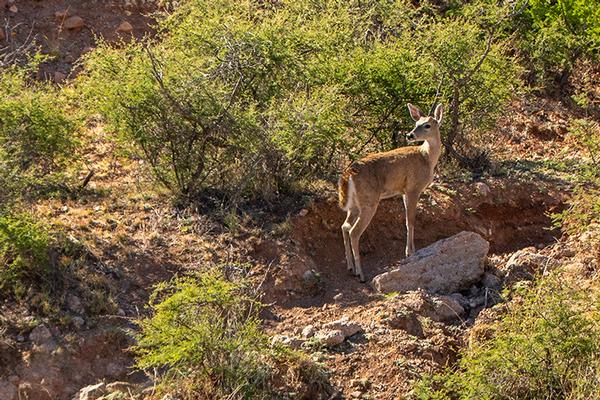 Sonoita Creek State Natural Area and Patagonia Lake State Park are designated as an Important Bird Area by the Audubon Society. If you are a bird watcher you may hit the jackpot here. During spring migration, late January through early April, a guided bird walk of a few hours could bring over 60 species to your attention. The complete bird list is over 300 species. Here you can view recently sighted birds at Patagonia Lake and Sonoita Creek.
One of the most sought after birds is the elegant trogon which may be seen from November to March. Ducks, rails, raptors, and flycatchers are commonly sighted. Summer is the time to see gray hawks, common black hawks, zone-tailed hawks, and the yellow-billed cuckoo.
In the Natural Area along with the creek squirrels, coatis, raccoons, skunks, and Coues deer can be seen. Sightings in the upland areas include snakes, javelina, jackrabbits with gigantic ears, and an occasional bobcat or mountain lion. Nimble-fingered ringtails are also about.
Sonoita Creek supports numerous species of wildlife that are listed as endangered, threatened, sensitive, or of special concern in Arizona, including the following: Gila topminnow, desert sucker, longfin dace, canyon tree frog, cave myotis bat, ringtail cat, common black-hawk, gray hawk, and bald eagle.
Bird Walks
Bird walks take place at 8:00 a.m. Participants meet at the head of the birding trail near site 12.
Park Rules
Please familiarize yourself with the park rules and help us preserve this irreplaceable resource.
Sonoita Creek State Natural Area is a fee area.
Permits are required to enter SCSNA and can be obtained at the Visitor Center in Patagonia Lake State Park. A permit is needed for each person and each horse.
Camp in designated campsites and have a proper permit. Six campers per campsite maximum. There is a two-night limit in backcountry campsites. Campsites should be vacated by 11 a.m.
Fires are allowed at campsites in designated fire rings.
The area is closed to motorized and mechanized vehicles, including bicycles.
Trash should be packed out and disposed of properly.
Respect nature by enjoying wildlife from a distance and leaving plants intact.
Cultural and historical sites and artifacts are protected by law. Leave them undisturbed.
Trails may be closed to protect certain species or areas. Closing information will be posted.
Please respect private property and stay on the trail.
All dogs must be kept on leashes. Please pick up after your pet.
Horses must remain on designated trails and cannot stay overnight. Feed horses weed-free hay for seven days prior to arrival at the park.
Backcountry Camping with Conservation in Mind
Sonoita Creek offers primitive backcountry campsites. Please be aware of the following.
Plan your trip: look at a map and know the route to your destination. Bring proper gear and resources. Let others know your plans.
Travel and camp on durable surfaces: Stay on trails and camp only in designated campsites.
Protect sensitive habitats: places like Coal Mine Springs are home to special status species. Do not swim, bathe or wash dishes in springs, creeks or washes.
Dispose of waste properly: Pack in and pack out the garbage. Bury human waste in a shallow hole (4-6 inches deep) at least 200 feet from water, dry washes, trails, or campsites. Carry out toilet paper and feminine products.
Minimize campfire impacts: Use established fire rings and burn only dead fallen timber. Keep fires small.
Be considerate of other visitors: Prevent disturbing others by keeping noise to a minimum.