Whether you're enjoying a picnic or a full-blown camping trip, coming up with fresh ideas for outdoor meal planning can be a challenge. 
You could go with outdoor food classics like hamburgers, hot dogs, and PB&J (and if that's what makes your camping crew happy, go for it!), but if you've come here to find new ideas to switch it up, Arizona State Parks and Trails has you covered! Try these great tips to help make outdoor meal planning a piece of cake. 
As a bonus, we've even thrown in a three-day camping meal plan, a customizable, downloadable camping meal planner PDF, and four camping meal recipes to help you get ready for your outdoor meal planning!
On a plant-based diet? Try our vegan camping recipes here!
Listen while you cook
Planning and prepping your meal plan? Turn on our podcast episode all about campfire cooking while you chop, par-cook, and pack! Our guests Lexi and her husband Chris with Roam Lab travel full-time and have mastered the art of campsite cooking. We take a deep dive into cooking over a campfire like helpful gear and tricks for even heat distribution. Lexi also shares even more great ideas for meals when you want to keep cooking short and sweet as well as options for more gourmet eating (like her recipe for mouthwatering lamb kabobs).
Prepping your outdoor meals
First things first! Preparation is key for outdoor meal success. If you don't have the time to prepare, simple and easy camping foods are the way to go; grab some brats, a package of buns, and pre-made potato salad from the deli. We've all run out of time or energy to meal prep for a camping trip or a spur-of-the-moment picnic.
Check out our make-ahead meals below, then follow your wanderlust spirit, find a park and go have that amazing adventure!
Delicious outdoor meals the easy way
If you have the time to plan in advance, get in the spirit of your favorite reality TV cooking show: it's time to mise en place, chef! What is "mise en place?" It's a French culinary term that means "putting in place" or "to gather," and it's your best friend when it comes to planning for outdoor meals. Basically, you want to prepare the ingredients for your outdoor meals at home as much as possible so that cooking at the campsite is easier. 
It takes a little organization, but you'll be thanking yourself later for taking the time to plan. Here's our ingredient prep quick notes:
Wash and chop all vegetables, and remove all proteins from their store packaging to be trimmed and/or sliced.
Pack solid ingredients into resealable silicon storage bags to save space in the cooler.
Freeze storage bags containing meat to keep the temperature in the cooler colder longer.
Pack liquids and condiments into wide-mouth jars. Why jars? They're airtight space-savers that stack well, and they're terrific for storing leftovers. Collapsible water bottles also make great packing containers for liquids like pancake batter and eggs (crack and scramble at home). Travel-size toiletry bottles are perfect for small amounts of liquids like cooking oil or salad dressing.
Par-cook ingredients  at home to simply reheat and finishing off the cook at camp (e.g., rice and cubed potatoes for breakfast burritos).
Many foods you can wrap tightly in two layers of aluminum foil and throw directly into the coals or embers of your fire (not into the flames themselves). The key is rotating frequently enough to avoid hot spots. Foods that cook well this way include veggies, potatoes, and light and dark meats (try mixing all these ingredients together and top with a mixture of ketchup and mustard or cream of mushroom soup, then cook).
If you plan to camp frequently, have a designated camping storage container with your cooking supplies: your pans (a cast iron skillet and a dutch oven are game changers for campsite cooking!), spatula and tongs, travel-size seasonings and cooking oil, aluminum foil and cooking spray. Get more packing and organization tips with our camping checklist!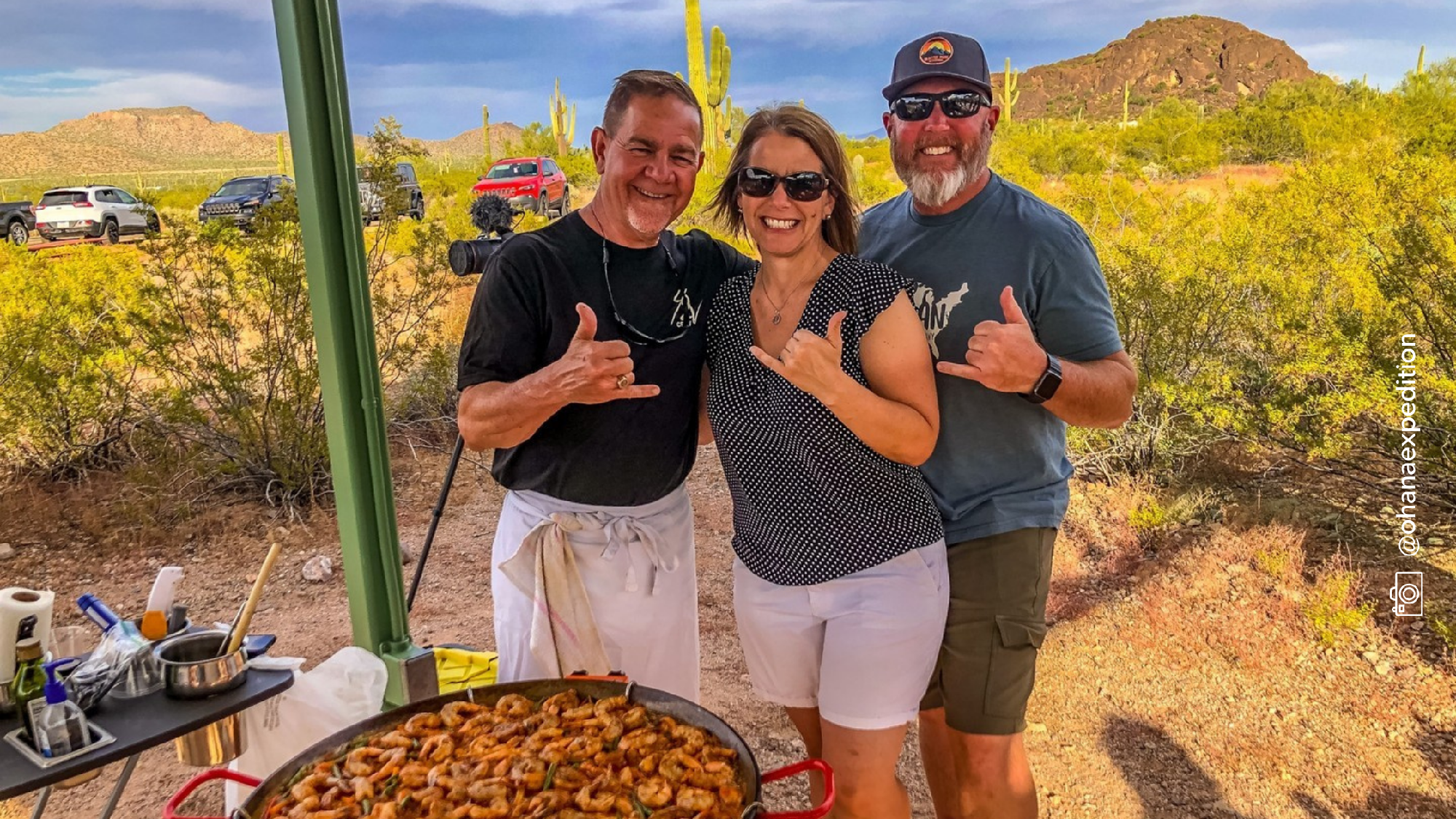 Share ingredients across multiple outdoor meals
Pick meals that share ingredients to make storage and prep easier, and throw in a couple toppings or sauces that make each dish unique. 
For example, choose to make breakfast burritos and fajitas during your camping trip. The tortillas, peppers, and onions are shared ingredients, but you can make the dishes distinctly different with toppings and meat (chorizo and eggs added to the breakfast burritos, steak and lime added to the fajitas). 
Make the classic bacon and eggs for breakfast, and for lunch, repurpose that bacon for some BLTs. 
Bring raw cauliflower florets to snack on with hummus (a filling and healthy side for lunch, too!) then toss the leftover florets into aluminum foil with some oil and seasonings and toss that packet on the fire to have as your side to delicious trout or blackened catfish for dinner (find the best park waters to catch your own here).
Pack a few make-ahead outdoor meals
Sometimes, all that fresh air, sun, and adventure takes it out of you! Have a few pre-prepared food options for times like these. 
Jerky rehydrated in ramen makes a tasty, quick meal filled with sodium to help you replace those electrolytes as you hydrate with water. A single-use instant oatmeal cup comes in clutch on those mornings when it's chilly and dragging yourself out of the tent is hard. Chicken salad from the deli on some flaky bakery croissants will taste like the best meal you've ever had after finishing a long hike. Walking tacos with ground beef (browned at home), cheese, salsa, sour cream, and lettuce served in individual-sized bags of corn chips will make everyone feel full and happy after a long, busy day of adventure.
These quickie outdoor meals aren't cheating – they're smart planning.
Three-day camping meal plan
Sometimes you just need a place to start, then the creative juices get flowing. That's why we've made a downloadable three-day camping meal plan for you. If camping is a newer experience for you, or you're just stuck in a rut with the same old outdoor meals, try out this meal plan. We've even added in four of our favorite camping meal recipes from Lip Smackin' Car Campin', courtesy of Christine and Tim Connors.
See what you love and then on the next trip, use our fillable outdoor meal planner template to make a "greatest hits" meal plan of your own!