Jump to: Bring Water  |  Proper Hydration |  Footwear |  Lacing the Sherpa Knot |  Hike with Friends |  Proper Layering |  "The Ten Essentials" |  Pet Safety  |  Hiking Gear  |  Hiking Poles  |  Using a Hiking Umbrella  |  Choose a Hiking Hat  |  Preserving Your Knees  |  Applying Insect Repellant  |  All About Bird Hiking!  |   Reduce Your Hiking Waste  |  Healing in the Outdoors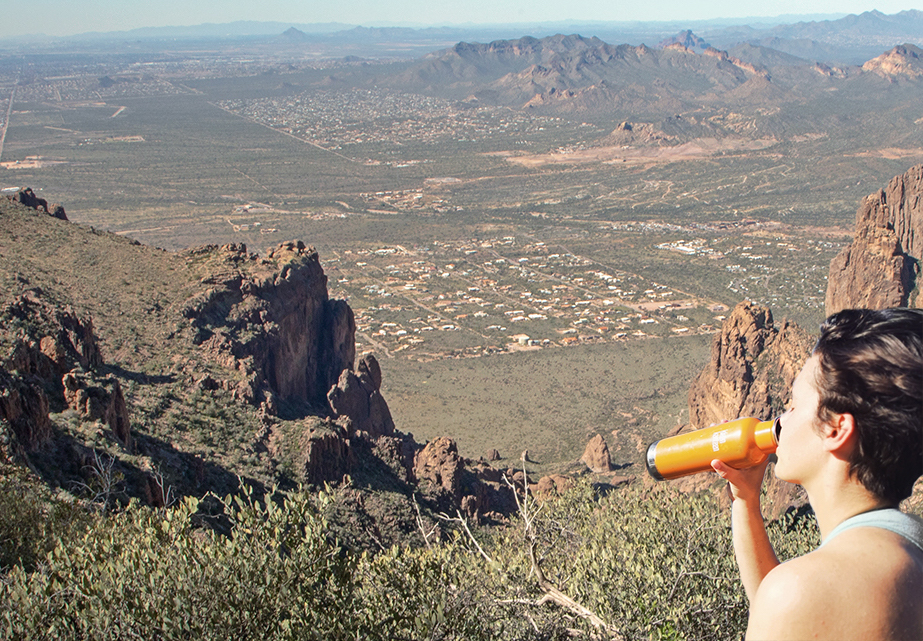 As the weather warms up, it's more important than ever to practice safe hiking in Arizona! More than 200 hikers are rescued every year in Phoenix alone. To keep you and your group safe, and emergency responders where they're needed most, check out the hiking safety tips below! For more information, check out this guide to safe hiking from the city of Phoenix Parks and Recreation.
Feeling Hot, Hot Hot! Arizona's Summer Weather with State Climatologist, Dr. Erinanne Saffell
Understand Arizona's climate and its potential dangers with Arizona's State Climatologist, Dr. Erinanne Saffell. On this podcast episode, Dr. Saffell breaks down our state's diverse climate and the role elevation change plays in our weather, as well as factors like the urban heat island effect and practical measures homeowners in Arizona's low-elevation metro areas can take to temper it on their own property. Dr. Saffell also gives insight into what kind of summer Arizonans can expect and how to prepare and be safe in the heat, monsoons, and fire season. 
Bring Water
Drink plenty of water during your hike, and make sure you have more than enough. Even if the weather is cooler, you need to stay hydrated during your hike. Turn back before you get halfway through your water supply.  Snacks help too and make sure you don't hike beyond your ability. Know yourself and pay attention to what your body is telling you! According to REI, you should drink half a liter to a full liter or more every hour, depending on the weather and level of exercise. Read more hydration tips.
Pre-hydration
Proper Hydration
Joi (@intothewildrn) brings her knowledge of hot weather hiking safety from Instagram to you in this month's Quick Hiking Tips video! Learn how much water you should bring during a hike to stay hydrated and happy on the trail!
Footwear
The Sherpa Knot
It's no secret…comfortable feet will keep you on the trail longer, and the longer you're on the trail the more awesome memories you'll make! Join Jeff Edouard of Flox Customs as he explains the Sherpa Knot and how this little tip can help you out BIG TIME on the trail!
Hike with Friends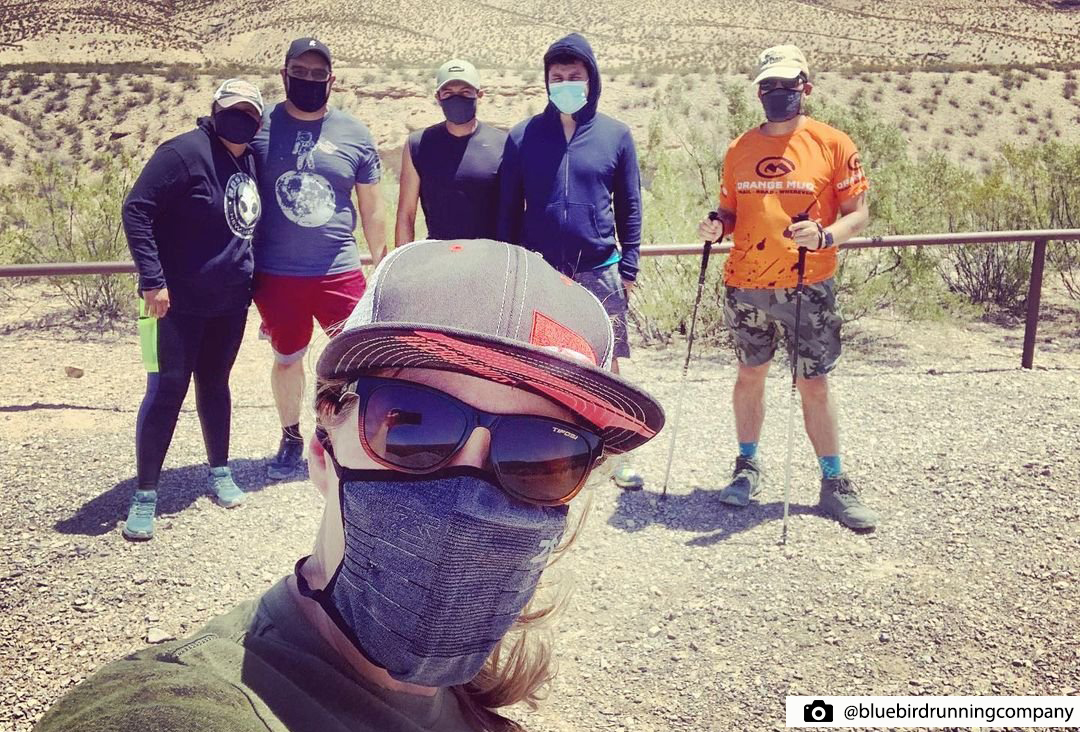 Hiking is better with a group! Besides having company, friends can help check up on each other, make informed decisions, and call for help if needed. If you do decide to hike solo, carry a cell phone and let someone know where you're going and how long you plan to be gone.
Be Prepared
Check the weather and dress appropriately! Arizona's dry heat can sneak up on you, so wear a hat, sunscreen, and appropriate clothing (light-colored, moisture-wicking and breathable is best!). Check the weather, and hike in the early morning or late evening when the sun doesn't blaze quite as hot. Check the trail conditions so you know what you're getting into before you go.
Proper Layering
"The 10 Essentials" with Outdoor Afro!
Outdoor Afro is a national not for profit organization with leadership networks around the country. They have a cutting-edge nationwide network with 80+ volunteer leaders in 42 cities. Their volunteer leaders, like Antoine Simmons in Arizona, guide one thousand nature events each year based on a simple mission to celebrate and inspire Black connection and leadership in nature through recreational activities like camping, hiking, birding, fishing, gardening, skiing—and more! Join them by visiting outdoorafro.com. 
Hiking Tips - The 10 Essentials from Arizona State Parks on Vimeo.
Flash Flood Awareness
Check out these awesome tips to help you recognize danger and react appropriately if you're ever in a flash flood situation. Although relatively rare, flash floods are the number one weather related killer in the United States according to the National Weather Service. Be safe, be flash flood aware!
Pet Safety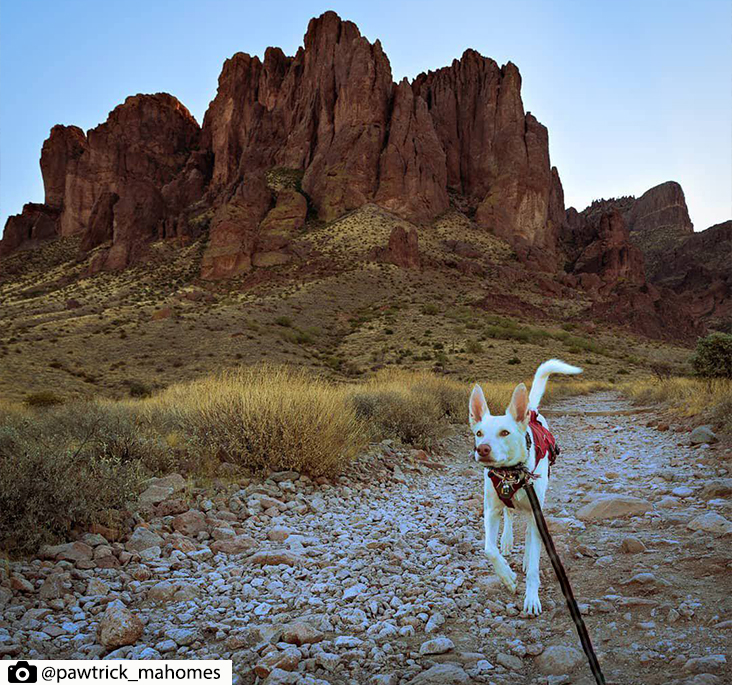 It can be dangerous for pets to spend excessive time outdoors in higher temperatures, so make sure you understand your pet's abilities and pay attention to their behavior. Pets heat up and cool off differently than humans, so don't base their health level on how you're feeling. Heatstroke can be life-threating for pets and they need plenty of water and shade to stay cool. For signs and treatment of heatstrokes, check out the Humane Society's guide to keeping pets safe in the heat.
Hiking Gear
How to Use Hiking Poles
Hiking poles will help you save your knees on the trail and provide additional support to guard against falls. With the tips in this video you'll learn how to adjust the poles and how to use them in the most efficient manner possible.
How to Use a Hiking... Umbrella?!
A hiking umbrella can be mounted right to your pack and will provide enough shade to keep you comfortable on the trail! In fact, this tip will help maximize your time outdoors by helping you stay on the trail as long as possible!
How to Choose a Hiking Hat
Bring the shade with you out on the trail with the right hiking hat for you! Check out these awesome outdoor hat options, then plan a trip to enjoy Arizona's beautiful places!
How to Preserve Your Knees while Hiking
Watch as Mark from HECHO (Hispanics Enjoying Camping, Hunting, and the Outdoors) explains how to hike safely down steep grades, reducing the impact on your knees and the chance for injury. If you love hiking, you might need to employ Mark's tactic sometime soon on the trail!
How to Apply Insect Repellant
Applying insect repellant the right way will ensure this beneficial product is doing what it is intended to do...Keep bugs away! Check out these awesome tips about applying insect repellant, then plan a trip to your favorite state park to test them out!
All About Bird Hiking with Dr. Earyn McGee
Join Dr. Earyn McGee on the birding trail! These simple, yet proven techniques are sure to help you find more birds during your next park visit. Watch the short video and then plan a trip!
Reduce Your Hiking Waste
Learn some helpful tips to keep the trails clean and free of waste! It's so easy to adopt these awesome ideas as your own! Then hit the trail with a "sustainability first" attitude!
Discover the Healing Power of the Outdoors
Outdoor recreation can help us all recenter! Here are some quick tips to help people get out so they can heal within. The healing power of the outdoors is often overlooked by new outdoor lovers during their journey to understand the natural world.
Outdoor Safety & Health Guide
Looking for more ways to stay safe while you enjoy the beautiful outdoor spaces in Arizona? Then check out this great guide of tips and advice from the Safety, Health & Consumer Council: Outdoor Safety Health Guide
Hiking in Arizona is a great way to get outdoors, but do so safely! Stay on the trails and make sure you stay smart - Take a Hike. Do it Right!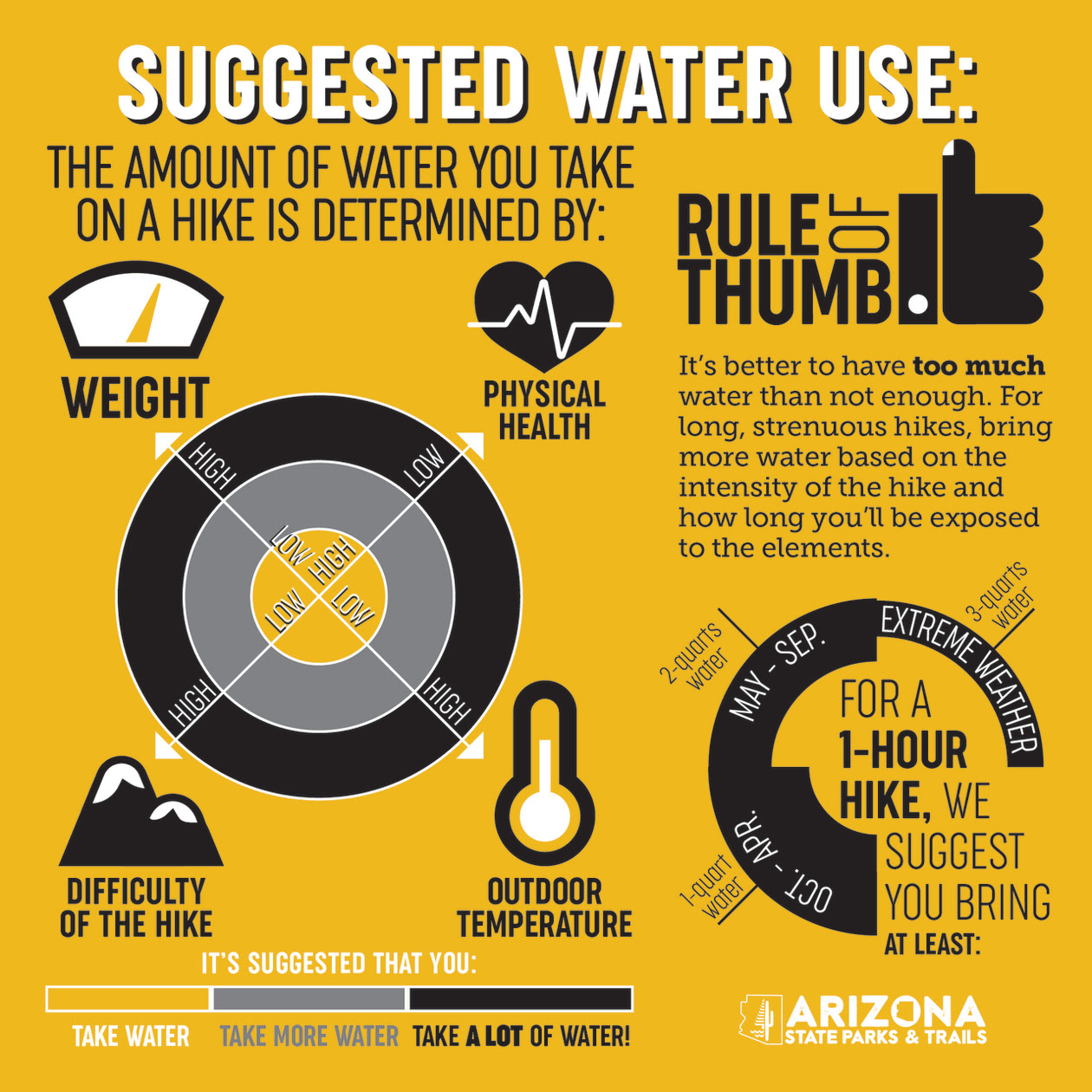 Hiking Safety PSA Video
Newsletter Sign-up