No Camping Experience? No Problem.
Arizona Family Campout Program weekends are designed for families with kids that have little or no experience camping. We will introduce you to the great experiences you can share with your family and inspire you to continue to explore the great outdoors from one of our campgrounds! You will learn how to set up a tent and an introduction to cooking outside, plus you will get to try some fun activities you can do while camping!
Join us on a family campout to learn the ropes of camping and experience all the fun of being in the outdoors!
2022 Fall Dates - REGISTER NOW!
September 17-18, 2022 - Slide Rock State Park - Sedona
October 1-2, 2022 - Kartchner Caverns State Park - Benson
October 15-16, 2022 - Lake Havasu State Park - Lake Havasu City
October 22-23, 2022 - Roper Lake State Park - Safford
November 5-6, 2022 - Oracle State Park - Tucson
November 19-20, 2022 - Tombstone Courthouse State Historic Park - Tombstone
December 10-11, 2022 Lost Dutchman State Park - Apache Junction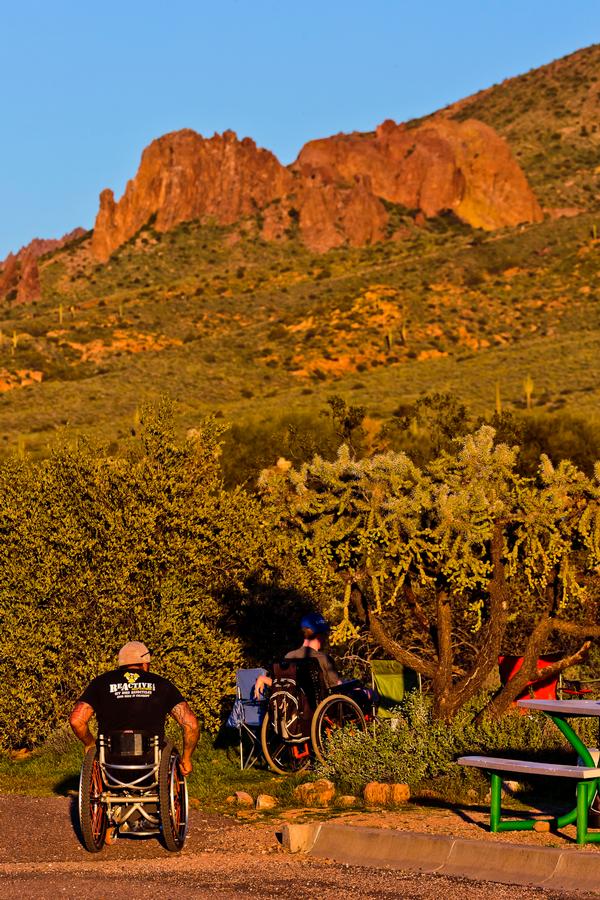 Registration is $90 for a family of up to four. Additional family members $5 each. One family per registration. For families greater than four  — special arrangements are needed — please email ljuers@azstateparks.gov. Sorry, children 5 years and younger and pets cannot attend this program. Since this event focuses on learning to tent camp, RVs are not allowed.
Families should bring food, sleeping bags or any bedding, pillows, camping chairs, clothing, sturdy shoes and personal items including toothpaste, towels, soap, etc. The program will provide tents, sleeping mats, flashlights, chairs and all activity equipment. Beverages provided include water, coffee, tea, and sports drinks. Provided snacks include seasonal fruit, granola bars and more. Families are responsible for bringing two lunches, dinner, and breakfast.
Accessible Campouts are Available!
Family Campout is about sharing the wonder of camping in nature with everyone, including people with all types of disabilities! Families who want to learn how to negotiate camping with a disability can sign up at least three weeks in advance and we will make any necessary arrangements. Our staff has a vast knowledge of camping and all sorts of outdoor activities. Someone from our ADA team will contact you to discuss any specific requests.
Activities
During the weekend of camping, kids can experience many different fun activities. The activities vary depending on the park, participant ages, and weather conditions: Guided Hikes • Mountain Bike Clinic • Archery • Geocaching • Fishing Clinic • Live Animal Demonstrations • Campfire Stories • Presentations on Geography, Birding, Geology, Astronomy • Service Project.
To learn more about camping and recreation opportunities in your Arizona State Parks, see this comprehensive guide to camping in Arizona. 
Program Provides
Tents
Sleeping mats
Camp chairs
First aid kits
All activity equipment
Plus: Water, coffee, daily snacks, Dutch Oven dessert for dinner, and campfire treats!
Families Provide
Food for Saturday's lunch and dinner, and Sunday's breakfast and lunch (see sample menu and shopping list below)
Sleeping bags or any available bedding 
Pillows
Clothing
Good, sturdy shoes
Water bottles
Flashlights
Personal items (toothpaste, towels, soap, etc.)

Suggested Food and Supplies to Bring with You
You will need to provide four meals for your family during your Family Campout weekend – lunch and dinner for Saturday and breakfast and lunch on Sunday. Arizona State Parks Family Campout Program will provide propane stoves for cooking as well as healthy snacks and a few essentials listed below. You should bring whatever pots, pans, and cooking utensils you will need to prepare your meals. Also, please bring eating utensils (forks, knives, spoons) for each member of your family. Your everyday home utensils are a fine option. We will supply plates, bowls, and cups for your family. Be sure to include additional items as necessary for anyone in your family with special dietary concerns.
Download  Food & Cooking Suggestion, Shopping List, and Packing Information PDF  or Word Doc 
Cancellation Policy
If you need to cancel your reservation more than 10 days before your scheduled event date, you can receive a refund. No refunds will be given for cancellations less than 10 days before the campout. Please email ljuers@azstateparks.gov to cancel.
Looking for more fun things to do in Arizona? Your Arizona state parks are full of opportunity for the whole family! 
Parent Praise
"I am so thrilled that I was able to find this Arizona State Parks program.  It is truly a program that should be replicated everywhere so others can learn the joy of camping and gain the confidence to do so.  Thank you to everyone involved in organizing and running this program.  I cannot wait to plan my next camping trip!" - Brittany, October 2021
"Thank you to Louie and your team of volunteers for an excellent weekend of camping at Fool Hollow Lake. We as a family got an opportunity to learn many new things about camping, enjoy time as a family and relish in the beauty of nature. Thank you again for your leadership, expertise and enthusiasm for this great camping program - we were impressed and want to continue learning more and expanding our skill set." —Family, April 2019 
"This is a wonderful, very special program for families, especially those with limited camping gear and experience. Everyone from the staff to fellow campers was so helpful and kind in teaching us new skills or sharing resources! This program was very educational, but in the most fun way - we learned a lot about the plants, birds, and insects of the desert. We really look forward to our next adventure with AZ Family Campout! —Parent, April 2019, attended Catalina event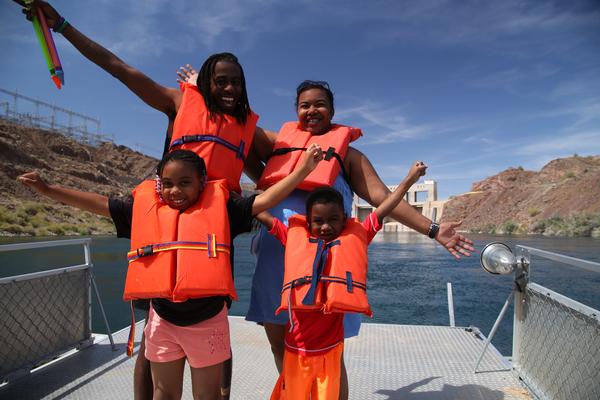 "Last weekend me and my family went camping through the state family camping program at River Island and it was awesome!  I loved how much knowledge we came away with and all the activities that were provided for us!  We would have signed up for the Roper Lake one next month too, but it was all sold out already!  I'm sure that we will be doing more camping in the future and sign up for the family camping program as well!  One last note...I think I liked the service project of planting the trees the best, because its a way to give back to the community and environment as well!" —Parent, April 28, 2017, attended River Island event
"We went on our first camping trip with the AZ State Parks Family Campout Program. We had to bring our food, clothes and personal effects, and sleeping bags and they provided the rest. We spent two full days and one night full of activities, fun, hiking, listening to speakers, campfire with s'mores, playing with critters, stargazing with telescopes, and a whole bunch of young families enjoying the great outdoors. We had so much fun, I cannot wait to get out and do it again!" —Parent, May 23, 2015, attended Red Rock event
"Just got home from our family campout with the AZ parks staff and we had an absolute blast! My kids were thoroughly entertained, educated, and fed incredible meals the entire time. Howard and Catie couldn't have been any more professional, kind, and knowledgeable. I wish I could give more than five stars because it was simply that wonderful of an experience for our family. Thanks a million for the memories and awesome adventure. We will surely be talking about it for years to come." —Parent, Feb. 23, 2014, attended Yuma Quartermaster Depot event
"Thanks for a super weekend. Our girls really learned a lot and had great fun! Archery and hiking were just super, and the service project in the cave was a special look at this natural treasure. Keep up the great work and hope to see you again." —Parent, April 12, 2014, attended Kartchner Caverns event
"Thanks for a wonderful weekend at Dead Horse Ranch State Park. You hit a homerun with my family. My boys are still talking about the mountain biking and archery. We enjoyed our time at camp and the boys even had fun "working" on the service project. Thanks again and we look forward to the spring schedule to try and take advantage of another Family Campout opportunity." —Parent, Nov. 4, 2013, attended Dead Horse Ranch event
"I write this letter to thank you and all the volunteers for arranging such a wonderful campout program. We had a lot fun. We appreciated it and are very thankful for all people who made it possible. We are the family from China. During our visit here, we experienced so many amazing things, especially in the family campout program at Catalina State Park. We had a wonderful weekend of happy moments [that] will be cherished memories in our hearts always." —Parent, Nov. 3, 2013, attended Catalina event
"My family had a wonderful time at the Family Campout this weekend. The program had some very engaging activities and the volunteers were excellent. The mountain biking course with Louie and Randy was super. We liked it so much that we would very much like to attend the Family Campout at Lost Dutchman SP to reinforce the concept of environmental stewardship with the children and give them another very healthy weekend in the great outdoors." —Parent, Sept. 22, 2013, attended Dead Horse Ranch event
"What an incredible program! As a single mother of three, this provided me and my boys a camping experience that was safe, educational, and fun. Thanks to the AZ State Parks staff, volunteers, Lower Gear, and anyone else that contributed!" —Parent, Oct. 6, attended Kartchner Caverns event
(Photo: The Mountain Biking workshop at our first Family Campout weekend at Lost Dutchman SP in Apache Junction was a success! March 9 & 10, 2013.)
"This is a great program for families. We have been to two of the different ones and plan to attend another one or two this year! Highly recommend this. My kids had a blast!" —Parent, Oct 14, 2013, attended Dead Horse Ranch & Lost Dutchman events
"Thank you to Howard, Catie, Louie, Laurie, Bob and everyone who made our weekend at Kartchner Caverns State Park such a great experience!" —Parent, Oct. 20, 2013, attended Kartchner Caverns event
"Thanks to all the staff for making this such an enjoyable weekend! Louie & Georgie were especially great, my grandkids loved them. It was their first camping experience and according to them, not the last. We hope you do these family campouts again next year. Thanks again to everyone that worked hard to give us a great weekend!" —Grandparent, Oct. 21, 2013, attended Lost Dutchman event
Donate to the Program
Can't make it to a campout? That's fine! You can still support the Family Campout program with a donation. Click below and feel good knowing you've helped secure the future of  this innovative outdoor program.