Check out our extensive Arizona wildflower list at the bottom of the page, complete with vibrant photos and bloom information! How many will you see in 2023?
Winter showers make springtime wildflowers in the desert parks and create yet another reason to explore this beautiful state! During years of average and above average precipitation, it seems every direction you look there are beautiful yellow, red, white, orange, blue, or purple flowers blanketing the landscape. We've had a good, rainy winter so far, so our hopes are up for a bright blanket of flowers soon!
For more information about what flowers you can hope to see, check out our wildflower brochure.
Parks at higher elevations see flowers later in the year, around May, and the blooms last well into the summer. There's typically more rainfall up north, which equates to even more beautiful northern Arizona wildflowers. The contrast of vibrant flowers against the backdrop of green is a sight to behold, so get your camera, comfortable outdoor shoes, and plenty of water and enjoy the rich colors across the state. Watch the video below as Carlos with Arizona State Parks and artist Annemarie Comes share quick tips on enjoying the desert's colorful display.
---
Oracle State Park
Status 4/17/23: A great variety of blooms can be seen covering the area where the Powerline Trail crosses Cottonwood Wash. See a list of blooms that can be viewed in the park, below (regularly updated).
Status 4/14/23: Wildflower season has been slower at Oracle State Park due to spring freezes but there are some emerging blooms! The best places to see them are on the Nature Loop, Manzanita Trail and Firebreak Road near the corrals.
Click HERE to see a full listing of flowers identified at the park, which include fiddleneck, globemallow, blue dick, mock vervain, fleabane, wild heliotrope, groundsel, London rocket, desert marigold, Western wallflower, evening primrose, Arizona lupine, scarlet bugler, tackstem, desert tobacco, desert thistle, Mariposa lily, fairy duster, desert larkspur, golden yarrow, blackfoot daisy, Arizona twist flower, trailing four-o'clock.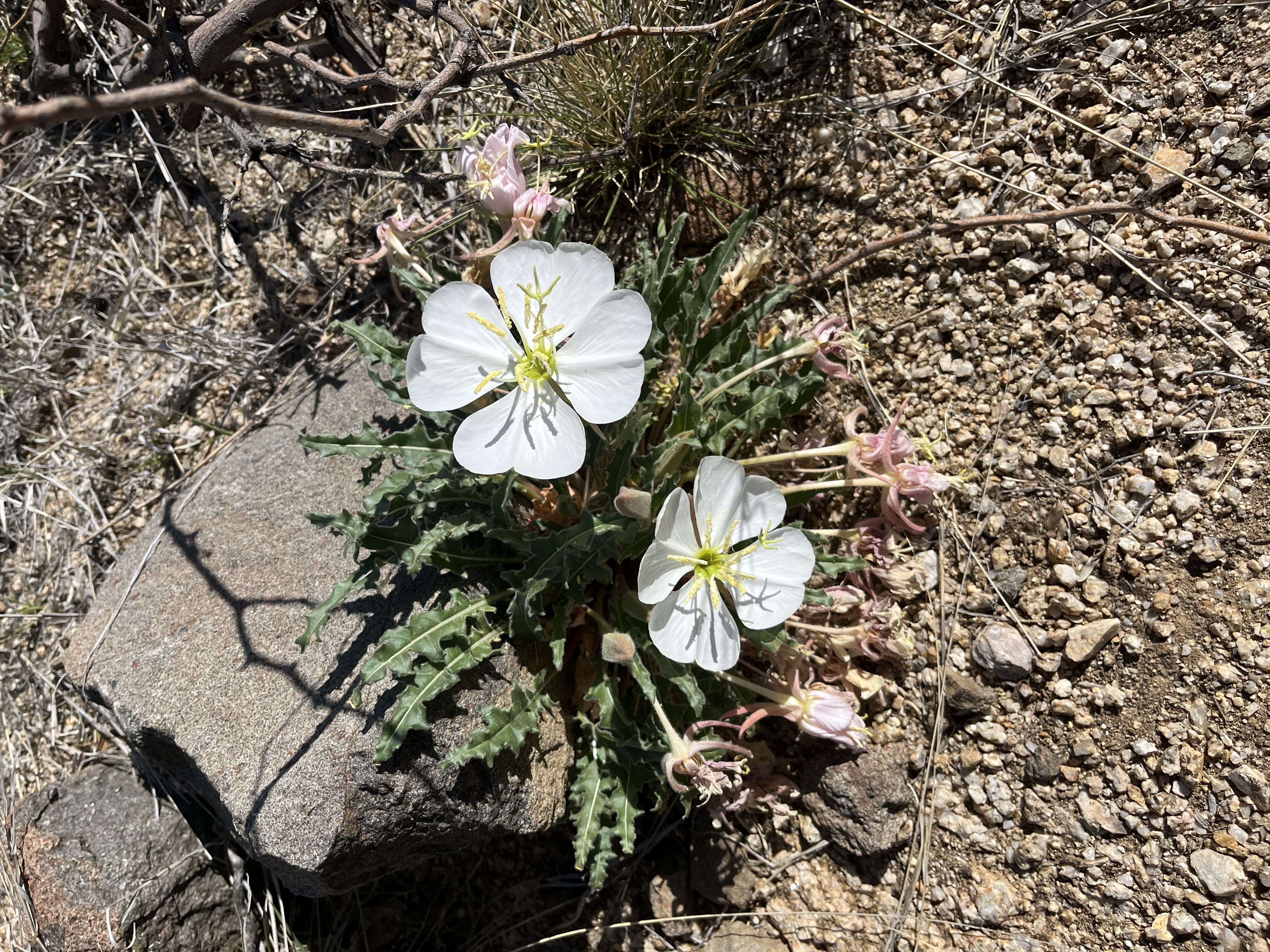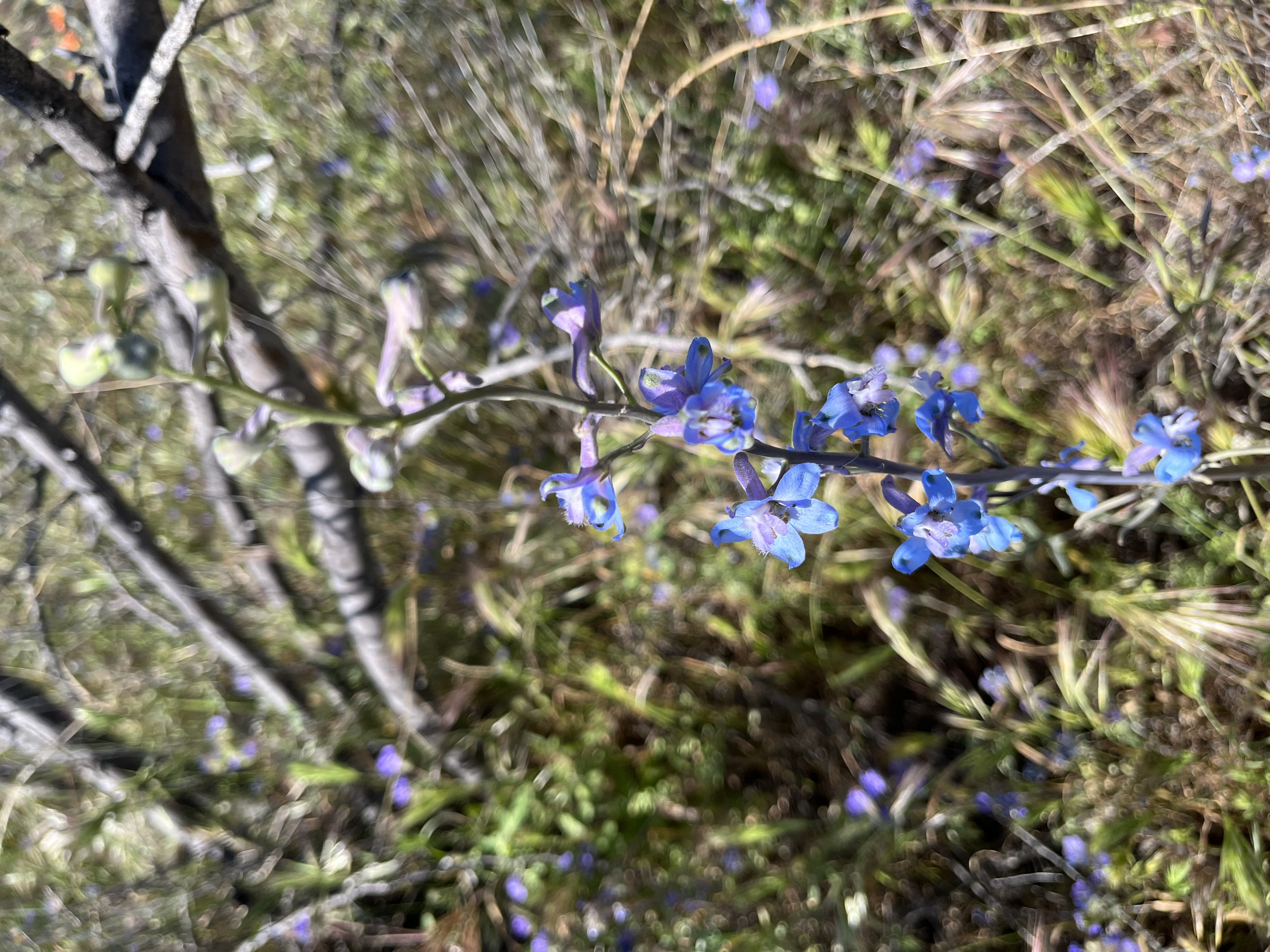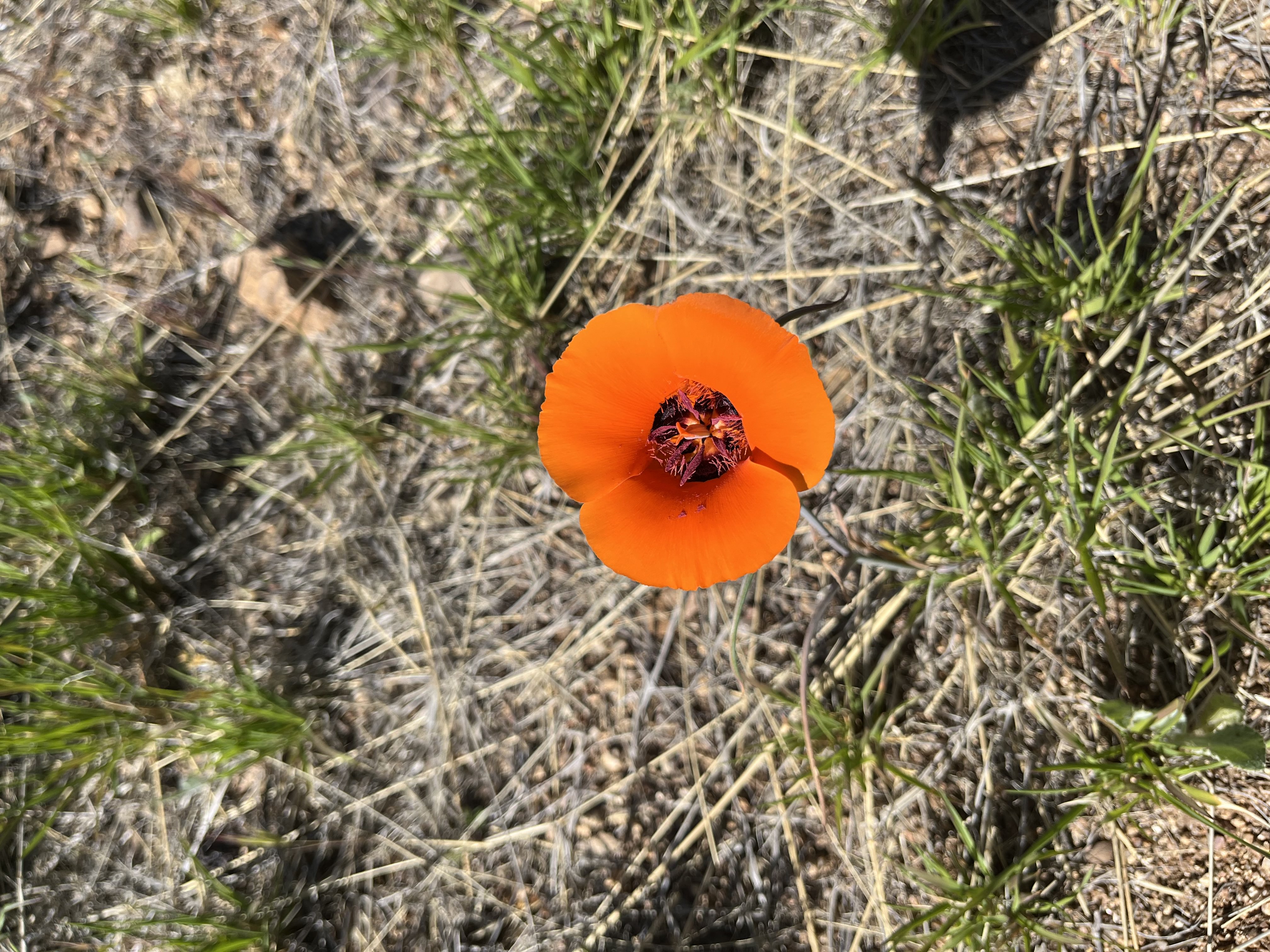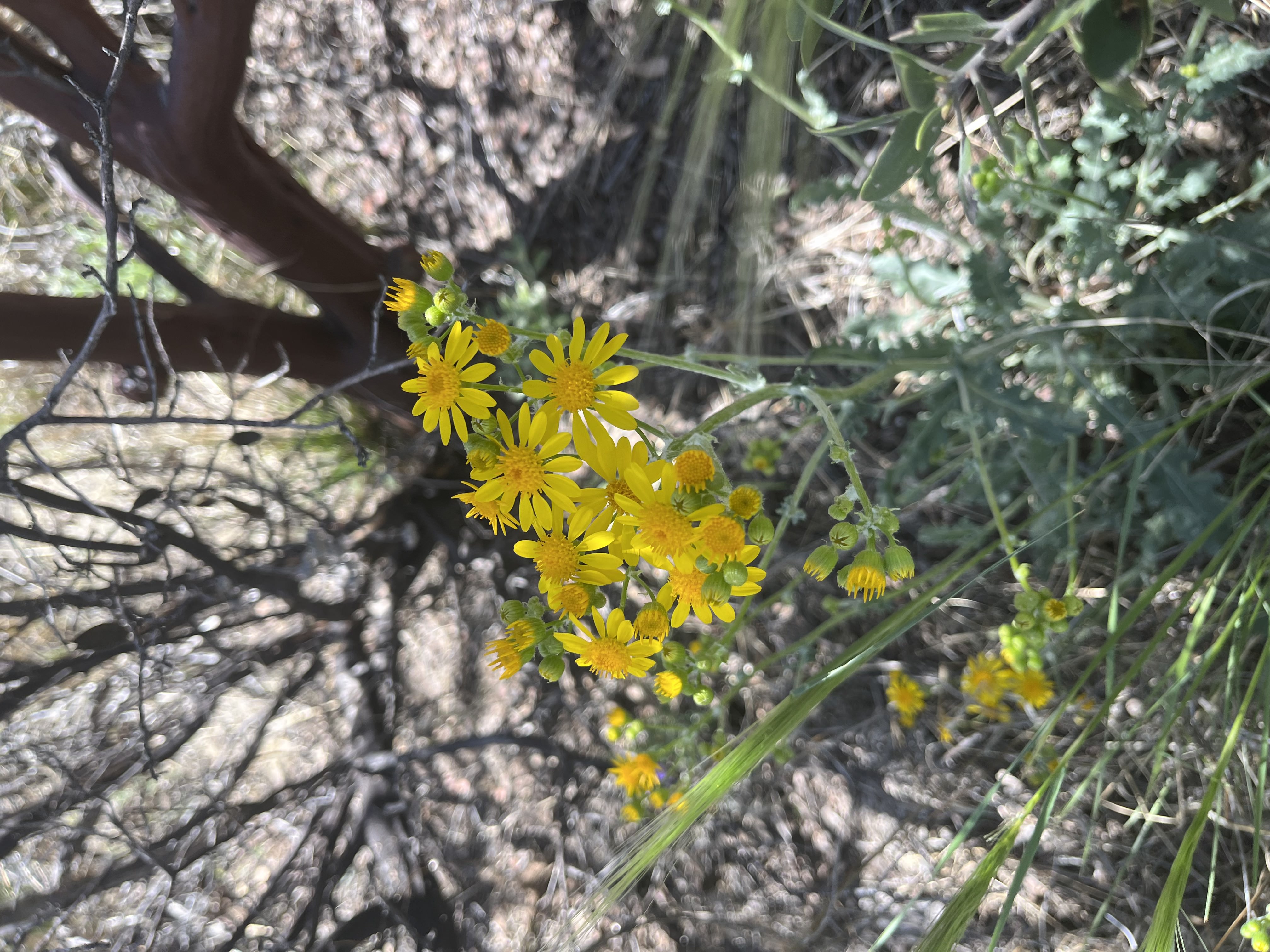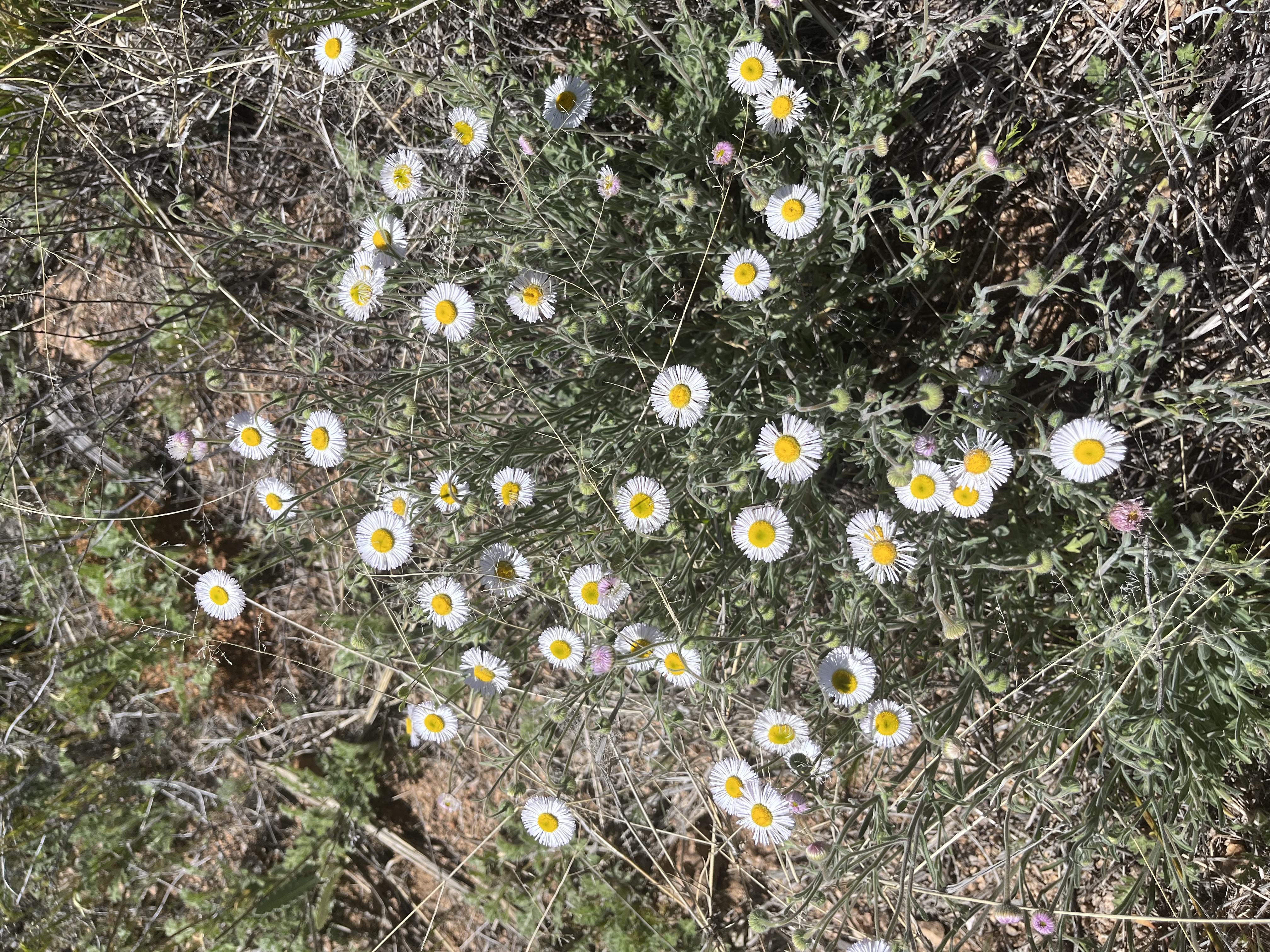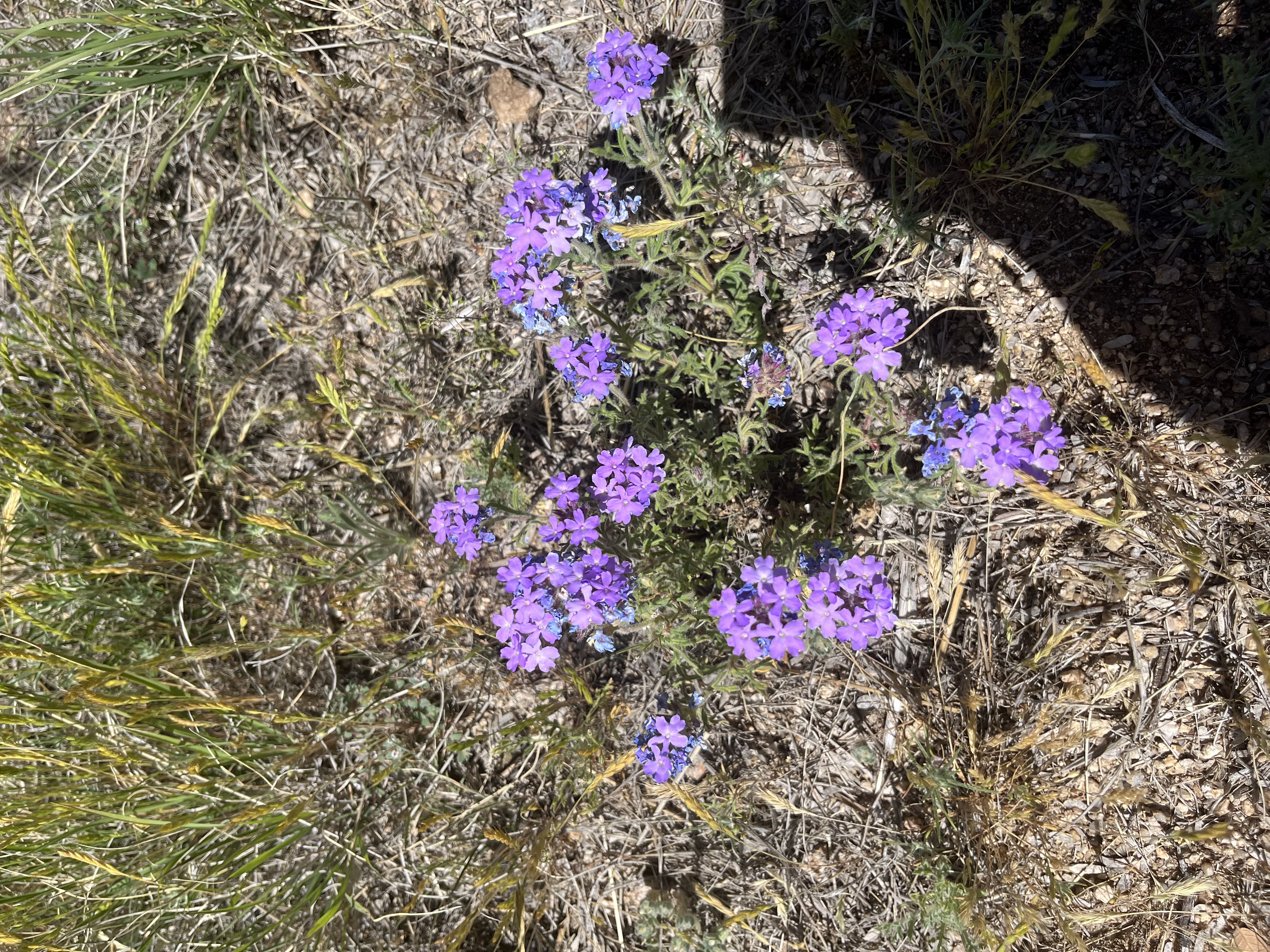 ---
Red Rock State Park
Status 4/7/23: Blooms have begun at the park, including perennial rockcress, purplenerve springparsley, golden corydalis, Plain's blackfoot, and narrowleaf stoneseed. Many are small and low to the ground, so be sure to stop, look closely (while staying on trail, please), and don't miss their delicate beauty! Pro tip: bring a magnifying glass or a loupe to appreciate some of the small flowers in full!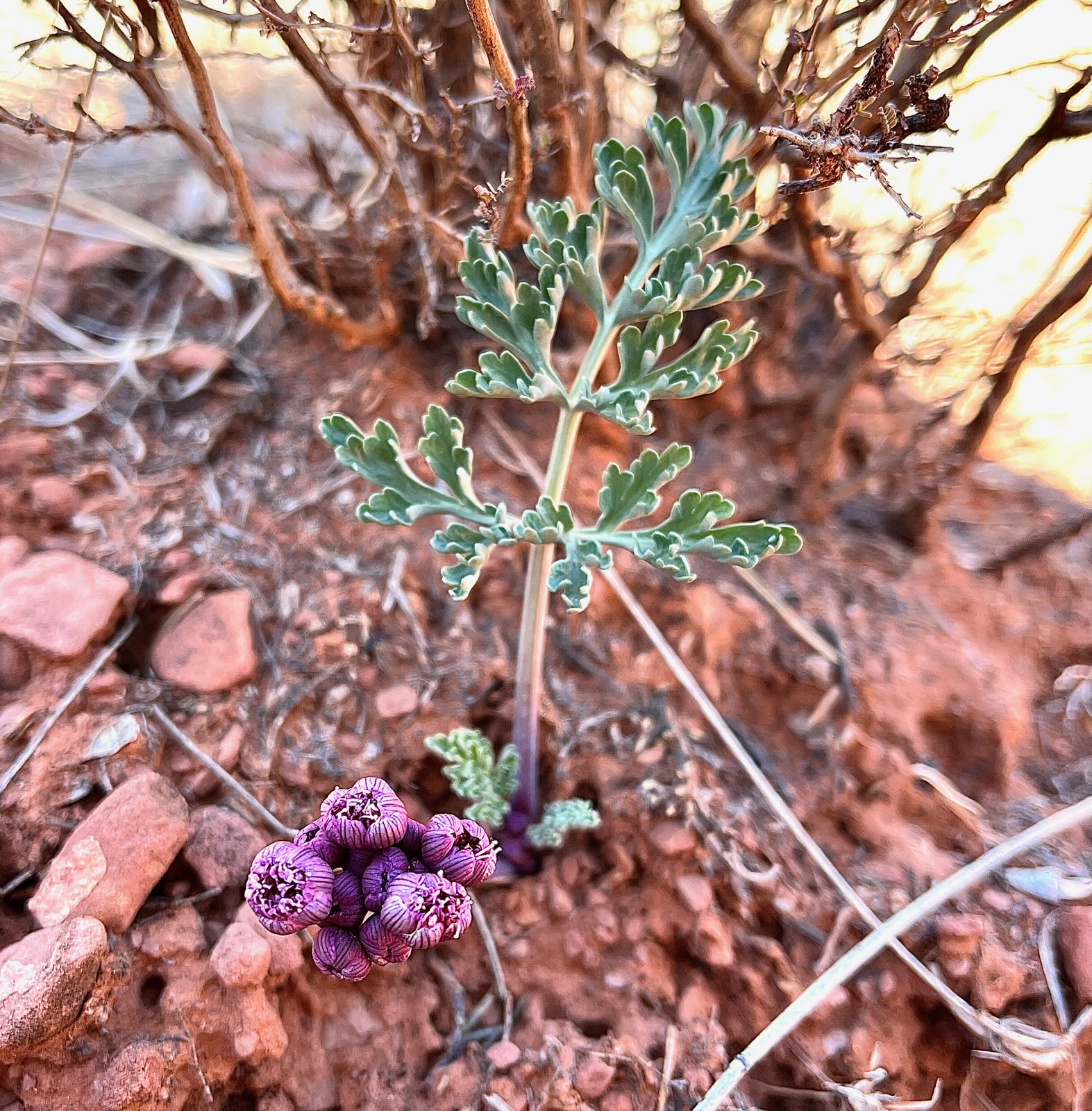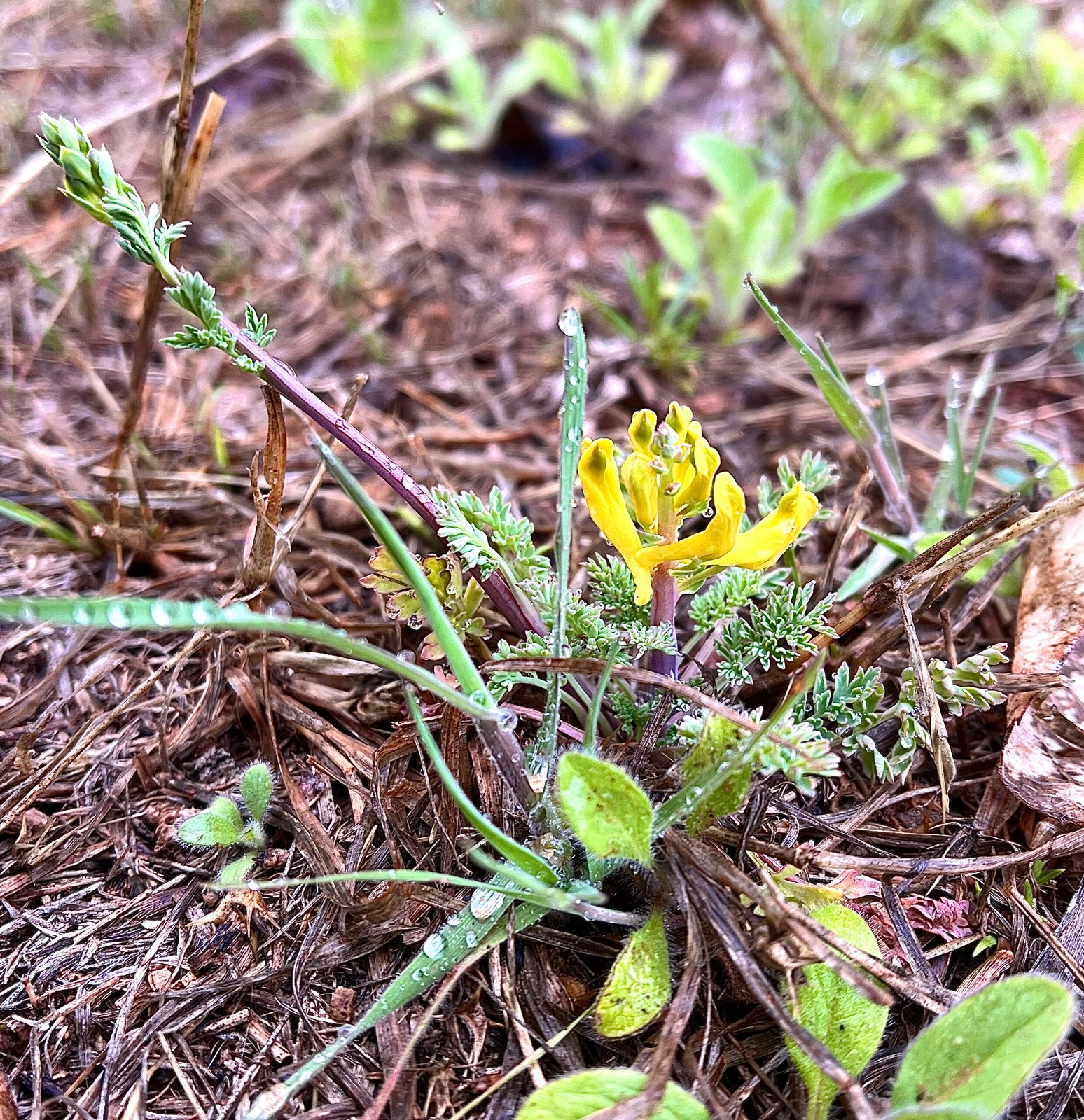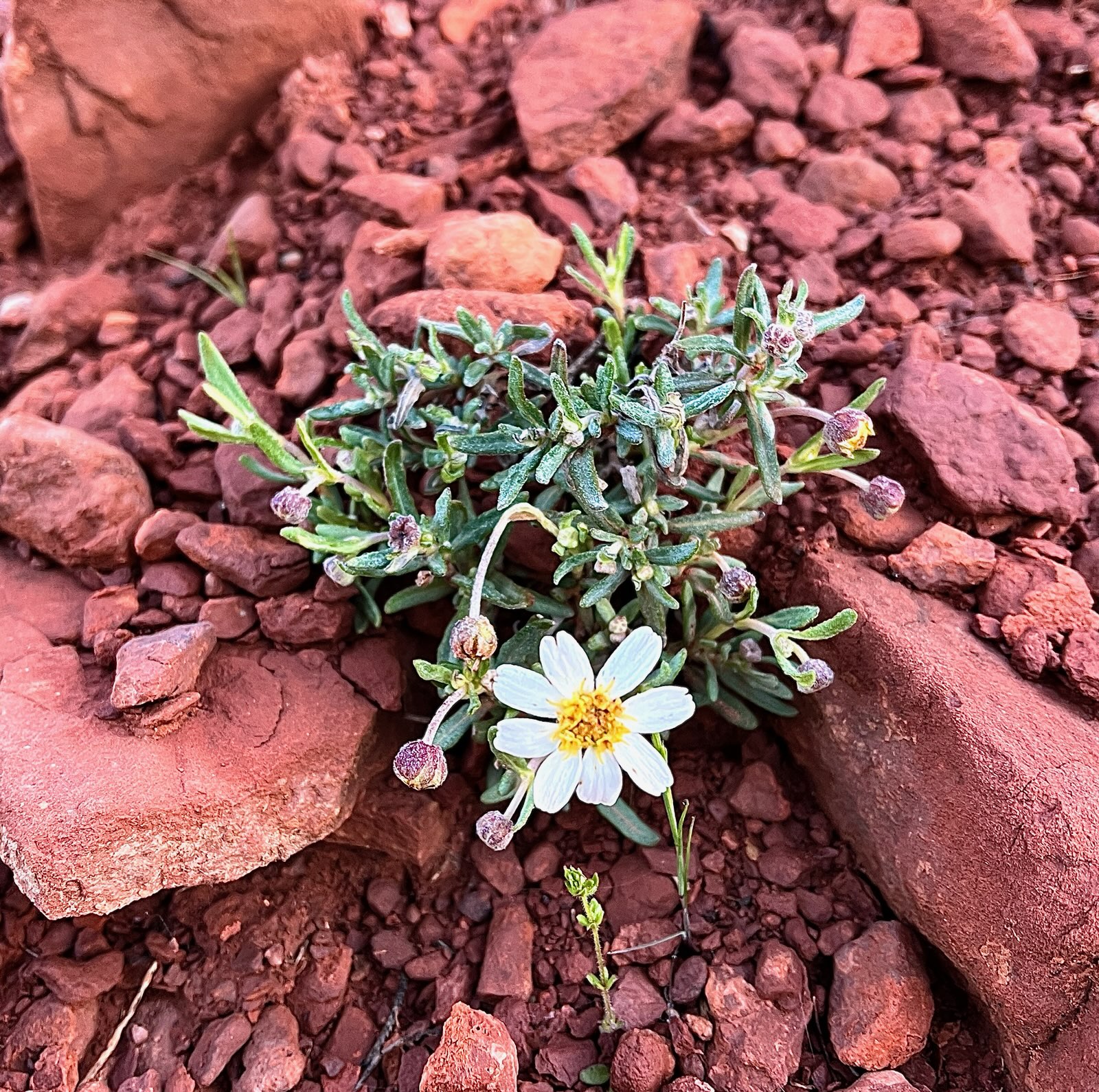 Red Rock rests at a higher elevation, so their wildflower season usually begins in May and continues through mid-June, as long as moisture levels remain high. Due to above average winter precipitation and temperatures, many early spring annual plants may sprout early. Take a peek at what's sprouting on the Red Rock State Park Facebook page.
---
Lost Dutchman State Park
Status 4/24/23: This is the last report as the brittlebush are fading and wildflower season comes to a close this 2023. There are some cactus in bloom if you can find them before they too, close up. The last cactus to flower will be saguaros in May. Hope you got to see some good blooms this year on our side of the valley. See you next year if conditions are right!
Status 3/26/23: It's not a "superbloom" but it is in bloom!  There is diversity and plenty of desert hyacinths, fiddlenecks, and some lupines, brittlebush, and chuparosa on all trails. Poppies can be found in pockets here and there.
Preview some of the blooms and get weekly updates on the Lost Dutchman State Park Facebook page.
---
Catalina State Park
Status 4/2/23: Wildflowers like brittlebush, lupines, fiddlenecks, purple owl's clover, desert chicory, and California poppies can be seen from the trails. Enjoy them before the coming heat brings them past their peak.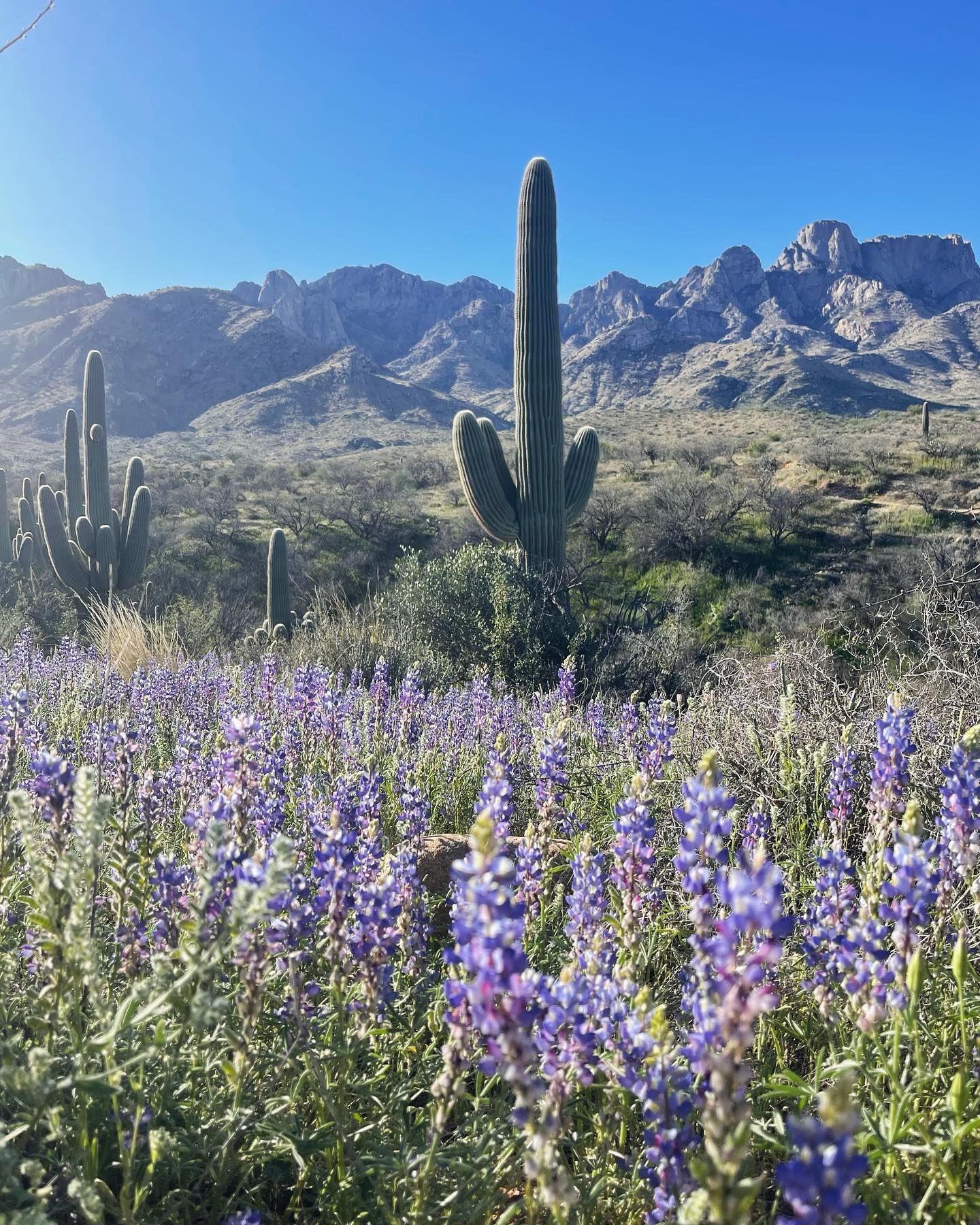 @anonymousinthecity
Status 3/13/23: Blooms have begun around the Bridle Trail and the Nature Trail. Small patches of California poppies, lupine, and desert chicory can be seen from the trails.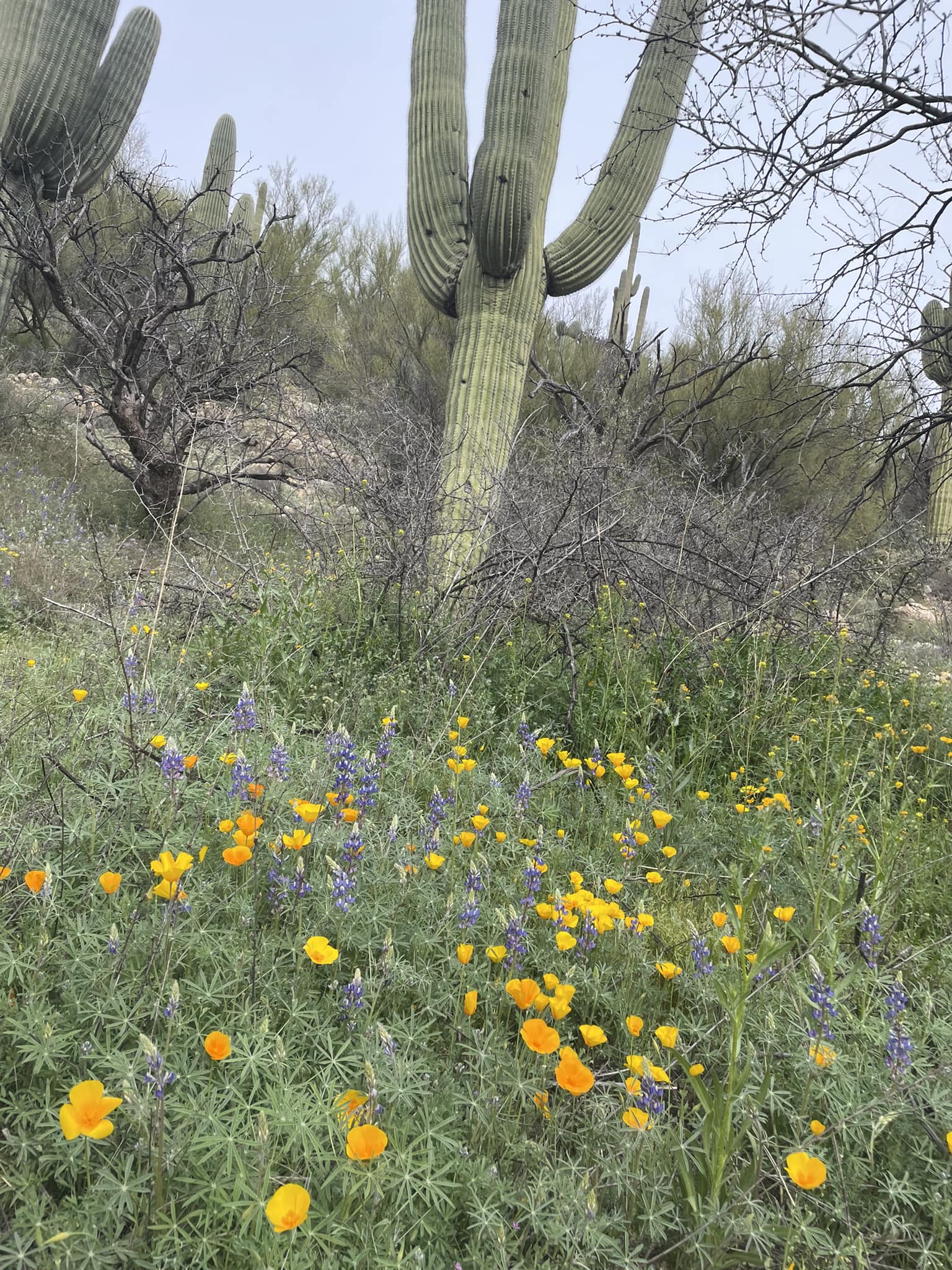 Status 2/22/23: The wildflowers have not yet begun to bloom. It is the start of the season, but we have had good moisture so we may see them bloom in a few weeks. 
This Sonoran Desert dominated park is fed by snow melt through two large washes, which brings cooler temperatures, and beautiful blooms that last a bit longer. This is actually quite convenient for visitors hoping to extend their wildflower season by visiting this southern Arizona destination after seeing the beauty of other parks across the state! With such a large variety of flowering plants, shrubs, and cacti, this park is really a sight to behold when the bloom is taking place. Springtime brings beautiful sights and aromatic appreciation to park visitors, combine these with a hike through the desert for an absolutely unforgettable experience.   
The Catalina State Park Facebook page posts wildflower updates during the spring season. Follow along and visit the park when your favorite plants are blooming!
---
 

Picacho Peak State Park

Status 3/27/23: The swaths of wildflowers have passed their peak and are beginning to wane. There are still beautiful gems to observe, including lupine, brittlebush, globemallow, and even red ocotillo blooms here and fuchsia-colored hedgehog cactus flowers there. Enjoy the beautiful springtime weather and green landscape at Picacho Peak!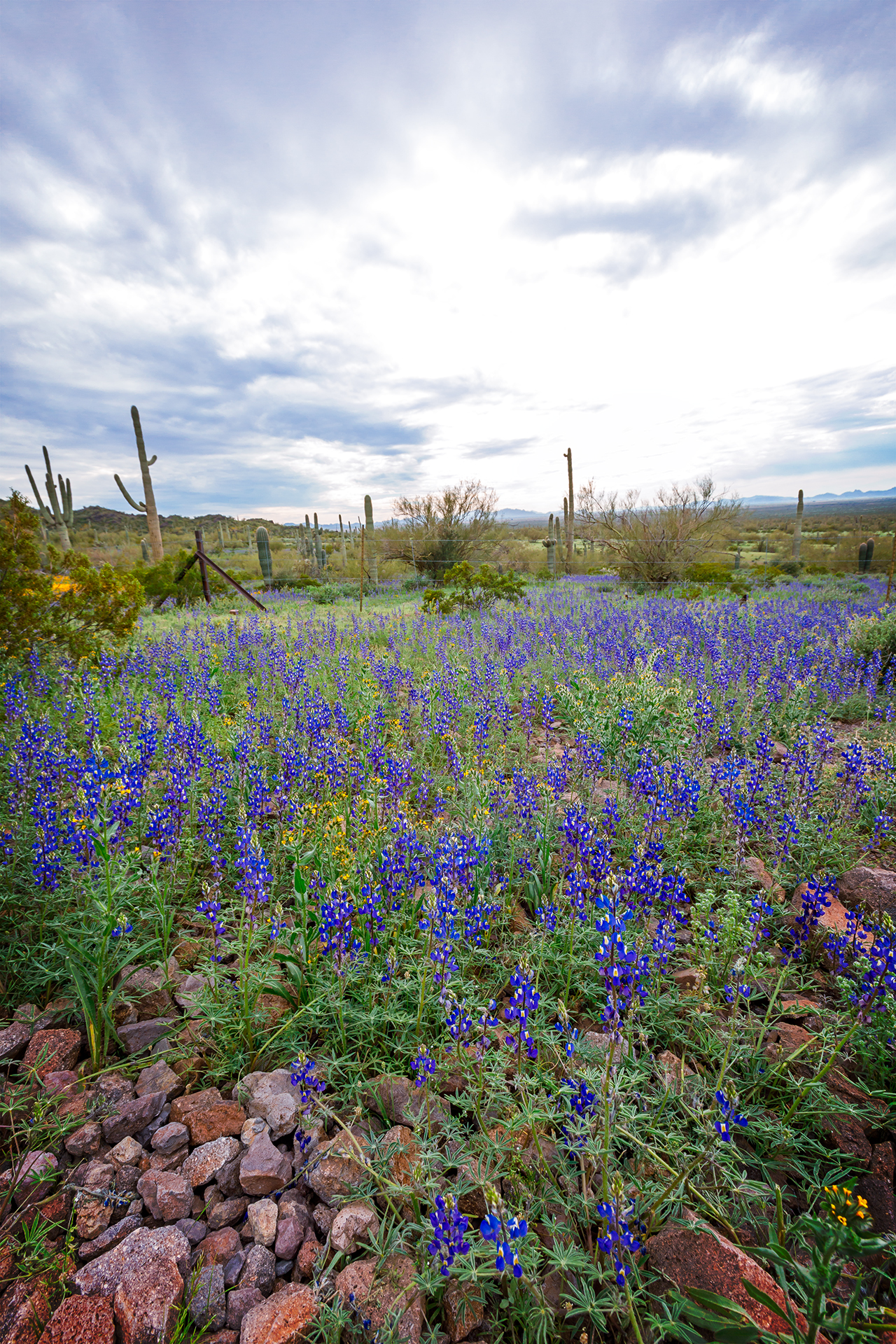 Status 3/13/23: The flowers are blooming! Swaths of yellow climb the mountain, and poppies and lupine abound. We are very busy with visitors coming to see the bloom. Please arrive early, choose a weekday visit if possible, and park only in designated areas. Please stay on the trails! Do not walk over or around the plants.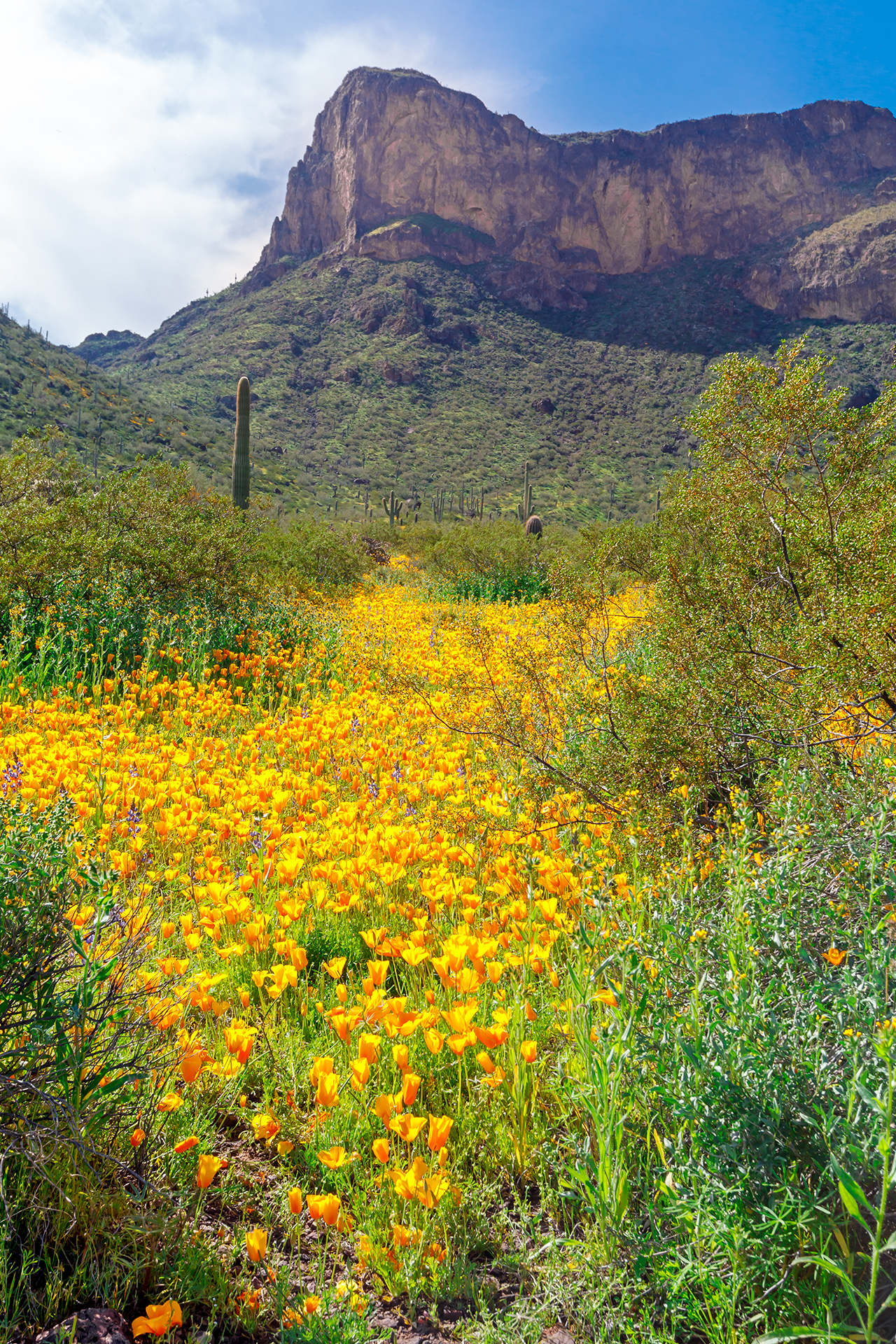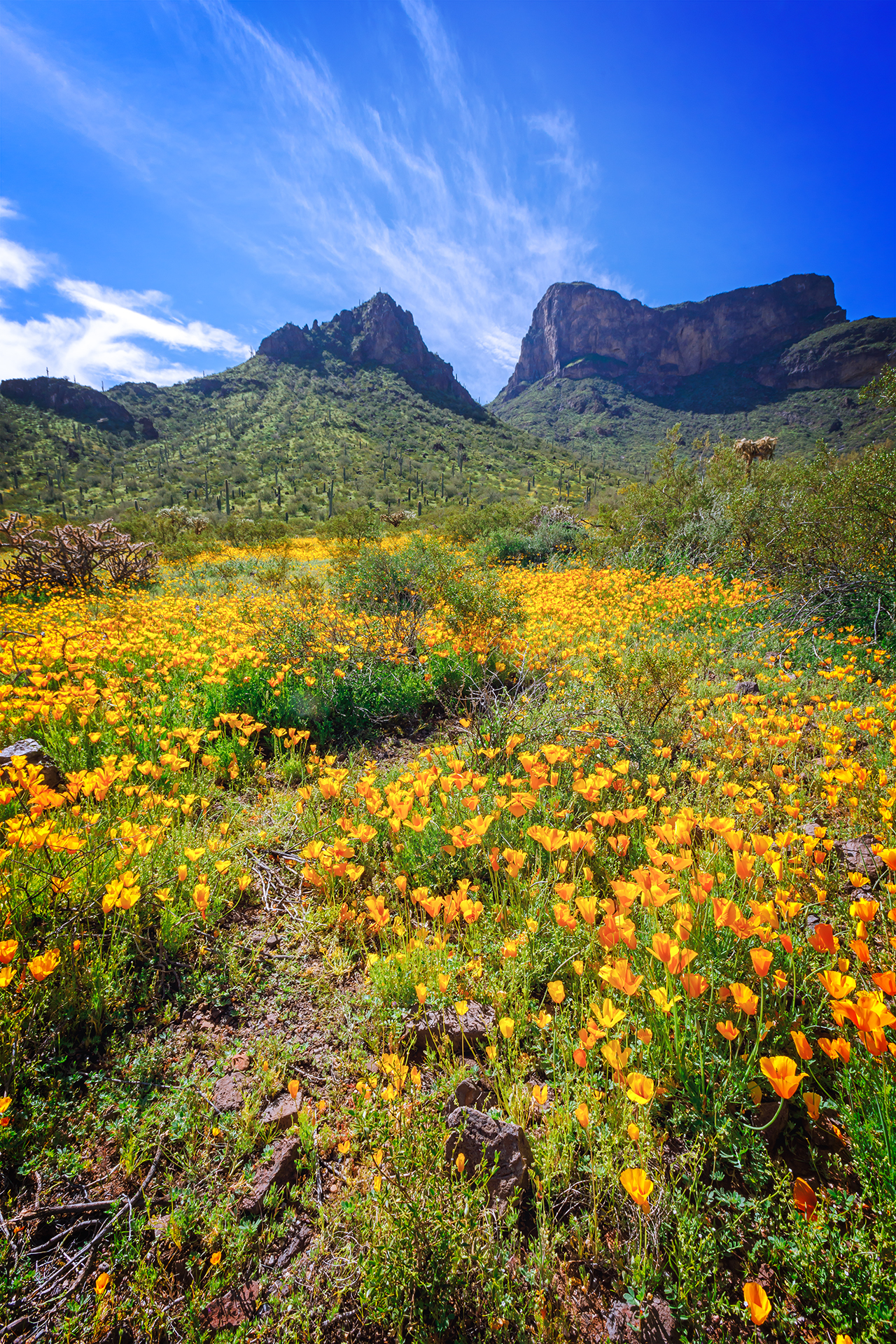 Picacho Peak is arguably one of the best spots to see blooming wildflowers and cactus in Arizona, with bushels of incredible golden blooms throughout the park. The desert wildflowers here offer a unique and beautiful contrast to the green and brown hues of this Sonoran Desert destination. Experience the trails as they wind through a colorful sea of yellow, orange, purple, and red wildflowers, each step exposes new beauty along the way. Plants, shrubs, and cacti all blooming, seemingly for your pleasure...Extend your trip and enjoy a stay in the campgrounds to get the most out of Arizona's wildflower season. Springtime weather is perfect for a desert camping experience, book a trip and expose yourself to the beauty Arizona so selflessly shares with you.
---
Alamo Lake State Park
Status 3/12/23: Poppies are dotting the hillsides and some brittlebush by the lakeside is blooming.
Status 3/1/23: Flowers are blooming and patches of poppies can be seen in the park!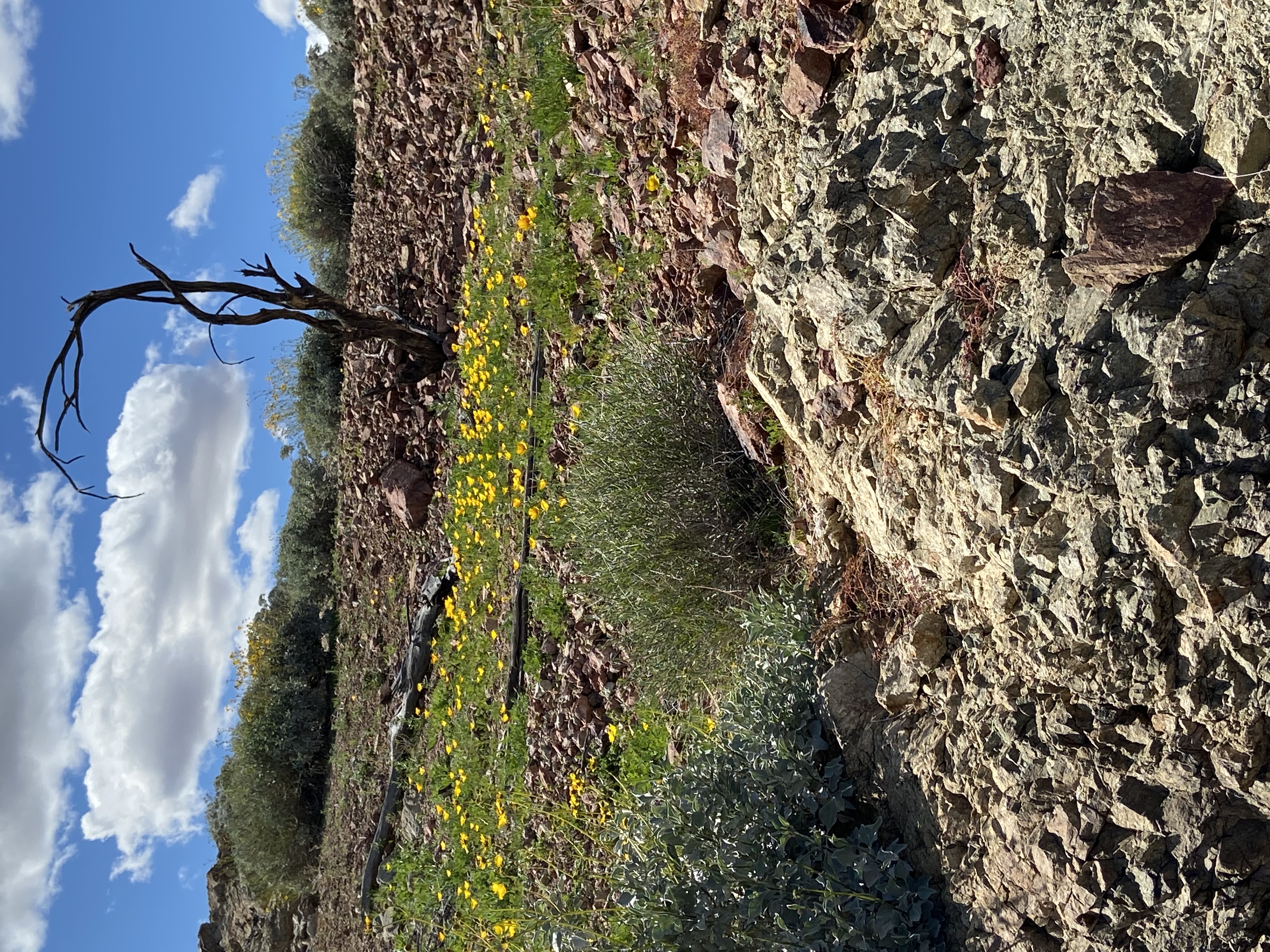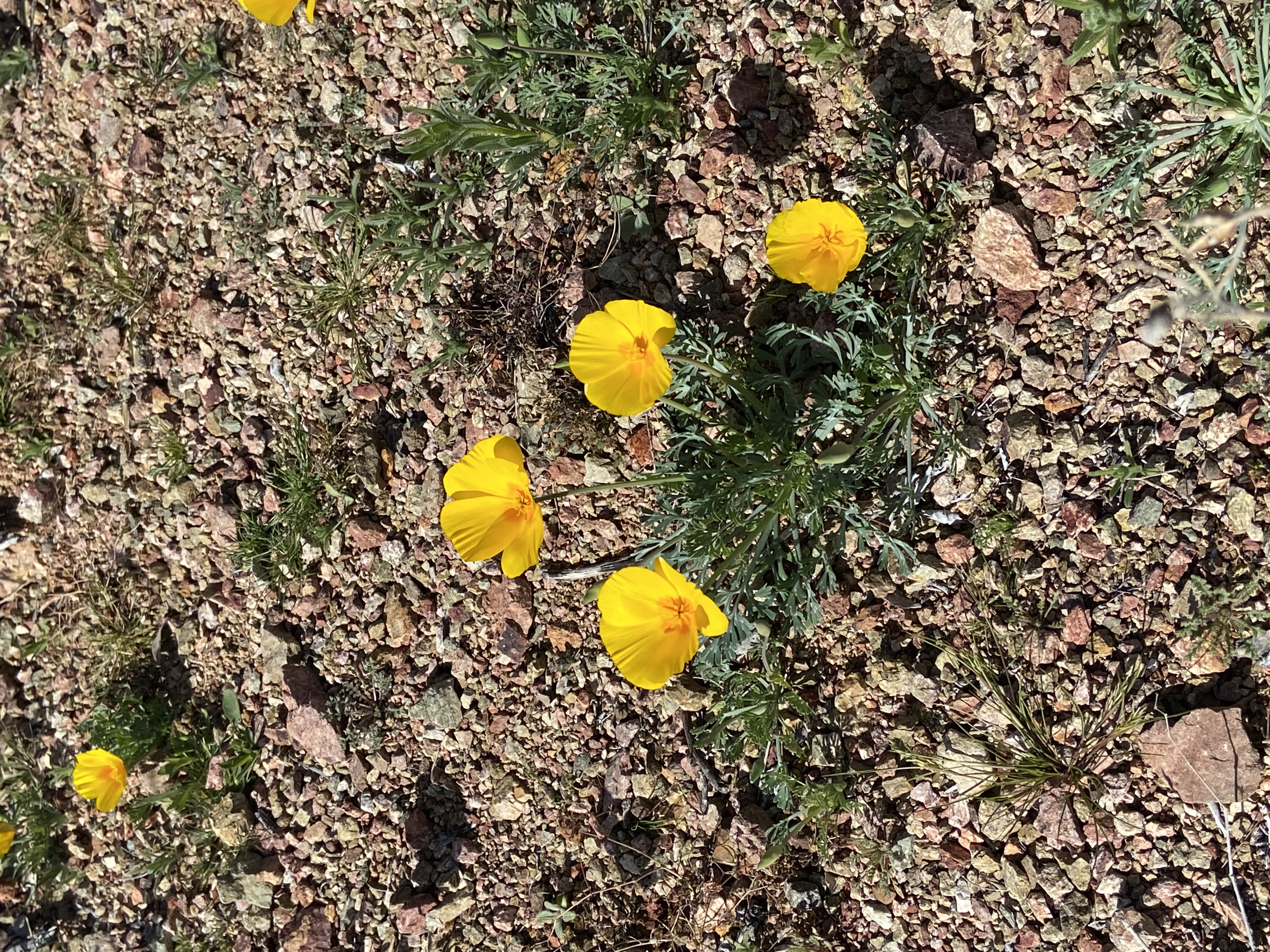 Alamo Lake isn't just for world-class fishing and off-roading! The park has so much more to offer, like amazing blooms that blanket the landscape in late March and early April. The high desert getaway is covered in brittlebush flowers and blooming palo verde trees along the shores and hills surrounding the lake, which makes for amazing views on your hikes through the Sonoran desert. The juxtaposition of bright yellow starbursts among desert landscapes is a bucket list item begging to be checked off! Reserve a cabin or campsite to take advantage of all Alamo Lake has to offer, and to see the blooms as they hit their peak of Arizona wildflower season!
---
Western Arizona
Cattail Cove, Lake Havasu, Buckskin Mountain, and River Island State Park
Status 3/27/23: Yellow cups, lupine, brittlebush, creosote, and scorpion weed (remember, don't touch this plant as it causes a skin rash similar to poison ivy) color the landscape! Buckskin Mountain State Park trail system pictured below.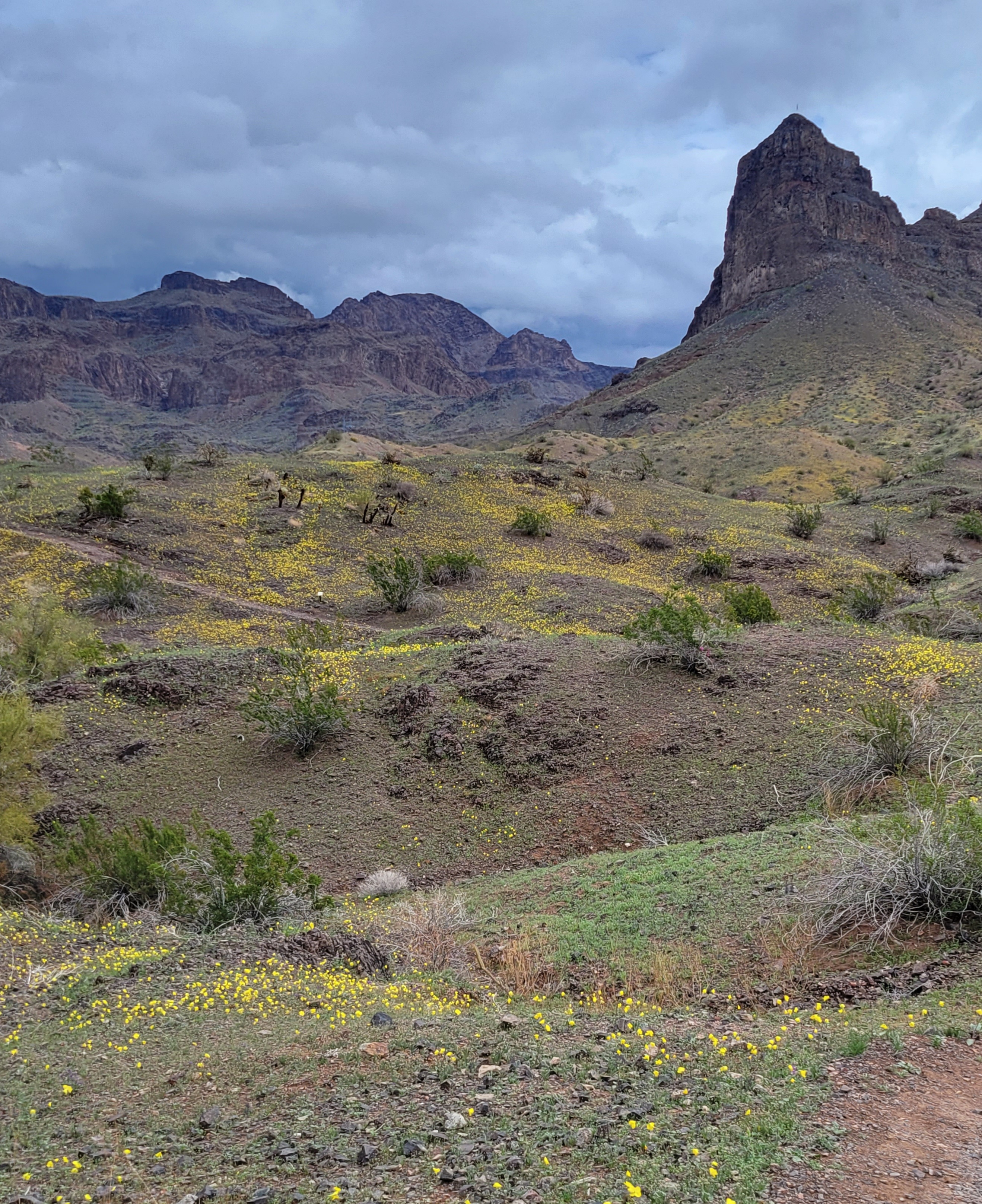 Status 3/13/23: The hillsides are covered with pops of purple and yellow, thanks to two common western Arizona wildflowers: scorpion weed (Phacelia distans) and yellow cups (Camissonia brevipes). These blooms are beautiful, but keep your distance from the purple scorpion weed as this plant produces an oil on the hairs of its stems and leaves that causes an irritating skin rash similar to poison ivy. Cattail Cove State Park pictured below.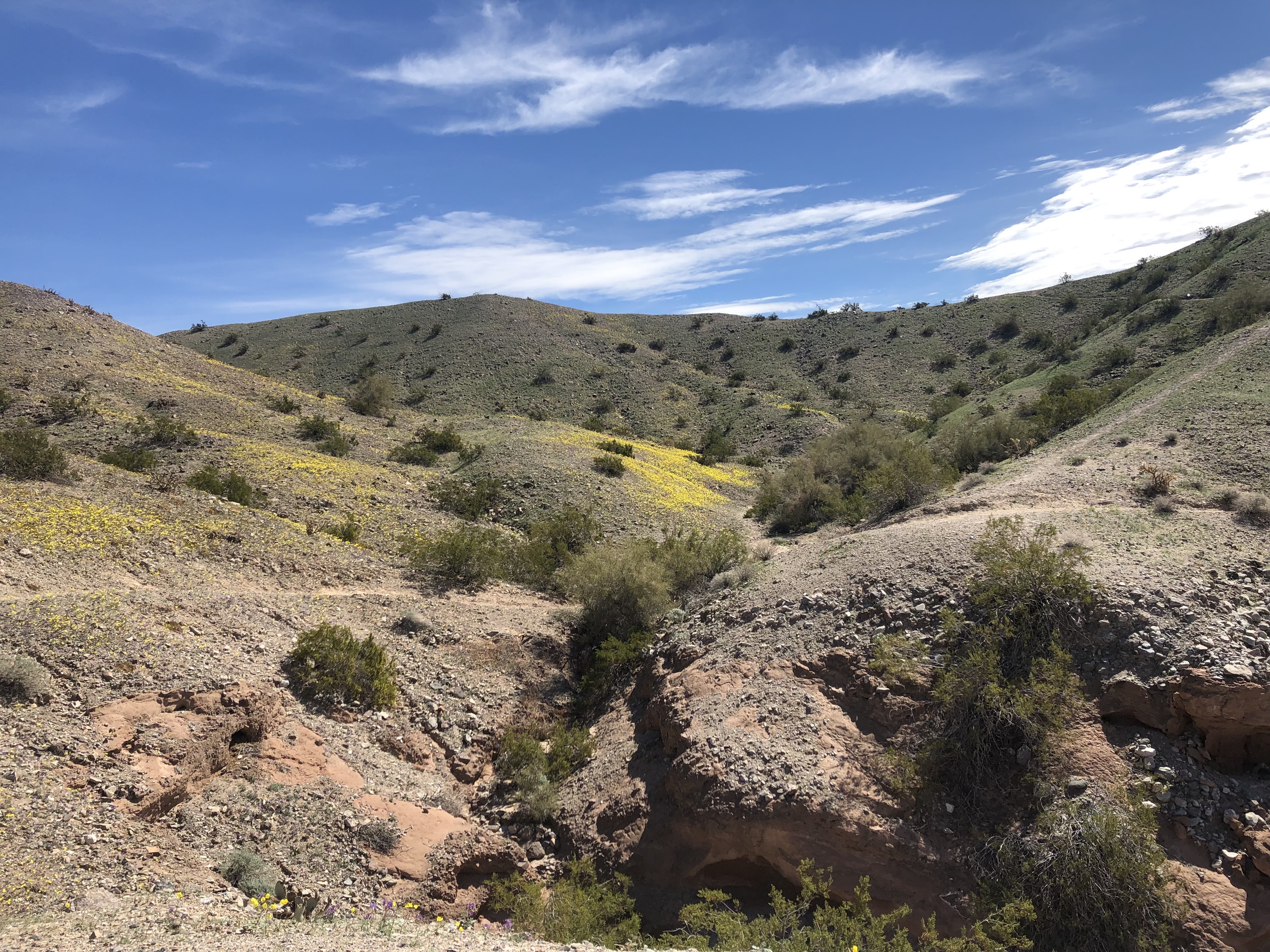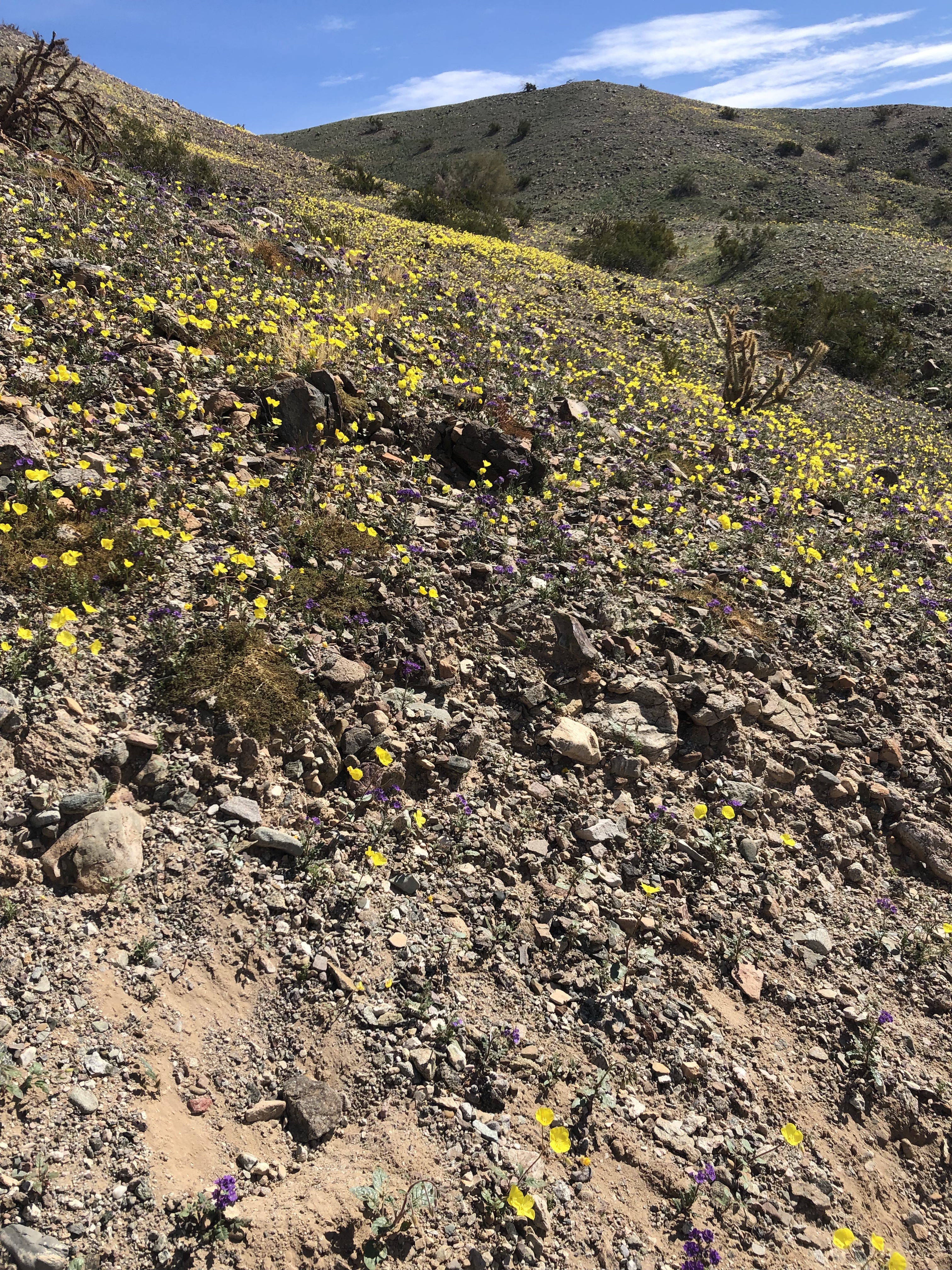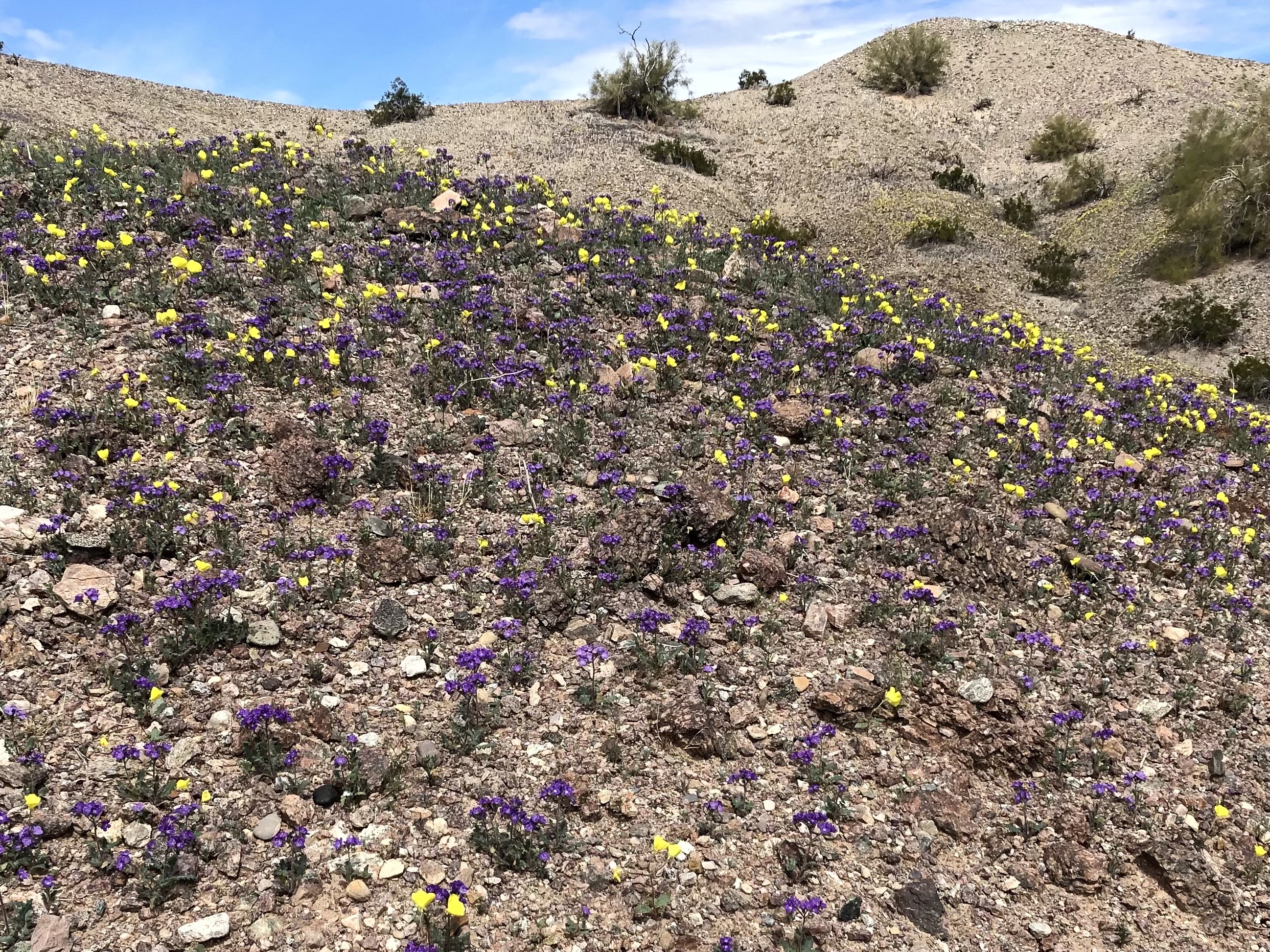 ---
Native Arizona Wildflowers
Arizona's flowering plants bloom at various times of year, although the spring wildflower season is generally the best time to view unforgettably vibrant fields of color. Provided there has been ample late winter/early spring rains, Arizona's deserts absolutely come alive from late February through April and draw in visitors from around the world to admire the splendor. Many of these flowering desert plants attract hummingbirds as well to truly accentuate a colorful springtime park experience! Check out the following list of wildflowers you can find in Arizona's State Parks. 
Arizona Rosemallow Hibiscus biseptus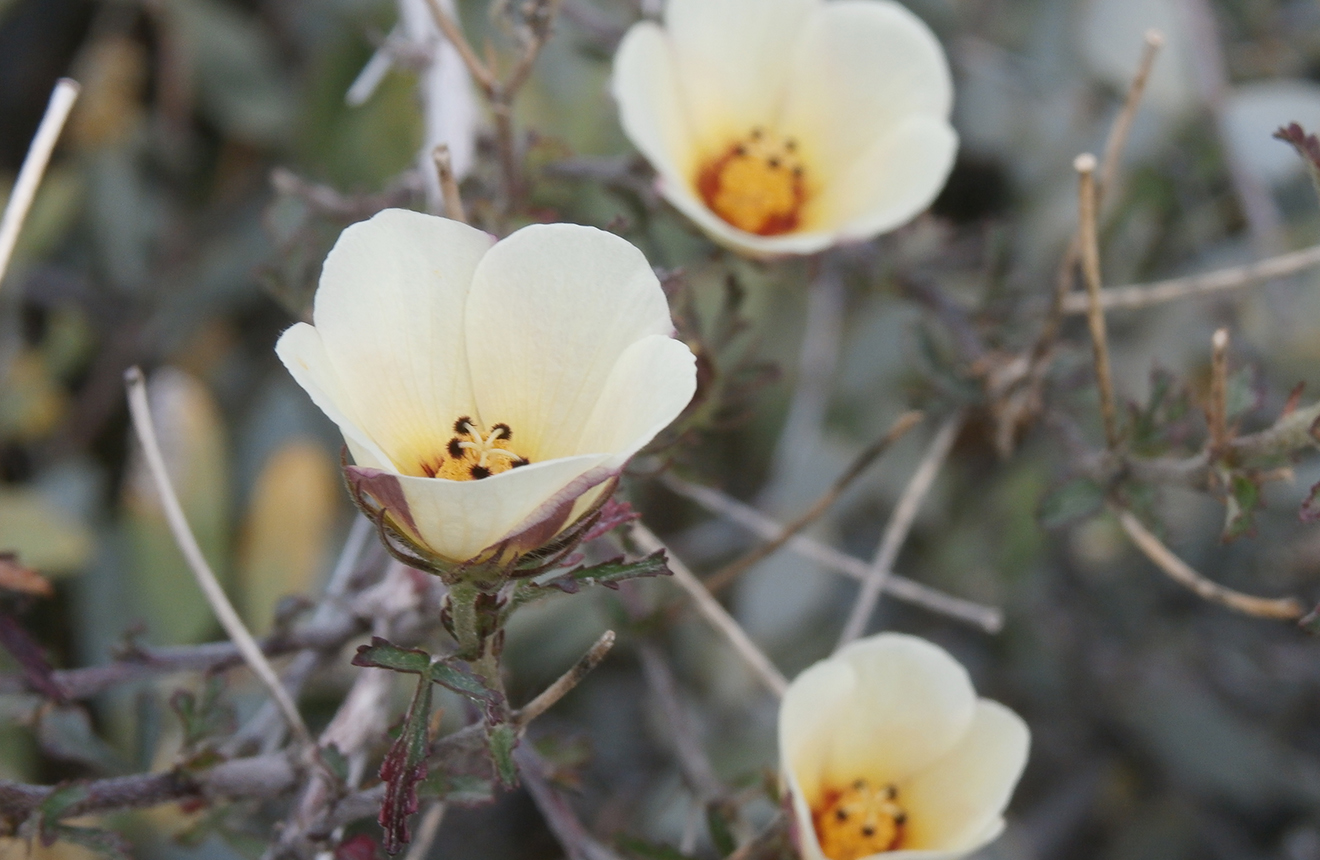 This perennial hibiscus blooms April through October and can grow up to three feet plus in height. Yellow-cream flowers are the most common throughout Southern Arizona, although localized blooms of white or red might also be encountered in the mountain foothills and rocky canyon slopes preferred by Arizona Rosemallow.
Bluedicks Dichelostemma capitatum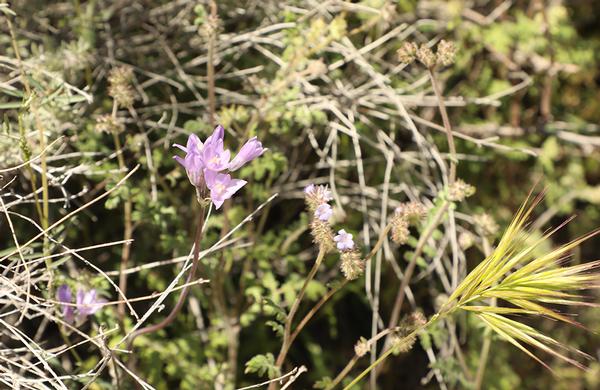 This member of the lily family has a large range that encompasses the lowest deserts up to seven-thousand feet! Bluedicks may not actually be blue, depending where you are...White, purple, and pink flowers may be experienced throughout their range. 
Brittlebush Encelia farinosa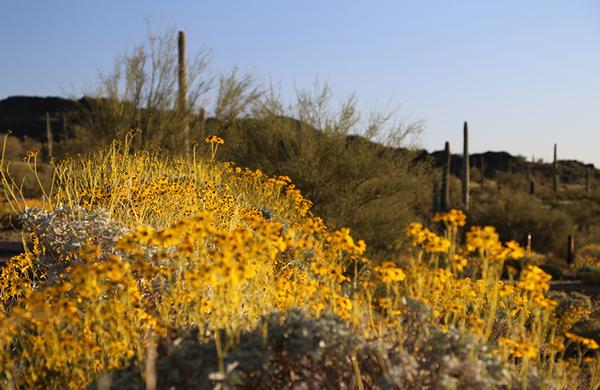 Many of Arizona's rocky desert slopes and hillsides are alive with the yellow flowers of brittlebush in the spring. This is a very common, yet extremely gorgeous wildflower species. 
California poppy Eschscholzia californica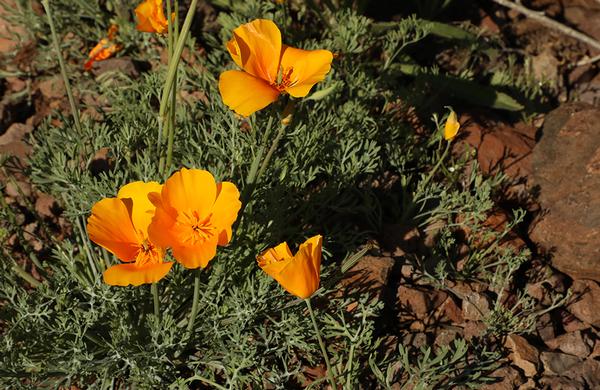 The California poppy is found throughout the Sonoran Desert and in great abundance during years of above-average precipitation. 
Chuparosa Beloperone californica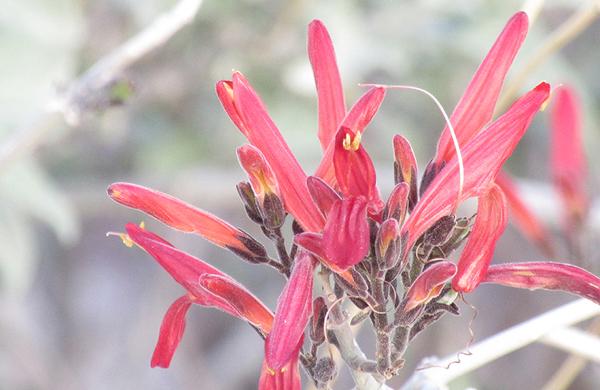 The semi-succulent tubular flowers of the chuparosa are typically red, although orange and yellow variants can be found throughout the sonoran desert range. Chuparosa flowers are a favorite of hummingbirds wintering in the desert.
Coulter's Lupine Lupinus sparsiflorus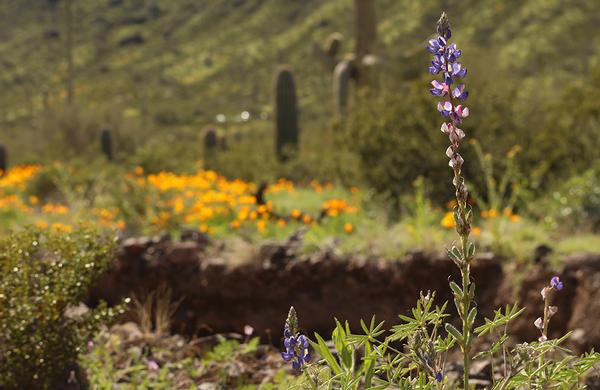 Typically found below 4,500 feet in central and southern Arizona, the (usually) bluish-purple flowers of this pretty annual can vary to varying degrees of pink and even white. Flowering season is March to May. 
Desert Chia Salvia columbariae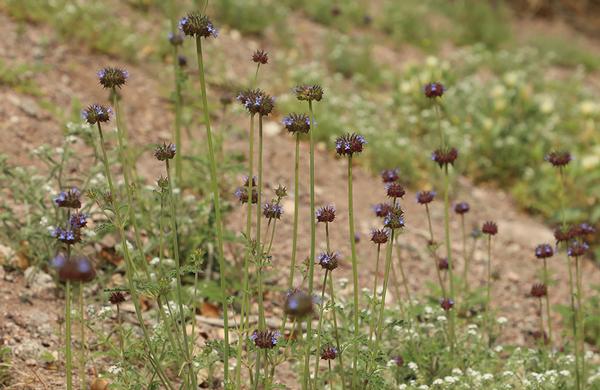 Of the 16 species of Salvia found in Arizona, the Desert variety is by far the most widespread. The blue (or purple) flowers typically bloom from March to May at desert elevations below 3500 feet.
Desert Chicory Rafinesquia neomexicana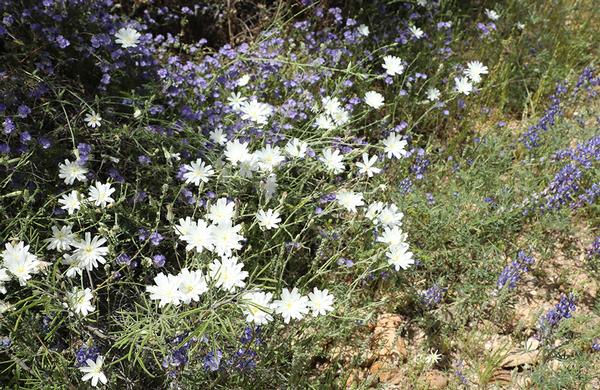 This small member of the sunflower family sports white flowers, is usually less than two-feet tall, and occurs in gravel or sandy areas of both the Mojave and Sonoran Deserts between 200 and 3,000 feet in elevation.
Desert Gobemallow Sphaeralcea ambigua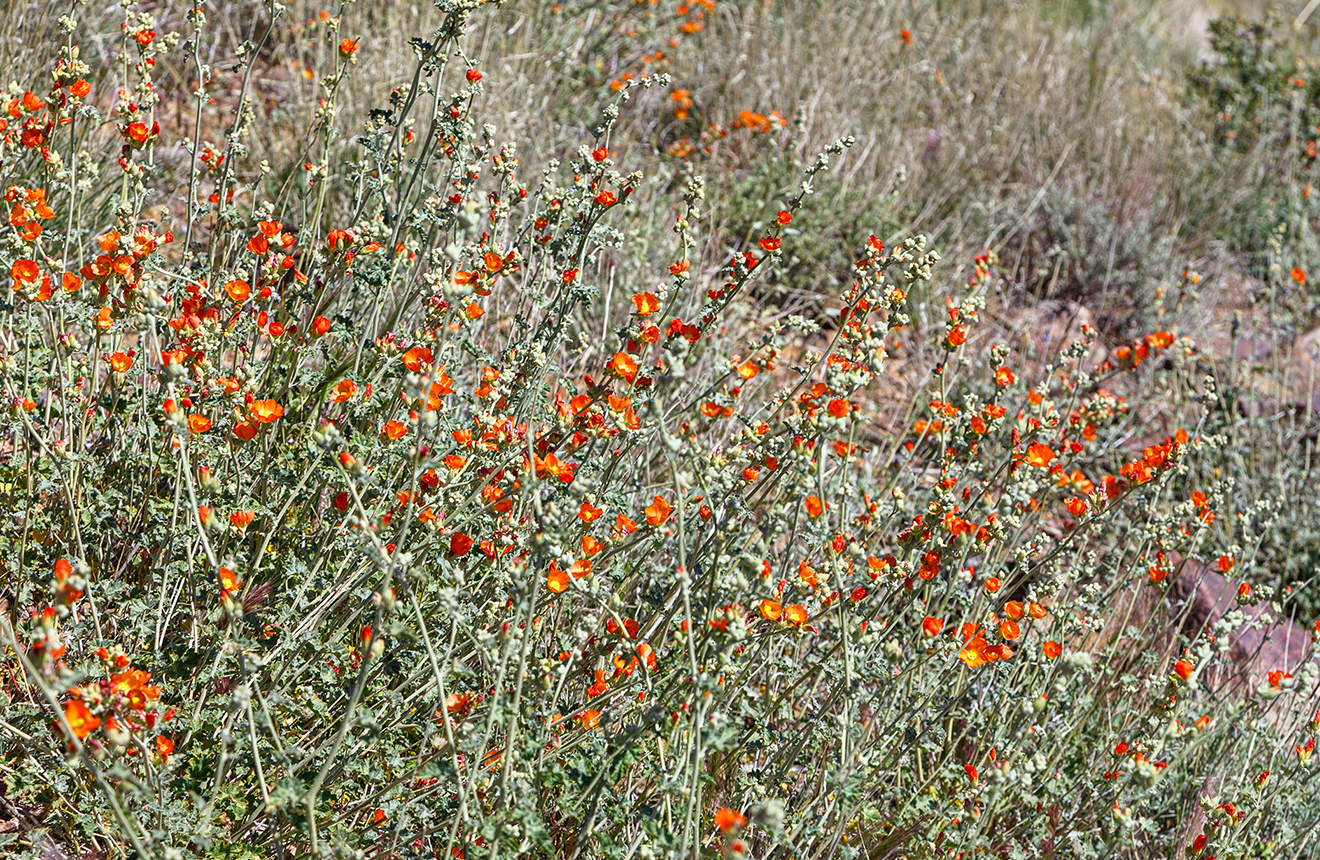 The Desert Globemallow could reach a height of 3-feet and prefers rocky, alkaline soil within creosote and desert chaparral communities below 3,500 feet in elevation. Orange blooms are most common, although pink or purple might be encountered in localized areas. Blooms year-round, peaks in spring with enough moisture.
Desert marigold Baileya multiradiata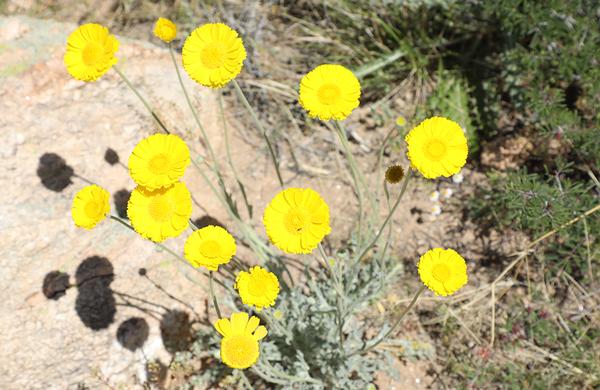 A conspicuous desert perennial with a short life span that flowers in March and intermittently through November. Found on rocky slopes and sandy areas of the desert floor from 100 to 6000 feet in elevation.
Desert Paintbrush Castilleja integra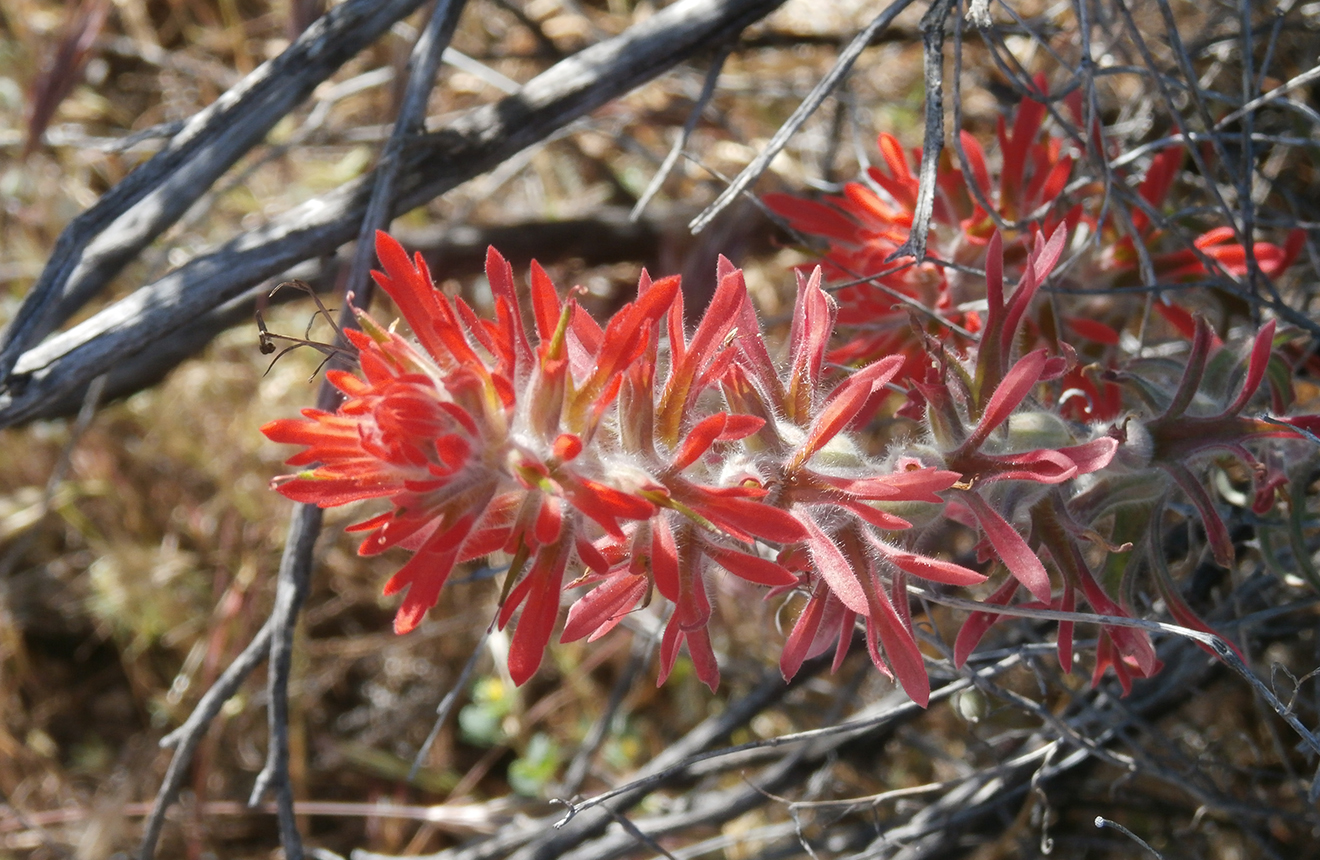 The Desert Paintbrush is a short perennial herb that occurs in dry sagebrush scrub and pinyon/juniper woodland habitats where it is partially parasitic on the roots of other plants. Bright red bracts attract the attention of butterflies, hummingbirds, and other pollinators since their flowers are small and inconspicuous.
Desert Primrose Oenothera primiveris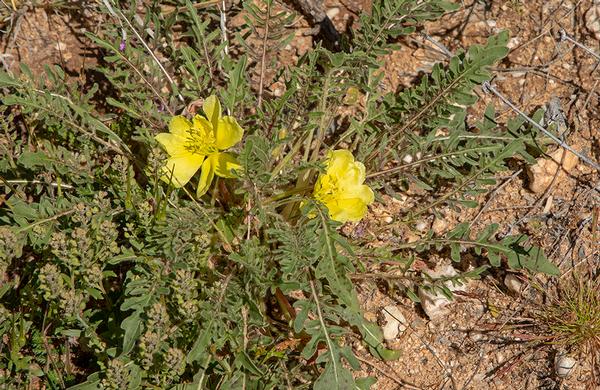 Found from the desert floor up to 4500  feet in elevation, these annual herbs commonly bloom on the sandy desert floor and associated topography like hills and washes.
Desert Tobacco Nicotiana obtusifolia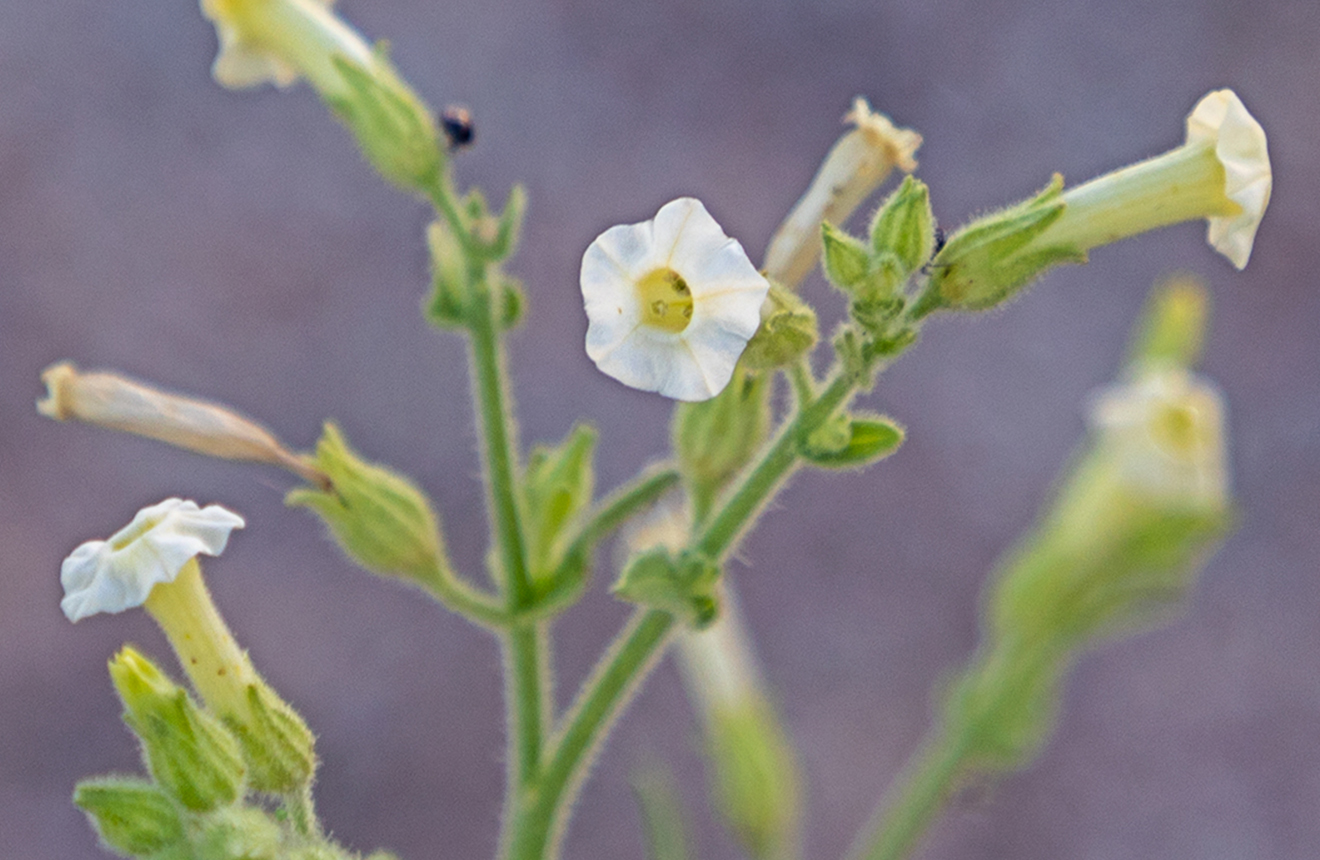 Desert Tobacco is part of the Nightshade and Potato family and grows less than 2.5-feet in height. The small, white, tubular flowers may bloom from March through June, but could bloom throughout the year with enough moisture. Desert tobacco can be found along sandy washes, and amid rocky slopes up to 6,000 feet in elevation.
Desertstar Daisy Monoptilon bellidiforme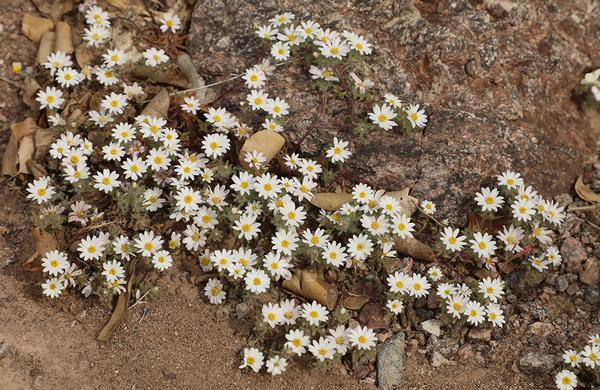 This annual herb is usually found in desert washes and other sandy locations below 3000 feet in elevation. This ground level desert plant grows in clusters adorned with small white flowers.
Gravel Ghost Atrichoseris platyphylla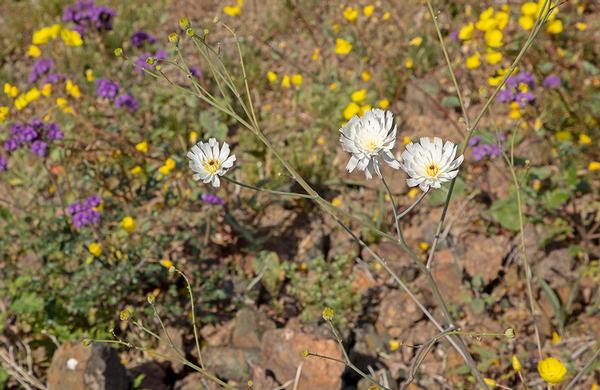 Typically found in desert washes and valleys below 4500 feet, these white flowers seem to be "ghostly" floating on their tall (up to 2.5 ft.) thin stalks.
Fairy duster Calliandra californica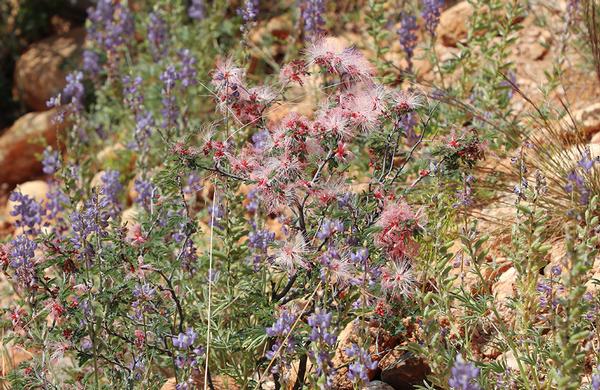 The thin, wispy flowers range from light pink to orange throughout the desert region. The Fairy Duster, an important food item for a variety of desert dwelling birds and animals, is found below 5,000 feet on open hillsides and sandy washes.
Fiddleneck Amsinckia intermedia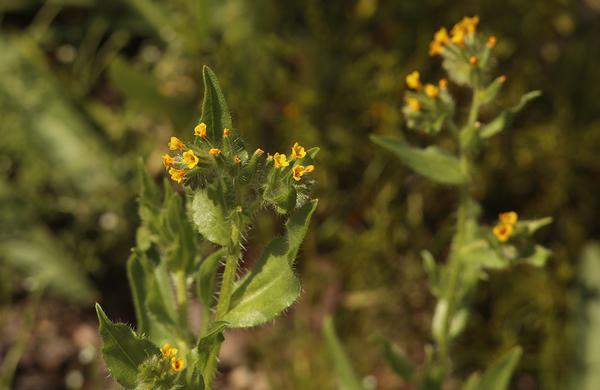 During years of above-average rainfall, the yellow-orange flowered fiddlenecks will be particularly abundant and found in dense patches in the upland desert. This plant irritates human skin upon contact.
Jojoba Simmondsia chinensis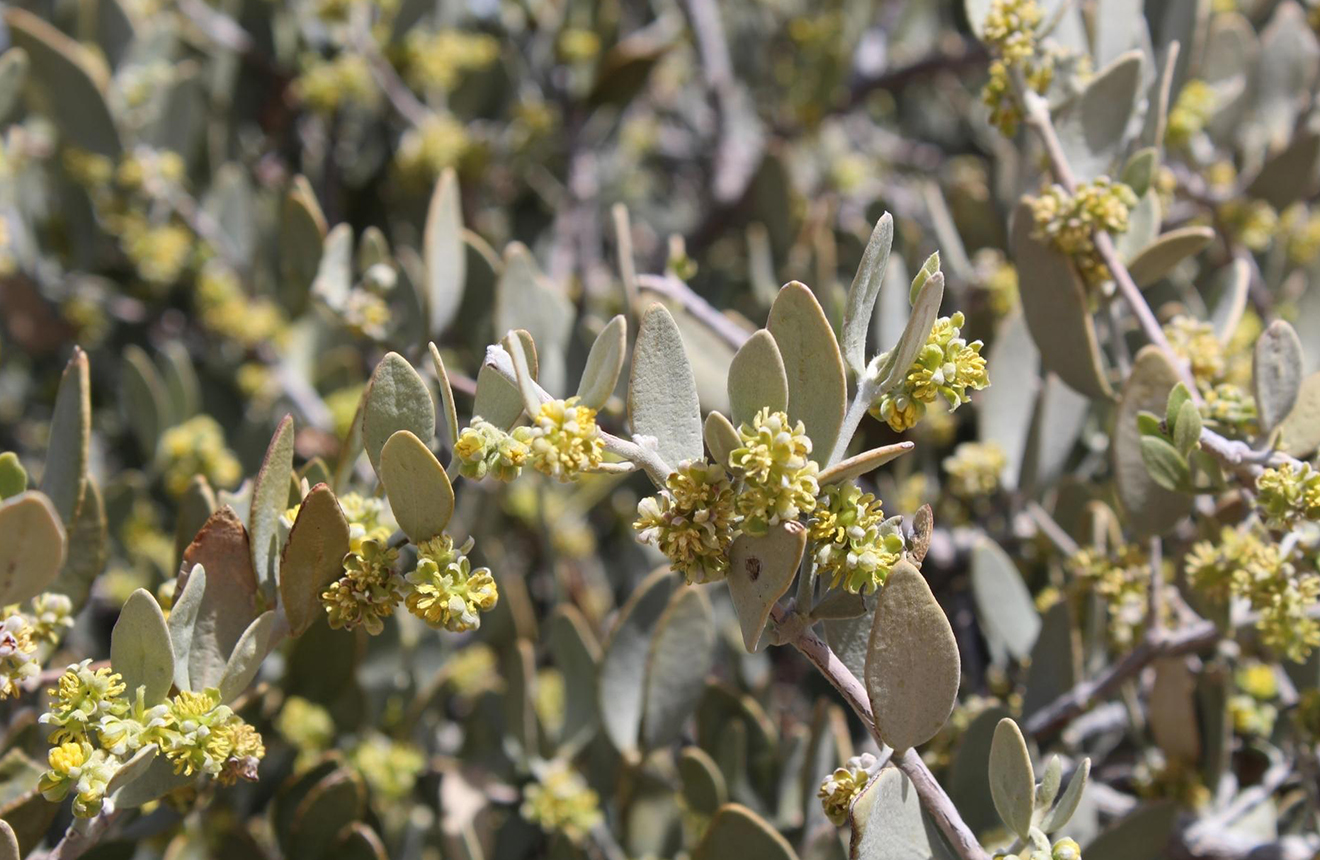 Jojoba is an economically valuable plant. The wax extracted from jojoba nuts is a very high-quality lubricant found in many cosmetics and beauty products. Jojoba plants bloom during the winter months and the nuts ripen over the summer. Jojoba is found throughout the Sonoran desert in areas that get enough moisture to support them.
Lyreleaf Jewelflower Streptanthus arixonicus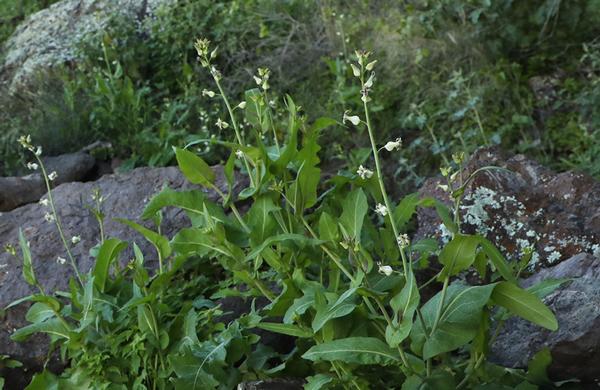 This small biennial to annual flowering herb is actually a member of the mustard family. Interestingly, the white flowers turn to yellow the further east in range occurrence. In Arizona most jewelflowers are white. 
Marsh Aster Aster pauciflorus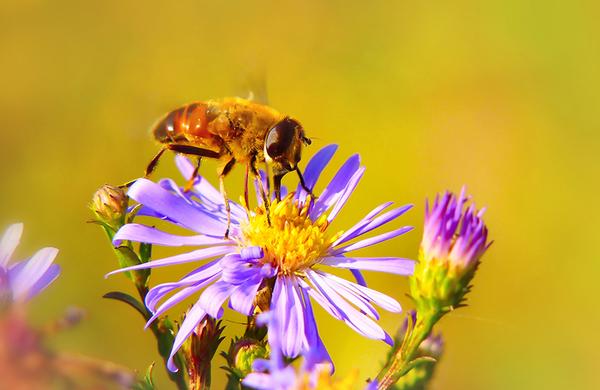 Marsh Aster is found in riparian and drainage zones throughout Arizona. As the name implies, this forb is found within close proximity to a regular water source.
New Mexico Thistle Cirsium neomexicanum

This forb can reach a height of over six feet tall throughout its range. The thistle blooms from March through September after above-average rainfall.
Purple Mat Nama demissum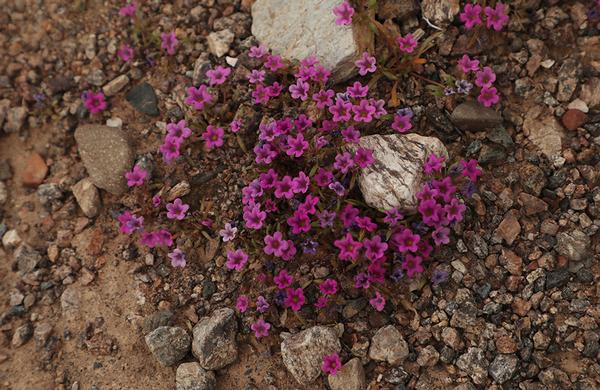 A small spring annual that grows in large "mats" sporting numerous purple flowers. Present only after above-average winter precipitation in desert flats, and somewhat rocky areas near washes.
Purple Owl's Clover Castilleja exserta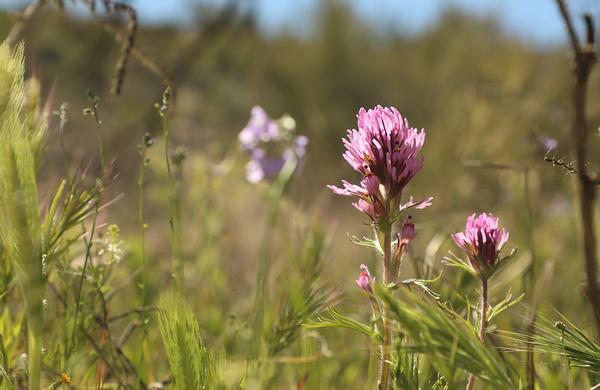 After periods of above-average rainfall, these beautiful annual forbs can produce huge swaths of color in generally open desert areas from March through May.
Rock Daisy Perityle emoryi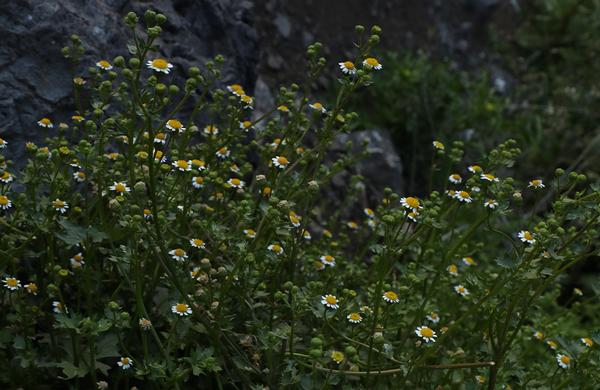 A small, delicate, annually recurring herb, the Rock Daisy is usually found in relatively open rocky or sandy desert areas.
Scorpion weed Phacelia distans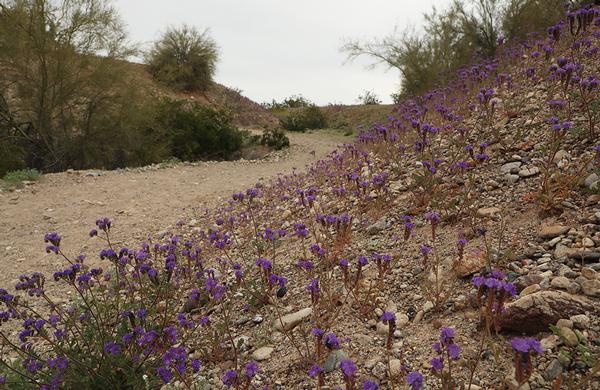 Scorpion weed usually blooms from February through June and is found typically along desert washes and hillsides between 1,000 feet and 4,000 feet.
Yellow Cups Camissonia brevipes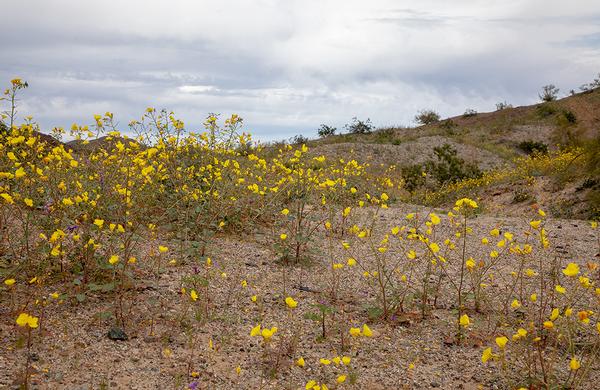 Flowering best during years of above-average desert rainfall, these small yellow flowers typically occur in western Arizona between 300 ft and 6000 ft elevation.
---
You can always contact the parks by phone to see what blooms have made their appearance! February is the earliest wildflowers will start to bloom, and often they wait until March. The season depends on precipitation and temperature, so you never know what you'll see!
Always remember to treat the landscape and blooms with respect, and be careful not to pick or trample the flowers! Help us keep the parks beautiful for all visitors to Arizona State Parks!