Become a Junior Ranger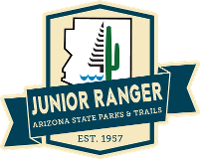 If you're between ages 6–12, you can become a Junior Ranger at McFarland State Historic Park! Pledge to do your part to help preserve the beauty of the park for everyone to enjoy!
On this page, you can download a Junior Ranger activity for this park that you can complete on your own. It's just one of the fun activities you can do to become a Junior Ranger. After you complete it, bring it with you to the park and you're on your way to becoming a Junior Ranger.
When you visit the park ask for a full Junior Ranger booklet at the Visitor Center, Ranger Station or office. Complete the activities during your visit and then bring it to a Park Ranger for review. When a Park Ranger approves your work you'll be asked to take the Junior Ranger Pledge and get sworn in as our newest Junior Ranger. You'll also be given a Junior Ranger Button. We hope to see you at the park!
Activity Sheet
Download 1-page Activity Sheet
Pledge & Button
Junior Ranger Pledge: "As an Arizona State Parks Junior Ranger, I pledge to help the park rangers protect and preserve habitat, wildlife, and help keep the park clean and safe for visitors and wildlife."
Remember, you can become a Junior Ranger at nearly all Arizona State Parks. So explore our website and visit the FOR KIDS page for each park for more activities.
Junior Ranger Button: Show everyone that you're a Junior Ranger! After you complete your activities and take the Junior Ranger Pledge you'll receive a Junior Ranger Button. You can pin it to your pack, put it on a bulletin board, or proudly wear it. Check out the button for this park in the picture.
Educational Opportunities for Kids
When Florence Was Young- A Day in the Life of a Child
What was life like for a child living in Florence in the late 1860s and early 1870s?  This program entices children to compare and contrast a typical day back then with a typical day now. Learn what the homes were like, how children dressed, what chores children did, what living conditions were like, and more.  Geared for elementary school classes and homeschool groups.
Arizona State Park Ranger Programs (as scheduling permits)
State Park rangers share fascinating programs such as "Scorpions," "Curious Creatures," "Hiking Safety 101," and "Birds."  Learn from people passionate about Arizona's natural environment.  For elementary age groups.
Arizona Fossils (as scheduling permits)
Dig into the distant past with geologist, Richard Sichling, as he shares about Arizona's fossils.  What are they?  Where did they come from?  How were they made?  For groups of children grades 3 – 6.
If you have an idea for a possible topic relating to geology, there may be a program available for your group. Please contact the park to share your ideas. 
Kids' Courthouse Connection
It's no fun for children to visit a place and not be able to touch anything, so McFarland Park provides special exhibits where kids are welcome to handle objects or do some thinking on their own.  That's how children learn best!  Appropriate for all ages of children.