Enjoy hikes and fun activities to start the New Year right!
Spend the first day of 2018 in the parks and celebrate the New Year! Join us for First Day Hikes, a national effort to kick off the year on a healthy note. There are fun activities for all, including hikes, tours, boat rides and even s'mores! Remember to wear the appropriate shoes, bring plenty of water, a camera and your sense of adventure!
Park entrance fees apply. Please check park website for more information and to register (if required).
Choose from the following hikes:

9:00 a.m. and 1:00 p.m. - Ranger-Lead Hike
Ranger Led Hike. Come hike where the Sonoran desert meets the Mohave and the giant saguaro share space with the Joshua trees. All participants will meet at the Ranger station/store. The hike will be approximately one mile long. Rangers will help participants explore this desert by discussing topography, plants and animal life.
• Dress appropriately for December weather and desert terrain (hiking boots, proper footwear, etc.)
• Bring water, hiking stick, sunscreen, camera, etc.

9:30 a.m. - Bird Walk with Mark Ochs
See colorful cardinals, spotted towhees and others while learning to identify birds based on their field marks, habits and habitat.

11:00 a.m. - Guided Walk Along the 1.5 mile Main Trail
Do 'century plant' agaves truly live 100 years? How old are the massive saguaros on the north side of Magma Ridge – compared with the twice-as-tall eucalyptus trees? Where can you still sneak a post-holiday kiss under genuine mistletoe? Arboretum guide Clyde Waterman is a wealth of knowledge and anecdotes about Sonoran Desert natural history for this tour on the main trail.
* The Arboretum allows leashed dogs -- if you're looking for a nearby eatery afterwards to get a late lunch with your canine compadre after enjoying the gardens and trails, Porter's Café in the nearby town of Superior has great burgers, cold beer and healthy salads.
12 p.m. - 2 p.m. - New Year Concert
Celtic fiddle and flute by recording artist Arvel Bird. If the weather's mild, Arvel's concert will fill the picnic area from 12-2; predictions for rain or cold move the music indoors for afternoon concerts in the lecture room – where space will be limited to audiences of about 30, seated on a first-come, first-served basis. Don't miss this talented musician, storyteller and world-traveled entertainer. Music is free if you're a BTA annual member or have an AZ State Parks annual pass; included with the $10 daily admission for those who don't. Details available at http://ag.arizona.edu/bta
2 p.m. - Edible and Medicinal Plants
Walk the Curandero Trail on a slow-paced tour guided by Jim Shepherd, explaining ways prickly pear cacti, ratany, agaves and jojobas have fed, healed and clothed Sonoran desert peoples for more than one thousand years.

10 a.m. - Buckskin Trail
Join AZ State Parks & Trails park rangers for a moderately difficult hike, available to all ages. Meet at the trailhead across from the Ranger Station. Pets are allowed and must be leashed. Length of the hike is about two hours, covering 1.5 miles of beautiful scenery and interpretation of popular desert trees.


8 a.m. - Guided Short Trails Loop Hike
Meet at the Main Trailhead, near the two buildings, in the enclosed area, at the end of the Eastern side of the second parking lot. Join us to hike Catalina State Park's best short loop. The hike is 6 miles with an elevation gain of 300 feet.
Pace is based on the group. Round trip mileage, duration, and elevation changes are approximate. For safety reasons, four hikers are required for the hike to take place. Bring more water than is needed, a snack, and please wear appropriate headgear and hiking footwear. Please arrive 5 minutes prior to hike departure time. No pets allowed on hike.

10 a.m. - Ranger Lead Hike
Meet at the launch ramp/trailhead area. This is a moderate two to three-mile hike and will last approximately three hours. The hike, led by volunteers Bill and Betty Noble, will discuss the history, fauna and wildlife of the area. Bring comfortable shoes, water and snacks.
1 p.m. - Ranger Lead Walk
Join rangers on a walk through the Cactus Garden Trail.

10 a.m. Meet at the West Lagoon parking lot. The guided 3-mile birding and nature hike will go along the riparian area of the Verde River and around the edges of the lagoons to look for evidence of beaver, otter, water fowl and other wildlife found in the park. Enjoy hot chocolate, coffee, and cookies prior to the hike.

1 p.m. 3-mile guided upland desert hike overlooking the Verde Valley. This hike provides great views overlooking the Verde River and Tuzigoot National Monument.

11 a.m. - Birding/Nature Walk
Please join us on a Birding and Nature walk. Bring binoculars if you have them. Bald Eagles are often present at Fool Hollow Lake in January. When the walk returns, there will be a fire built to get warm and supplies provided for making s'mores.
12 p.m. - Snow Play
Help park rangers make snow angels. A warming fire will be built and supplies to make s'mores will be provided.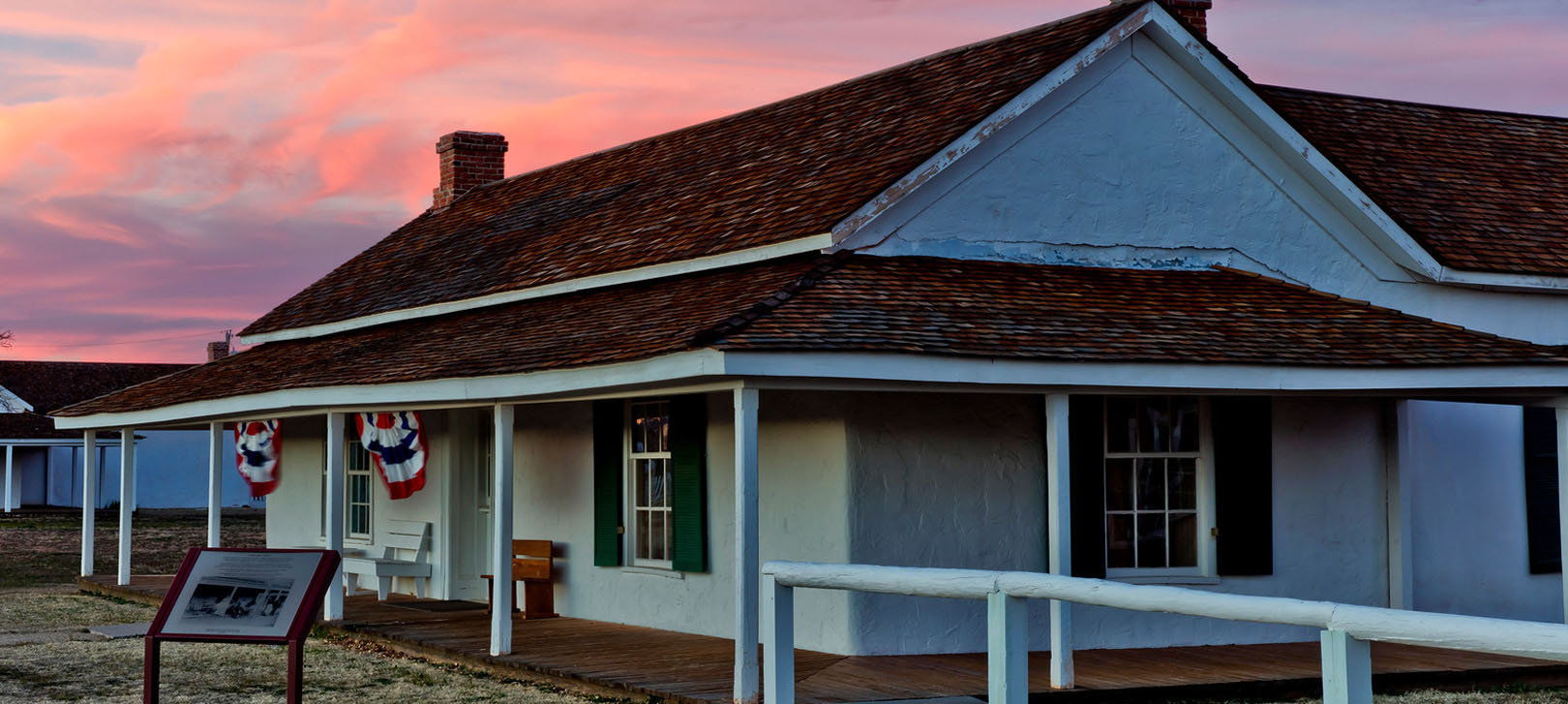 9 a.m. - 5 p.m. Self-Guided Walk
A self-guided walk through the Fort Verde, decorated in holiday vintage fashion. Visitors can view the Glimpses of the Past videos on their phones.

9 a.m. - Hotshots & Journey Trail Hike
Granite Mountain Hotshots Memorial State Park opened on November 30, 2016 and commemorates the lives and final journey of the 19 Granite Mountain Hotshots that died in the Yarnell Hill Fire. From the trailhead, the Hotshots Trail is a 2.85-mile path up to the Observation Deck. Every 600 feet, 19 granite plaques set into rocks share a photo and a story of each fallen Hotshot. From the Observation Deck, you can see the memorial site 400' below and the Town of Yarnell to the east. Additional interpretive signage outlines the tragic events of the Yarnell Hill Fire. The 3/4-mile Journey Trails allows you to follow the last steps of the Hotshots down to where they made their last stand. 7 miles round-trip.

10 a.m. - Tsü'vö Trail to Diné Point Hike
Join a Park Ranger for hike to Diné Point via the Tsu'vö trail. Hikers will pass by petroglyph's from the early occupation period at Homolovi (620-890AD) up to Diné Point overlook. The hike is on moderate, sandy trails and is approximately two miles total.
9 a.m. - Guindani Trail
The Guindani Trail (#398), located on the east flank of the Whetstone Mountains in the Coronado National Forest, is 4.2 miles in length (first mile is an easy walk, next 2/3 of trail is moderate difficulty, and the last leg is strenuous). This is a shared-use, non-motorized trail that is well-marked with directional signs.
3 p.m. - Foothill Loop Trail
The Foothills Loop Trail (loop) is approximately 2.5 miles, rated moderate to difficult. The trail climbs the limestone hill north of the cave and descends into the wash that follows the fault between the Whetstone Block and the San Pedro Block.
Cave Tours are also available from 9 a.m. - 3 p.m. BOOK A TOUR

10 a.m. - Ranger-Led Hike
Meet at the trailhead for this moderate 2-mile hike with a snack and water break at our lovely Cactus Garden. The hike will last approximately three hours and will be led by ranger Nick Sell, volunteers Dale Irwin and Larry Lord, and will include the history, fauna and wildlife in the area. Bring comfortable shoes, water and snacks.

9 a.m. - Ranger Led Hikes
Join us for one of two hikes beginning at 9 a.m. -- A short hike around lower Treasure Loop Trail (1 mi., easy) beginning at Cholla; or a longer hike from Saguaro to Green Boulder then down Prospector, across Jacobs Cross Cut and back to Saguaro (about 3 ½ mi, moderate).
2 p.m. - Ranger Led Hike
A 2.4 mile hike around Treasure Loop, beginning at Cholla. No pets, please.

10 a.m. - Self-guided Bird Hike
Stop by the General Store for your list of birds that make Lyman Lake their winter home. Then enjoy the birds from any or all of our three hiking trails. Or take a short drive to the south end of the lake for a large variety of water foul. Bring your binoculars/camera and dress warmly.

10 a.m. - Self-guided Tours
A self-guided walk through the Florence Historic District starting at the park. Visitors can check out an audio tour player or download the app on their phone for the map and interpretive information for 20 historic sites.

11 a.m. - Ranger-Led Hike
Celebrate the new year with a morning walk at Oracle State Park. Meet at the historic Kannally Ranch House to join a ranger-led hike for a guided 6 mile hike along the Arizona Trail within Oracle State Park lead by an Arizona Trail Association Guide. Please bring water and wear proper hiking shoes!
9 a.m. - Overlook Hike
The hike is approximately 1.5 miles (roundtrip) to the top of the hill for a beautiful view of the lake & surrounding area. The hike is of moderate difficulty with an elevation gain of 335'. Please call the visitor center or stop in, to preregister.
8:45 a.m. - Discovery boat tour
What better way to ring in the New Year, than a boat tour around Patagonia Lake? Discover the history, vegetation, and overwhelming beauty of the surrounding area. The tour will be an hour long, so please dress for the weather. There is a $5.00 fee per person. To ensure a space, please stop in or call the Visitor Center.
3:45 p.m. - Twilight boat tour
Same details as above. Enjoy the end of the first day of a great new year on a pontoon boat.

10 a.m. - Calloway Overlook Trail
Ranger- led moderate hike along the Calloway Trail. The trail offers expansive views of the Sonoran Desert. This one-hour, 1.4 mile round-trip hike does not go to the top of the Peak. The hike is suitable for ages six and older. Wear hiking boots, bring sun protection and at least one liter of water per person. Meet at Harrington Loop Trail Head. Well-behaved dogs are welcome.

10 a.m. - Hike the Peak on Hunter Trail
Join a park volunteer guide on the Hunter Trail and enjoy 360-degree views from the top of Picacho Peak. This is a challenging hike that involves steep switchbacks, rock scrambles, climbing up several cableways and an elevation change of 1,600 feet. Total distance is 4 miles round-trip and takes 4-5 hours to complete. Not recommended for inexperienced hikers. No children under the age of 10. No dogs. Come prepared with 3-4 liters of water, wear hiking boots, and bring gloves for the cableways. Free with paid park entry. Please call the park at (520) 466-3183 to pre-register. Walk-ups will be allowed based on available space. Max. number of participants: 12.

10 a.m. - Guided Nature Hike
Start the new year with a nature hike led by a volunteer naturalist. Group leaders will touch on subjects ranging from geology, wildlife, history, archaeology, and plant life, as well as the different life zones of Red Rock State Park. You will also see some awesome panoramic views of Sedona's red rock formations from trail overlooks.
10 a.m. - Ranger-led hike
Buckskin Mountain offers a ranger led News Year Day interperative hike, over the famous Buckskin Trail.

9 a.m. - Ranger-led nature walk around Roper Lake
Join us for a 1.5 miles, leisurely hike looking at the visiting birds. Meet at the Day Use Parking lot. Bring appropriate hiking attire, camera, water, binoculars.

1 p.m. History Tour and Nature Walk
Pendley Homestead History Tour and Nature Walk.

9 a.m. - 5 p.m. Self-Guided Tour
Tour the Tombstone Courthouse and explore the exhibits and displays. The Courthouse will be decorated for Christmas as will the entire historic district!

10 a.m. - Ranger Led Hike
Hike down to the natural bridge and back on the Gowan Trail; led by Ranger Autumn Hummer, learning about the bridge and natural history of the area.
11 a.m.-12:30 p.m. - Open House and Tour
Tour the Goodfellow Lodge and feel the old west charm of the guest rooms and enjoy complimentary cookies and tea in the rustic dining room. Park Rangers and volunteers will be available to provide history and anecdotes about the park and the numerous antiques on display.
2 p.m. - Ranger Led Hike
Walk around the park/viewpoints to explore park's natural history and the natural bridge.