Tubac Presidio Volunteer Opportunities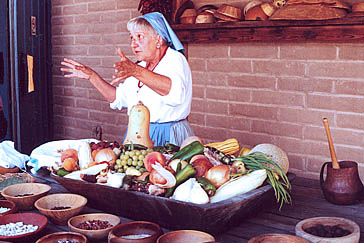 Tubac Presidio State Historic Park has such an incredible collection of buildings and artifacts that there are innumerable opportunities for local residents, students, or seasonal visitors to get involved and volunteer. We can't have too many helpers for this Herculean task!
Volunteers will be given free access to the historic park for agreed upon service in any of our volunteer positions listed below:
Living History
Volunteers interpret and demonstrate the daily lives of the inhabitants of the Presidio from 1752-1885. Dress and act the part utilizing skills such as weaving, cooking, frontier printing, teaching in the schoolhouse, woodworking, blacksmithing, or chocolate making, and relaying information to park visitors.

Visitor Center
Volunteers welcome visitors to the park, provide information on Arizona State Parks and the surrounding area, collect fees, help with the gift shop and answer phones.

Interpretive Guide
Volunteers interpret the park's expansive history, including archaeological sites, historic structures, and museum artifacts, through giving talks, presentations, and/or guided tours for the enjoyment and education of our park visitors.

Community Outreach
Volunteers develop and conduct outreach programs for offsite presentations to increase awareness of the park and its history. These include PowerPoint presentations, demonstrations, and so forth.

Special Events
Tubac Presidio State Historic Park hosts over sixty events throughout the year. We need help setting up, tearing down, and providing refreshments.
Maintenance & Groundskeeping
Volunteers maintain park grounds and structures in a safe and efficient manner.

Take the next steps!
If you would like to volunteer, please start an online volunteer application.