Arizona's State Parks Welcome Spring Break Visitors
March 11, 2022
PHOENIX – The beauty and iconic landscapes of Arizona's great outdoors draws visitors from far and wide to escape to the desert's warmth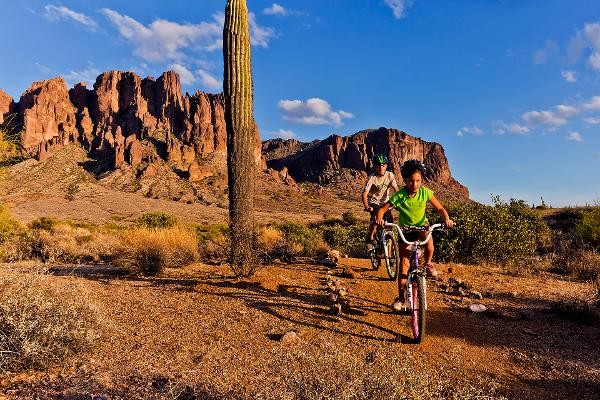 for spring break. Arizona's state parks are perfect destinations for locals and tourists alike to enjoy during this perfect weather.
Watersports and Lakeside Lounging: Blue skies and perfect temps embody Arizona's spring season. Whether you like to take it slow and bask in the sun, or are seeking an adrenaline rush on the water, Arizona's lakes have it all. Go fast with boat and jetski rentals on Arizona's "west coast." There are four state parksalong the Colorado River with beautiful beaches, hiking trails, and shaded picnic areas. Or pack some snacks, lots of water, and chill on a paddleboard, kayak, or go fishing at Patagonia Lake or Roper Lake state parks in southern Arizona.
 
Wildflower Viewing: While it has been a fairly dry winter, and annuals need moisture during the cooler season to really dazzle, there are pockets of small blooms to be found on a desert wildflower hunt, including yellow brittlebush, red chuparosa, pink fairy duster, and purple storksbill. For Sonoran Desert scenery, visit Lost Dutchman State Park near Phoenix or Catalina State Park in Tucson. In the western side of the state, blooms have begun at Alamo Lake State Park and in the northern region, Red Rock State Parkshowcases high desert flora.
 
Wild West History: Mix in a little education with your recreation this spring break! A visit to state historic parks will entertain and enlighten. Learn about the rise and fall of copper mining in the former boomtown of Jerome, tucked in the hills of northern Arizona. Learn about the law and order of the developing territory and early statehood of Arizona at the historic courthouses of Tombstone or McFarland State Historic Park in Florence. Keep youngsters engaged on these day trips by participating in the Junior Ranger program, where fun activities help them understand Arizona's rich history and cultures of the past and will earn a Junior Ranger badge souvenir!
Thousands of families will take advantage of the beautiful springtime weather right here in the Grand Canyon State. Make your day-trip plans to new and unique places, go prepared to enjoy Arizona's warm and sunny outdoors, and make unforgettable memories this spring break.
Managing and conserving Arizona's natural, cultural and recreational resources for the benefit of the people, both in our parks and through our partners.
For information about the more than 30 Arizona State Parks and Natural Areas, trails, Off-Highway Vehicle Program, and State Historic Preservation Office, call 1-877-MY-PARKS or visit AZStateParks.com. 
PRESS CONTACT: Michelle Thompson at (480) 589-8877 - Email: pio@azstateparks.gov