Arizona State Parks and Trails Kicks Off Its Statewide Comprehensive Outdoor Recreation Plan (SCORP)
September 27, 2021
PHOENIX – Every five years, Arizona State Parks works with stakeholders, other recreation providers and Arizonans to complete a Statewide Comprehensive Outdoor Recreation Plan (SCORP). This plan sets priorities for outdoor recreation providers and communities around the state and determines how federal funding is allocated. This year's plan is themed "Recreate, Respect, Restore."
Each state must complete a SCORP every five years in order to be eligible for Land and Water Conservation Fund (LWCF) dollars, which Arizona State Parks and Trails grants out to multiple local, regional, state, federal and tribal governments each year. To complete the plan, each state must first identify outdoor recreation issues of statewide importance. Public input is critical to this process and helps pinpoint what activities people are participating in outdoors in Arizona, as well as the needs of the communities and land managers.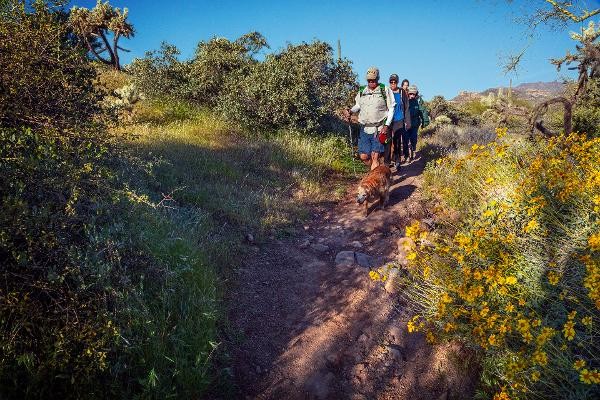 In 2018, four pillars of outdoor recreation were identified through a collaborative effort with stakeholders. These pillars are: conservation, accessibility and inclusion, thriving individuals and communities, and optimizing system vitality. Now, Arizona State Parks and Trails is looking forward to 2023 and beyond and asking Arizona stakeholders, land managers and residents to participate.
Recently Arizona State University, in collaboration with Arizona State Parks and Trails, conducted three virtual stakeholder groups. Stakeholders included members of recreation clubs (such as hiking or mountain biking), public land managers, private business owners, ranchers, mining companies and others who either impact or are impacted by trends in outdoor recreation. These stakeholders talked about the most pressing issues in Arizona in outdoor recreation for the next five years. A smaller group of dedicated volunteers who participated in these sessions will work with ASU and Arizona State Parks and Trails to come up with priorities goals and actions based on these conversations.
Arizona State Parks will also be gathering information from the public and land managers through surveys that will be launched in October 2021. Surveys will include questions about what activities people are participating in, how often, how satisfied are they with their outdoor recreation experiences, what their priorities are, and what issues impact their outdoor recreation experiences. This information will be combined with the information above to guide Arizona outdoor recreation for the next five years.
The SCORP plan balances recreational use and protection of natural and cultural resources. It also strengthens public awareness of the link between outdoor recreation and health benefits while producing opportunities to enhance the economy and quality of life for residents. Recreation managers of cities, counties, state and federal government organizations in Arizona use this information for specific recreation planning and budgeting. Public input will be sought on the draft plan in June 2022, but you don't have to wait to weigh in. Visit AZStateParks.com/scorp to learn more and provide your input.
Managing and conserving Arizona's natural, cultural and recreational resources for the benefit of the people, both in our parks and through our partners.
For information about all 35 Arizona State Parks and Natural Areas, the Trails and Off-Highway Vehicle Programs and State Historic Preservation Office call 1-877-MY-PARKS or visit AZStateParks.com.
PRESS CONTACT: Michelle Thompson at (480) 589-8877 - Email: pio@azstateparks.gov