Camping season is NOW! Make the most of it with Arizona State Parks and Trails!
October 19, 2021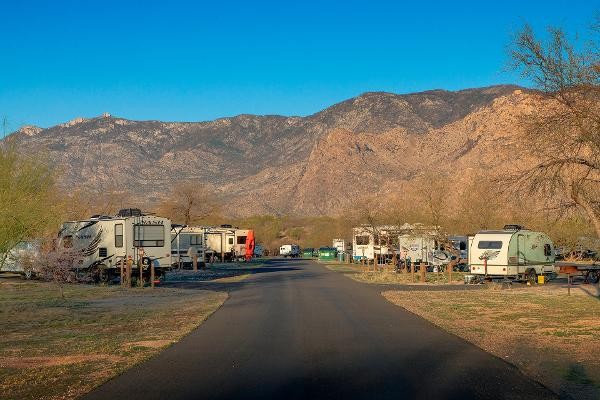 PHOENIX – The weather is cooling down, and that means it's the perfect time of year for camping at one of Arizona's state parks! A little bit of planning can make this your best camping experience yet, and Arizona State Parks and Trails is here to help.
This fall and winter, try Catalina, Picacho Peak, Lost Dutchman, Alamo Lake, or Kartchner Caverns state park for an unforgettable experience. These parks are in season and have a wide array of experiences, including amazing trails, events and guided hikes, wildlife, and our world-famous cave. We've prepared a quick camping checklist as well as a pre-camping planning tool to help you get the most out of your trip.
By taking the time to plan a camping trip before loading up and hitting the road, you have an opportunity to stop potential problems before they ever happen. Your goal is a worry-free camping experience that leaves you plenty of time to enjoy Arizona's beautiful places without the hassle of forgotten items or discomfort! Our quick list of camping logistics will help you pre-plan your trip and ensure you are prepped for whatever Mother Nature throws your way. Then, head over to our camping checklist to make sure you're ready to hit the road. We have several great ideas that can make a first-time experience great, or maybe up the ante for experienced recreationalists.  
Whether you're looking for quick tips on enjoying a park, advice on gear and getting started, or road trip itineraries, Arizona State Parks and Trails has you covered! Check out our YouTube channel, social media, and great online resources for all the camping, exploring, adventuring and "park"ing tips you could ever need, then make your reservation today!
Managing and conserving Arizona's natural, cultural and recreational resources for the benefit of the people, both in our parks and through our partners.
For information about the more than 30 Arizona State Parks and Natural Areas, the Trails and Off-Highway Vehicle Programs and State Historic Preservation Office call 1-877-MY-PARKS or visit AZStateParks.com.
PRESS CONTACT: Michelle Thompson at (480) 589-8877- Email: pio@azstateparks.gov