The park is experiencing a water shortage. No filling will be allowed at the park.
Ranger Kira Guided Hikes - Sunset Vista Trail
Picacho Peak State Park
Dec. 9, Jan. 27, Feb. 10, March 23, Apr. 13 8 a.m.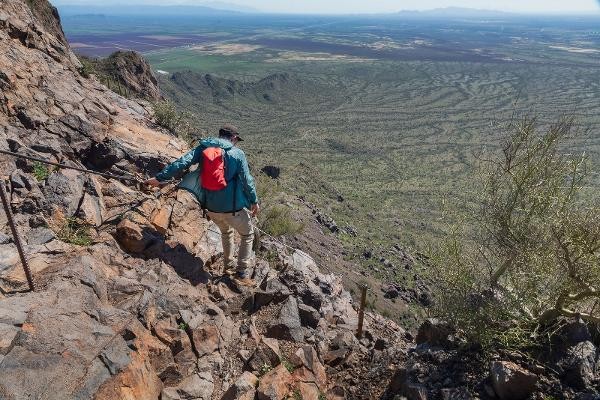 Have you ever wondered what the top of Picacho Peak looks like? Well, wonder no more! Join our wonderful Ranger Kira on a hike to the peak. You and a few other hikers will be guided up to the top of the mountain via the Sunset or Hunter trail. Learn more about the mountain and the surrounding areas, make some new hiking buddies, and enjoy the views. While taking consistent breaks, you will make your way all the way to the peak. 
This trail involves steep switchbacks, rock scrambles, climbing up several cableways, and an elevation gain of 1,300ft. The total distance is 6.2. miles round-trip and takes 5-6 hours to complete. No children under the age of 10, no dogs, bring 4-5 liters of water, wear hiking boots, and bring gloves for the cableways. Hikers will meet at the Sunset Vista Trailhead parking lot. *Not recommended for inexperienced hikers*
Sign up at our visitor center or give us a call! Spaces are limited.