Arizona's OHV Ambassadors
OHV Ambassador "Show Me Rides"
The Arizona Off-Highway Vehicle Ambassadors offers opportunities for you to come out, meet us and get to know the area at five very popular locations. These free 2-3 hour "Show Me" experience will introduce you to the area by reviewing maps, explaining the types of trails available in the area, review proper riding etiquette and safety information, and taking a ride around the areas. Bring your ATV, UTV, motorcycle, jeep or other off-highway vehicle and be ready to hit the trail.
SHOW ME RIDES ARE BACK!
• New to Arizona's off-highway vehicle community
• Just purchased a new machine and looking for a place to ride
• Tired of riding the same old trail day after day
• Looking for fun new responsible riders to hit the trail with
If one or more of these apply to you then "Show Me Rides" are the ride for you. Arizona State Parks, in partnership with the Off-Highway Vehicle Ambassadors, and Arizona's off-highway vehicle clubs want to help you find new trails. "Show Me Rides" introduces riders to new and exciting areas throughout the state all while promoting safe and ethical riding. We'll be providing regular updates on the rides we have scheduled so check back regularly. Also, be sure to follow our OHV Ambassadors Facebook Page to reserve your ride spot. These rides fill up fast and have grown in popularity over the years. Ride safe and we'll see you on the trail.
Ride:
Jackass Flats
Date:
Saturday, November 2, 2019
Start Time:
9:00 am.
Ride Length:
40-60 Miles
Vehicle Type:
Off-road motorcycle, ATV, side-by-side
Staging Area Located at:
33°52'56.6"N 112°35'44.1"W
---

We're looking for OHV Ambassadors!
Do you like to ride Off-Highway Vehicles (OHVs) in Arizona?
Do you want to help promote a POSITIVE image of OHV recreation in Arizona and help protect the future of OHV recreation on public lands in Arizona?
Are you concerned with the irresponsible use of OHV areas which give motorized recreation a bad name?
Do you want to get to know your land managers better and work with them to help conserve the future of your activity?
Do you want to receive FREE training in vehicle driving, communications, and first aid/CPR?
For more information, contact the State Off-Highway Vehicle Coordinator, Matt Eberhart at (602) 542-2146 or [email protected].
Ambassador Program Overview
OHV Ambassadors receive professional training and help promote positive off-highway vehicle operation ethics.
The Arizona OHV Ambassador program is a newly-developed volunteer program which provides a means for private citizens to work with a variety of federal, state, and local land managers and public safety officials in Arizona to promote responsible off-highway vehicle (OHV) recreation on public, state, and private lands. These volunteers contribute their time, experience, and local knowledge of OHV areas in Arizona by monitoring public lands on motorcycles, ATVs, UTVs or 4x4 vehicles. Through these monitoring efforts, volunteers provide a positive image of their recreation activity, identify and record road, trail and other resource issues and educate OHV users on responsible OHV use. OHV Ambassadors also participate in special projects to enhance OHV areas in Arizona. OHV Ambassadors receive extensive training from professional training representatives and serve as a point of contact for other OHV users to obtain helpful and timely information about the trails they ride.
Experience
OHV Ambassadors receive professional training and help promote positive off-highway vehicle operation ethics.
Anyone who has an off-highway vehicle experience and is able to provide their own off-highway vehicle which is licensed/street legal can volunteer as an OHV Ambassador, provided they are willing to abide by the OHV Ambassador Code of Conduct. Ambassador must wear full-face helmets unless in a full-size vehicle and are not allowed to carry guns while on duty. OHV Ambassador volunteers will be recruited and selected without regard to race, creed, religion, age, sex, color, national origin or disability.
Joining the Program
Arizona's OHV Ambassador Program is actively seeking individuals who wish to join! So, what exactly is an OHV Ambassador? They are trained volunteers who help enhance OHV riding opportunities by working cooperatively with Arizona Land Managers to:
Monitor and maintain motorized areas, roads, trails and facilities
Provide a recognizable presence on public and state lands
Model appropriate riding behavior
Provide educational and informative material to the public
Come join other dedicated off-highway vehicle enthusiasts who are currently volunteering their efforts to help make a POSITIVE impact on their OHV riding areas, opportunities, and image!
---
---
Take a look back at some 2019 rides
Big Lake - June 1-2, 2019
Fabulous weather and great local club members hosted a full weekend of rides in the cool pines of Eastern Arizona. The weather was 70° during the day, 30's at night, at 10,000 ft. and there was still snow visible on Mount Baldy. More than 100 riders came out to stretch their legs (and vehicles) out on one of five unique routes through the area, including Grizzly, Hannigan Meadow, Bear Claw and a trip through the town of Alpine.
Riders enjoyed a roaring fire on Friday evening to warm up for the weekend rides ahead.
At the staging area, members from the local club provided donuts and coffee, Four Peaks provided free canned water, and the OHV Ambassadors shared maps and ride information with attendees.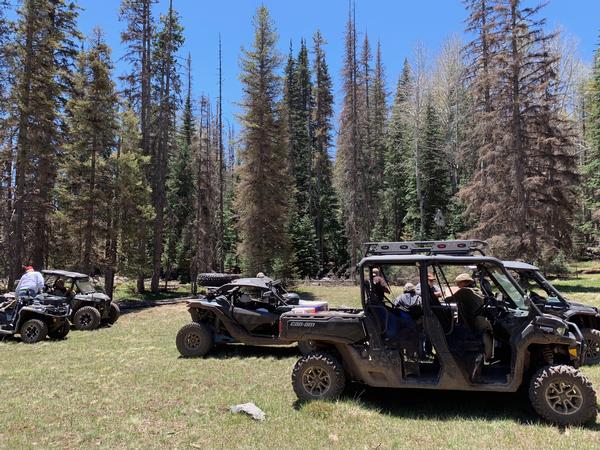 Riders queued up for one of five unique trails through the Apache Sitgreaves National Forest. Sighting of elk, deer and feral horses were common throughout the day.
Most routes offered great views of the lake and surrounding mountains and the weather couldn't be beaten.
Although the roads were pretty dry and dusty, we did manage to find some water to "get some mud on the tires..." (Check out the slow-motion splash at 46-seconds.)
Download photos and video clips from the 6/1 Bearclaw Trail and the 6/2 Ambassador Alpine Trail HERE.
---
Sedona - April 20, 2019
Our weekend ride was a huge success! More than 100 vehicles and 200 riders enjoyed one of four different rides through the beautiful red rock country in Sedona. The weather was perfect, the dust on the trails was nominal and all riders made it safely through more than 250 combined miles of trails.
Attendees picked a trail, grabbed a map and broke up into groups of 20-30 vehicles, led by OHV Ambassadors.
Trails visited included, Powerline Route, Diamondback Gulch, Soldier's Pass, Cliff Hanger, and a trip through West Sedona to Schnebly Hill. Groups also visited the Honaki Ruins and Robber's Roost.
Red Rock Secret Wilderness
Honaki Ruins
Powerline Route Trail
Powerline Route Trail

A big THANK YOU goes out to all the attendee's, our OHV Ambassadors, volunteers and, the U.S. Forest Service for their help to make this a safe and successful ride! Check out the 2018-2019 schedule link below for future rides or download maps of popular routes.

Watch a full map route video of the path taken by group 2 and group 4.

Download images and video of this ride: PHOTO LINK.
---
---
CONGRATULATIONS AMBASSADORS!
Recipient of the 2018 "Volunteer of the Year Award" from the Arizona Parks & Recreation Association (APRA).
This award recognizes lay, persons or groups, who have demonstrated consistent or outstanding volunteer service in their community and whose commitment has been in furthering the field of parks, recreation, and/or cultural and community services through excellence, service, and execution of their talents and skills.