11/20/20 UPDATE: The Saturday, November 21 ride has been canceled. (9 A.M.)
Arizona's OHV Ambassadors
Change is coming to the OHV Ambassador Program!
The Arizona State Parks OHV Program is currently redefining the future of the OHV Ambassador Program. In the coming months, our team will be revising the program's policies, training protocol, and application process. We are committed to providing quality off-highway vehicle volunteer opportunities and look forward to enhancing our service to Arizona's OHV community.
For more information, contact the State Off-Highway Vehicle Coordinator, Matt Eberhart at (602) 542-2146 or meberhart@azstateparks.gov.
OHV Ambassadors receive professional training and help promote positive off-highway vehicle operation ethics. The Arizona OHV Ambassador program is a volunteer program which provides a means for private citizens to work with a variety of federal, state, local land managers, and public safety officials in Arizona to promote responsible off-highway vehicle (OHV) recreation throughout our beautiful state. These volunteers contribute their time, experience, and local knowledge of OHV areas through trailside meet and greet, "Show Me Rides", and educational outreach events. OHV Ambassadors receive extensive training from professional training representatives and serve as a point of contact for other OHV users to obtain helpful and timely information about the trails they ride.
---
Ambassador Show Me Rides 2020
Jackass Flats - Saturday, October 31, 2020:
We picked up an extra passenger on the ride! Altogether we had 44 riders in 24 vehicles.
Enjoy a gallery of images and videos:
Here are the stats from the latest ride at the Kofa National Wildlife Refuge on Saturday, February 8, 2020:
Vehicles participated - 30 / Miles rode - 88.3 / Highest elevation reached - 3,051 feet
Average speed - 16.3 mph / Total driving time - 5 hours, 24 minutes
Use your mouse to drag along the bottom of the map to show the interactive course.
---
Boulders - Saturday, January 3, 2020:
Vehicles participated - 40 / Miles rode - 38 / Highest elevation reached - 3,278 feet
Average speed - 12.5 mph / Total driving time - 3 hours
Use your mouse to drag along the bottom of the map to show the interactive course.
---
Take a look back at some 2019 rides
Big Lake - June 1-2, 2019
Fabulous weather and great local club members hosted a full weekend of rides in the cool pines of Eastern Arizona. The weather was 70° during the day, 30's at night, at 10,000 ft. and there was still snow visible on Mount Baldy. More than 100 riders came out to stretch their legs (and vehicles) out on one of five unique routes through the area, including Grizzly, Hannigan Meadow, Bear Claw and a trip through the town of Alpine.
Riders enjoyed a roaring fire on Friday evening to warm up for the weekend rides ahead.
At the staging area, members from the local club provided donuts and coffee, Four Peaks provided free canned water, and the OHV Ambassadors shared maps and ride information with attendees.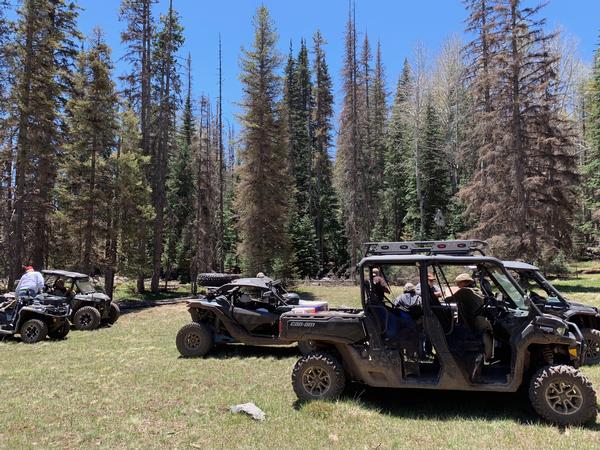 Riders queued up for one of five unique trails through the Apache Sitgreaves National Forest. Sighting of elk, deer and feral horses were common throughout the day.
Most routes offered great views of the lake and surrounding mountains and the weather couldn't be beaten.
Although the roads were pretty dry and dusty, we did manage to find some water to "get some mud on the tires..." (Check out the slow-motion splash at 46-seconds.)
Download photos and video clips from the 6/1 Bearclaw Trail and the 6/2 Ambassador Alpine Trail HERE.
---
Sedona - April 20, 2019
Our weekend ride was a huge success! More than 100 vehicles and 200 riders enjoyed one of four different rides through the beautiful red rock country in Sedona. The weather was perfect, the dust on the trails was nominal and all riders made it safely through more than 250 combined miles of trails.
Attendees picked a trail, grabbed a map and broke up into groups of 20-30 vehicles, led by OHV Ambassadors.
Trails visited included, Powerline Route, Diamondback Gulch, Soldier's Pass, Cliff Hanger, and a trip through West Sedona to Schnebly Hill. Groups also visited the Honaki Ruins and Robber's Roost.
Red Rock Secret Wilderness
Honaki Ruins
Powerline Route Trail

A big THANK YOU goes out to all the attendee's, our OHV Ambassadors, volunteers and, the U.S. Forest Service for their help to make this a safe and successful ride! Check out the 2018-2019 schedule link below for future rides or download maps of popular routes.Powerline Route Trail.

Watch a full map route video of the path taken by group 2 and group 4.
Download images and video of this ride: PHOTO LINK.
---
CONGRATULATIONS AMBASSADORS!
Recipient of the 2018 "Volunteer of the Year Award" from the Arizona Parks & Recreation Association (APRA).
This award recognizes lay, persons or groups, who have demonstrated consistent or outstanding volunteer service in their community and whose commitment has been in furthering the field of parks, recreation, and/or cultural and community services through excellence, service, and execution of their talents and skills.