Arizona Department of Transportation is working on a project on State Route 88. For more information about how this could affect your drive to the park, please view this notice.
The dump station and showers are closed to anyone not camping at the park.
Power Hour: Rattlesnakes Alive!
Lost Dutchman State Park
Sunday, May 28 9 a.m.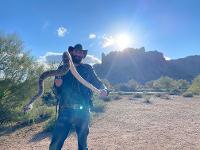 Every fourth Sunday of the month, Lost Dutchman features exotic creature expert, Declan, and his real live rattlesnake friends! Learn everything you ever wanted to know about these fascinating desert dwellers, including how they survive, reproduce, and of course, how we can keep us and them safe on the trails. Prepare to be amazed!
Program is free; day use fee applies. Meet in the Palo Verde Day Use area. Event is weather permitting.